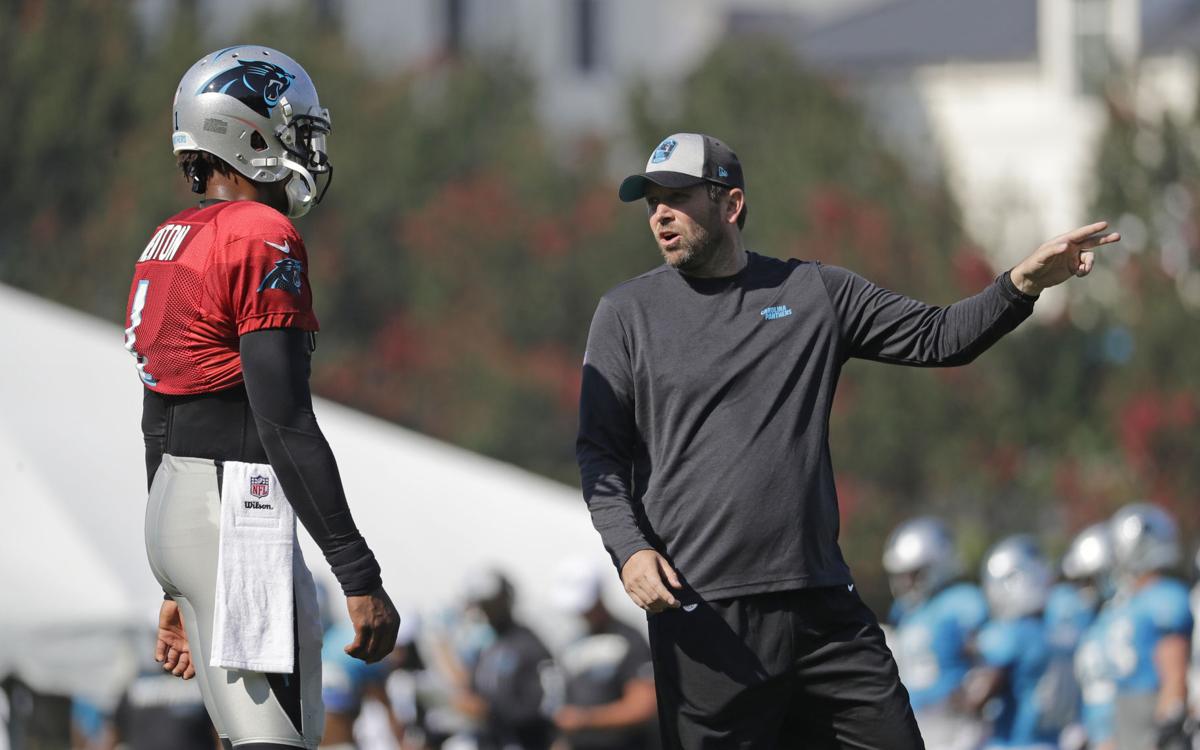 Entering his second full season as an NFL offensive coordinator, Scott Turner got an assist from Washington's personnel department.
Turner will orchestrate an offense with two additional weapons this season, quarterback Ryan Fitzpatrick and receiver Curtis Samuel, as well as several highly regarded draft picks.
Coach Ron Rivera, who brought Turner with him from Carolina, said that's just one reason the coach has extra pep in his step.
"You see the comfort, you see the confidence, a little bit of swagger in his walk," Rivera said. "I think part of it is the players we were able to put around our QBs.
"I feel very comfortable with what we have done with the offensive line and with the playmakers we got. I can see it reflected in the way Scott moves around and handles himself during practices and during our meetings."
The team's roster changes on offense provide a window into Turner's thinking.
Washington has become speedier across the board and has a starting running back and tight end who are both capable pass catchers — Antonio Gibson, at running back, was a college receiver, and tight end Logan Thomas was a reliable target in 2020.
For Turner, that provides more possibilities that defenses must counter.
"The goal is to have your five eligible skill players ... be playmakers, so the defense can't focus on one or the other," Turner said. "To me that's what true balance is. To be balanced on offense where all five of those guys on the field, and it might not be the same five, obviously we've got different personnel groups, but that you're so talented offensively that it's your second back or second tight end or third wide receiver is on the field, they are a threat and the defense has to account for them opening things up for everybody else."
Washington's depth isn't to that point yet, but if everybody stays healthy, he'll open the season with three receivers who fit the bill — Samuel and Terry McLaurin, as well as Adam Humphries and Dyami Brown.
Taking the reins last season, Turner become more comfortable in the role as the season went on and said that while the team became adept at using the whole field horizontally, there weren't enough big plays for his liking.
"What we did last year was play well sideline to sideline as far as horizontally stretching the field, getting completions that way, moving guys to open up holes for the run game," he said. "Now if you can stretch the field vertically, it opens up the intermediate passing game, the short passing game.
"Instead of catching it and getting tackled for a 7-yard gain, maybe it's a 12-yard gain. Those things add up. If the defense is worried about the downfield passing, it opens up the run. It just all complements each other."
Turner also benefited from the partial lifting of COVID-19 restrictions, which allowed him to bring an extra assistant coach to the team's offseason work — his dad, former NFL coach Norv Turner.
"He watches our tape and we talk all the time anyway, but just having him here in the meetings with guys was good," Scott said.
As the elder Turner helped evolve NFL offenses, now Scott is hoping to take that baton and run even farther with it in 2021.
(804) 649-6546
Twitter: @michaelpRTD