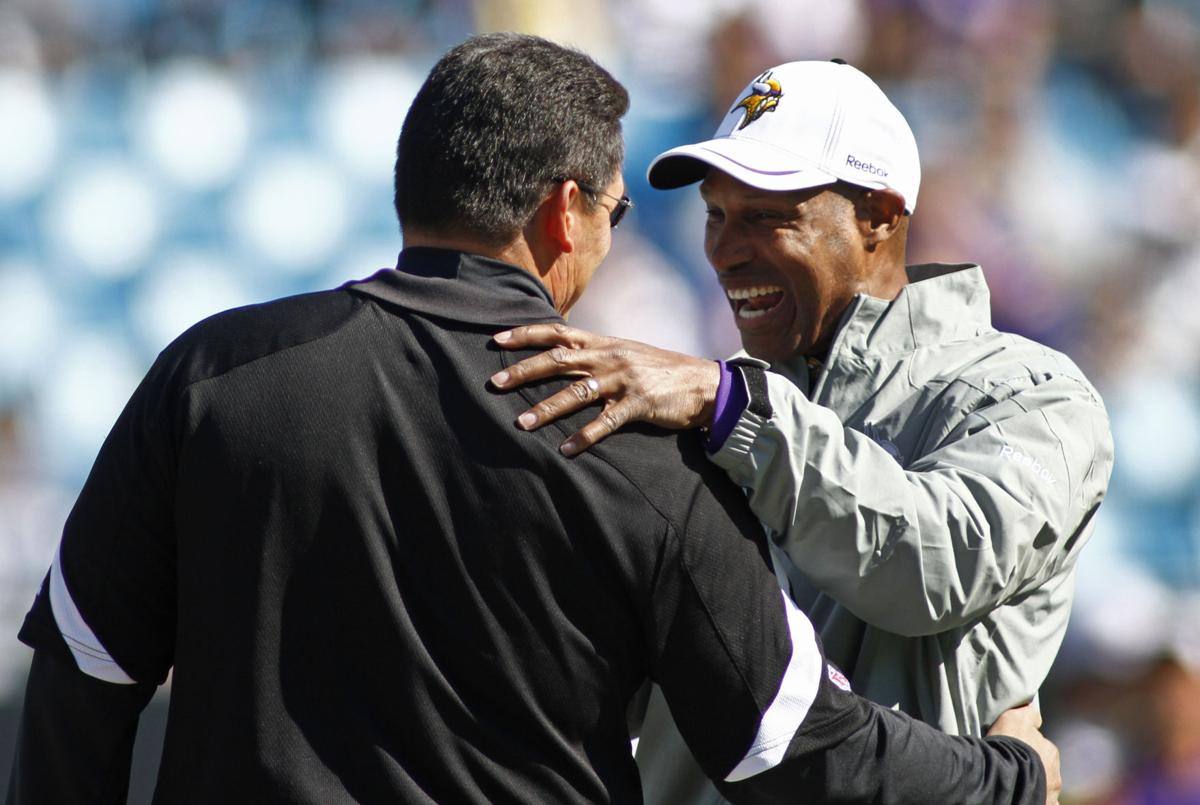 It wasn't necessarily the long hours, the cramped quarters or the high-pressure environment. More than anything, it was the rats.
Young NFL assistants Sean McDermott, Ron Rivera and Leslie Frazier shared a workspace in 1999 in the basement of Philadelphia's Veterans Stadium.
Working for Andy Reid, they learned many of the things they've carried through their successful NFL tenures.
"I mean, we started with Andy, we learned his way of doing things and we've stuck pretty much to it," Rivera said. "Now we have our own tweaks, our own personalities to it, but the bones of it, the infrastructure, you could trace it all the way back to Coach."
Rivera will coach the Washington Football Team on Sunday against his former defensive coordinator, Bills coach McDermott, and his longtime friend and former Bears teammate, Frazier, who is Buffalo's defensive coordinator.
They spoke glowingly about each other this week and what all have been able to accomplish.
"A lot of fun memories being at the Vet and trying to survive and dealing with all the things that come with being in the basement at the Vet, whether it's varmints running around, cats trying to catch the varmints, and here we are trying to work in that environment as a young staff," Frazier said with a laugh.
It was Frazier who first hired Rivera as a coach. They had played together with the Bears, and when Frazier went into coaching, he tried to pull Rivera along. Rivera resisted and spent a few years in the media. He ultimately caved.
"A big part of it too, was the urging of my wife," Rivera said. "She really told me, 'You don't have a lot of direction right now and you need to get back into football, because I know you miss it.' And that's really what happened. Leslie was pushing for me to do it and as Leslie started to progress, I realized, you know what, I can do the same thing."
Now Rivera will match wits with his former teammate. Buffalo is coming off an AFC title game appearance but has been uneven in its first two weeks, a loss to the Steelers and a blowout win against Miami.
Washington's defense is where all eyes will be, though. The group is aiming to patch up the woes that mobile quarterbacks have inflicted on them, none more so than Daniel Jones and the Giants last week.
"It's all fixable," Rivera said. "It really, truly is. If it wasn't fixable, if we weren't good enough, I wouldn't be as frustrated as I get at times, because this is a good football team. It really is."
McDermott knows his team is a good one, but he'll have an extra dimension of game planning this week, having to account for the fact that nobody knows his systems better than Rivera.
McDermott, a William & Mary grad, said after becoming a head coach his respect for Rivera only heightened.
"You know, there are things that as an assistant coach, you don't always understand why a coach does the things that he does sometimes," McDermott said. "And I'm sure that was probably the case for Ron working under Andy, and I can tell you it was the case for me working under Ron, and I think that's healthy.
"Until you're really in those shoes, you don't always get the whys and understanding of the big picture of things, so my respect for Ron Rivera has grown exponentially since becoming a coach myself."
(804) 649-6546
Twitter: @michaelpRTD