LANDOVER, Md. - Dustin Hopkins delivered when it counted.
The Washington kicker booted through a 43-yard field goal with time expired to help Washington defeat the New York Giants 30-29 in a zany, back-and-forth divisional battle.
Hopkins got a second chance when the Giants were offside on the initial attempt. Giants coach Joe Judge was known as one of the league's best special teams coordinators while in New England.
The second attempt was a massive moment - for the team, aiming to get back to .500, for the offense and Taylor Heinicke, and for Hopkins himself.
"I couldn't look," safety Landon Collins said.
"I was just praying," defensive lineman Jonathan Allen said.
"Somebody out there check on my mother," Hopkins said. "She probably had a heart attack."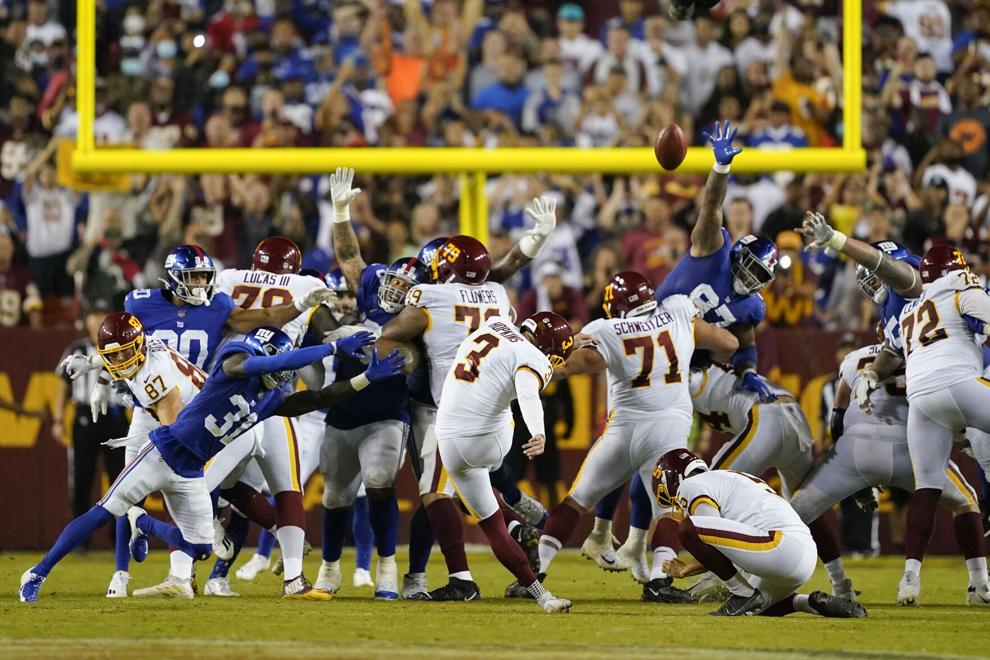 There were several heart attacks in the final 5 minutes of a game that, like the NFC East itself, wasn't pretty but sure was entertaining.
While Washington's defense continued to struggle, it was the offense, and Heinicke, who delivered the dramatic victory.
Heinicke had two of the greatest throws of his career, followed by one of the worst, all in a 3 minute span of the fourth quarter.
First, Giants kicker Graham Gano, a former Washington player, made a 55-yard field goal to give his team a 6-point lead.
Then Heinicke orchestrated a two-play, 75-yard touchdown drive, with completions to J.D. McKissic and then a remarkable touchdown pass to Ricky Seals-Jones.
The Giants were forced to punt, and Washington began running clock.
But with 2:22 remaining, and Washington up 1, the team opted to throw the ball on second and 7, perhaps thinking it would catch the Giants off guard.
It didn't, and Giants cornerback James Bradberry intercepted the ball, setting his team up for a go-ahead field goal.
Washington still had two minutes with the ball, and the opportunity for one more round of Heinicke heroics, capped off by Hopkins' kick.
Defensively, Washington struggled to contain Giants quarterback Daniel Jones, who rushed for 95 yards and ran the read-option to perfection.
The Giants scored on their first four possessions in the second half, but three of the four were field goals, leaving the door cracked open for Washington.
Most notably, Jones found Darius Slayton wide open in the end zone, but Slayton was unable to make the catch.
Washington has a long weekend, then returns to practice on Monday before its first road game of the season, in Buffalo.