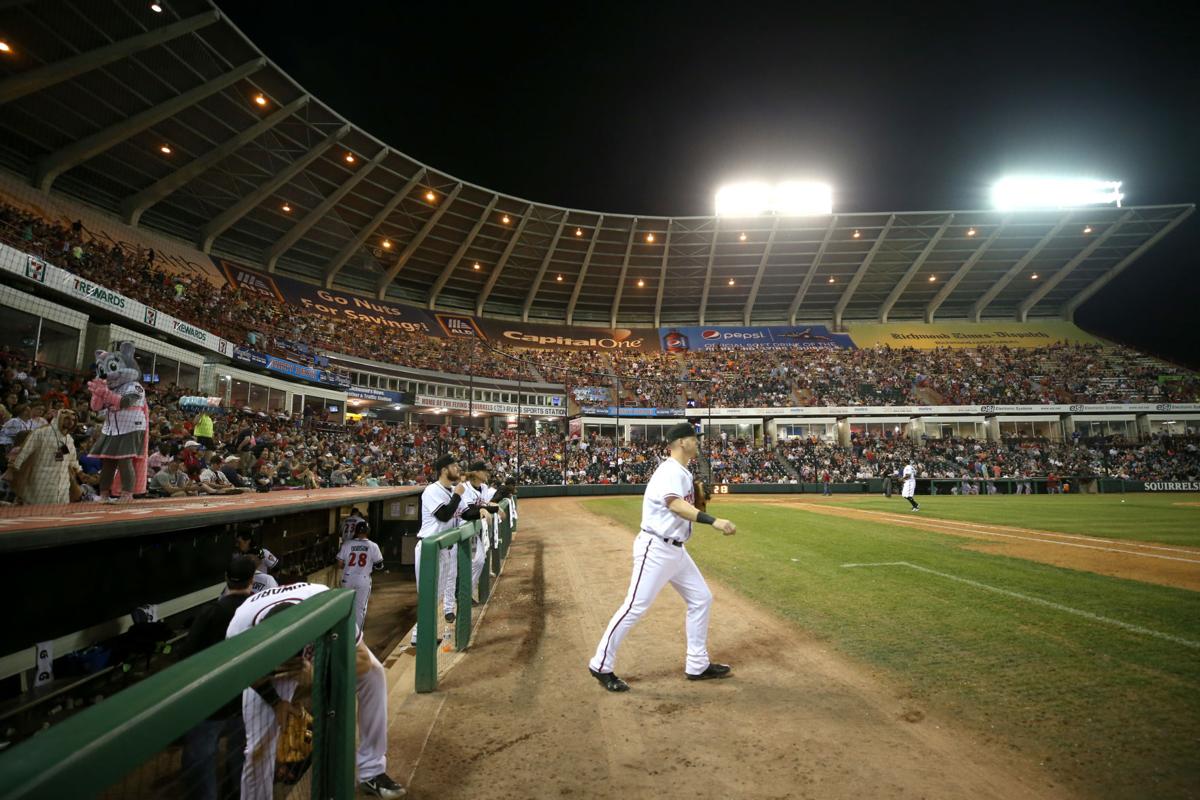 Blaine McCormick is here to tell you that all the reporting about 2020 being a big year for alcohol sales is true. He sold a lot of it at Fisher's Discount Liquor Barn, in Grand Junction, Colo., starting in the 40-degree beer cooler area before working his way to the wine department by the fall.
McCormick also bartended elsewhere.
"As a broadcaster, it's kind of nice being a bartender because you have to gab on-air, and it's no different gabbing with people right in front of you while making a cocktail," he said. "Just not as many wires or papers in front of you."
McCormick in 2020 was scheduled to be half of the Richmond Flying Squirrels' broadcast team. That plan did not mature. The pandemic wiped out last season throughout the minors, sending McCormick back to his Colorado home to work on a family farm that grows alfalfa, oats and other feed for horses and cows, in addition to pursuing those other alcohol-related occupational avenues.
He did so without his vehicle, which remains parked at The Diamond.
McCormick, 24, arrived in Richmond about a month before the scheduled start of the 2020 season, which would have been his first in Richmond. He helped Trey Wilson, the Flying Squirrels' lead play-by-play man, produce the team's media guide and organize a remodeled press box.
When there was no more work to do, and then no season, McCormick flew home to Colorado, believing he'd be back in Richmond when the season belatedly began. Wishful thing, as it turned out.
Flying Squirrels' front office members have periodically started McCormick's 2004 Ford Explorer, loaded with many of his possessions, to keep the battery charged.
"I'm very thankful for that," McCormick said. "But I might have to put on my mechanic hat when I get back and make sure everything is okey-dokey with it."
McCormick is booked for a return flight to Richmond on April 22 in preparation for the Flying Squirrels' May 4 opener at The Diamond. He will handle some play-by-play at home games, host pregame and postgame shows for all games, and also assist in corporate sales.
"I can't wait to be back in a broadcast booth in a Double-A stadium and be able to broadcast for a team I was really excited about in 2020," McCormick said. "I'm ready to get right to work, whatever they need from me."
McCormick's story, deflating at the start and more encouraging lately, reflects that things in minor league baseball are starting to resemble how they were before COVID-19 struck. The players who will be members of the 2021 Flying Squirrels are going through spring training in Arizona, at the San Francisco Giants complex, preparing for a season that will start about a month later than usual.
How do broadcasters get back in shape? McCormick during the last year did some broadcasting for a Colorado Division II college, Colorado Mesa, and high schools. McCormick considers himself lucky to have been able to find broadcasting gigs to stay relatively sharp.
"I know some friends who haven't called games since the last game in September of 2019," he said.
Wilson, since his last Flying Squirrels broadcast in September of 2019, found some broadcasting work with VCU and other area organizations, "which showed me that I am extremely rusty," he said.
Wilson, 31, feels a bit nervous about getting back in the booth for the Flying Squirrels games, though he broadcast baseball in various cities for more than a decade before the pandemic struck. He joined the Flying Squirrels as a full-timer in November of 2018.
Wilson recently listened to some of his calls from the 2019 Richmond season, "and that gave me a little bit of a confidence boost," he said. "I heard it and I thought, 'I may not be a world-class broadcaster, but I can hold my own at least.'"
Wilson projects a "relaunching" of the entire Flying Squirrels operation come May. Not only will the franchise's employees be out of condition when it comes to their typical routines. How they present the game-day experience will be different from before because of the modifications required by pandemic guidelines.
"I'm just hoping not to pull a vocal cord running out there cold this year," Wilson said.
(804) 649-6233
Twitter: @RTDjohnoconnor