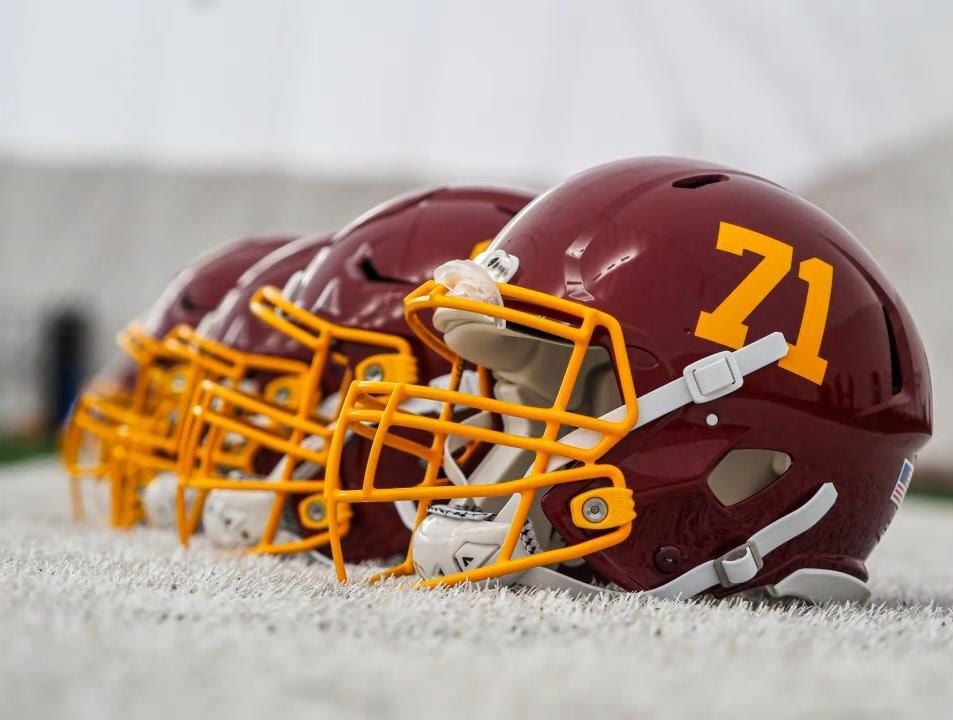 Next season marks the 90th anniversary of the Washington Football Team, and in that time they've given out 101 different numbers.
Only two have been formally retired, but a handful remain unofficially off-limits because of who has worn them last.
Those were the easy calls, but as we pick the all-time, all-number team, there are a number of tricky ones.
At No. 23, DeAngelo Hall was an unquestioned star, but Brig Owens has one of the most memorable plays in team history.
You can't deny Doug Williams his No. 17, but Terry McLaurin is moving up the ranks quickly.
No. 53 has been worn by three of the men named to the "80 Greatest Redskins" list produced by the team (we'll avoid the moniker except when discussing proper titles), while some spots in the 90s have already been claimed by players who haven't made it to a second contract.
Our final list has legends Sammy Baugh and Joe Theismann, but also a handful of players on the current roster. There are players whose time was cut short by war, Richard Nixon's favorite player from his childhood, and another who produced "Baywatch" years after playing for the Skins.
What's in a number? Here are 100 stories from Washington's all-number team (years with the team in parenthesis).
0 John Olsewski, FB, 1958-60. The number isn't allowed in the modern NFL, but the fullback sported it for Washington for three years. He was one-upped by halfback Steve Bagarus, who wore No. 00 in 1945 and 1946.
1 Matt Turk, P, 1995-99. Lots of punters early in the list, and this three-time Pro Bowler was traded after a conflict with owner Dan Snyder.
2 Kelly Goodburn, P, 1990-93. The Super Bowl XXVI-winning punter might be keeping the seat warm for rookie receiver Dyami Brown.
3 Mark Moseley, K, 1974-86. The only kicker to win the league's MVP award (he won in 1982). He is No. 1 on the team's all-time scoring list with 1,207 points.
4 Mike Bragg, P, 1968-79. His 896 punts are the most by any Washington player, but he's on the hot seat after Taylor Heinicke's 2020 playoff performance.
5 Tress Way, P, 2014-present. Not just a punter, he also invented a board game (What's Your Bid) and served as the MVP and bright spot on several unremarkable Washington teams.
6 Shaun Suisham, K, 2006-09. It's slim pickings at No. 6, so let's go with Suisham, who made the game-winning kick to open the 2007 season.
7 Joe Theismann, 1974-85. Theismann remains an active figure in D.C., and is often seen at practices and games sporting burgundy and gold.
8 Kirk Cousins, QB, 2012-17. He likes that. Other quarterbacks to wear No. 8 for the Redskins: Bob Holly, Todd Husak, Tim Hasselbeck, Mark Brunell and Rex Grossman. We'll take Cousins.
9 Sonny Jurgensen, QB, 1964-74. The team has officially retired just one number, Sammy Baugh's 33. But it's hard to think that another quarterback will have the gumption to show up and ask for No. 9. It has not been issued since.
10 Robert Griffin III, 2012-15. Things didn't end well, but Griffin's rookie season will always have a place among the most memorable in franchise history.
11 Mark Rypien, QB, 1987-93. Rypien won the MVP award at Super Bowl XXVI.
12 Harry Gilmer, QB, 1948-54. Famed sportswriter Grantland Rice called him "the greatest collegiate passer I ever saw." Washington took him No. 1 overall, and he twice made the Pro Bowl.
13 Ed Justice, RB, 1937-42. Caught the winning pass from Sammy Baugh in the 1937 NFL title game.
14 Eddie LeBaron, QB, 1952-53, 1955-59. Twice left the team - once to serve in the Korean War, and once to focus on his burgeoning law practice. He made three Pro Bowls, but stood just 5-foot-7.
15 Jim Barber, T, 1935-41. One of a handful of players on this list to be a part of the Boston Redskins. The team moved in 1937.
16 Norm Snead, QB, 1961-63. Snead twice made the Pro Bowl in his three seasons, but his tenure was cut short when he was traded for Sonny Jurgensen. Snead played 13 more seasons in the NFL, but Jurgensen had the better career.
17 Doug Williams, QB, 1986-89. Williams remains with the franchise in an executive role, and helps mentor younger players. No. 17 was also worn by quarterback Billy Kilmer, who served as signal caller between the tenures of Sonny Jurgensen and Joe Theismann, and is currently in the possession of star receiver Terry McLaurin.
18 Bob Titchenal, C, 1940-42. Titchenal was named "The Most Handsome Football Player in the NFL." He left the team to enlist in the Navy.
19 Joe Aguirre, End/Kicker, 1941, 1943-45. Aguirre was a unanimous first-team All-Pro in 1944. But he was known for missing two late field goals in a one-point loss in the 1945 title game.
20 Cliff Battles, RB, 1932-37. Battles was coming off his second NFL rushing title, and his third All-Pro honor, at the end of the 1937 season. As a result, he asked owner George Preston Marshall to raise his salary from $2,750 a year to $3,000 a year. Marshall refused, and Battles left the league. He is in the Pro Football Hall of Fame.
21 Sean Taylor, S, 2005-07. Taylor was shot at his Miami home at the age of 24, tragically ending an NFL career full of promise. His number has not been officially retired, but also has not been worn in a game since. Prior to Taylor, the number belonged to a handful of other stars, including kick returner Mike Nelms (1980-84), running back Earnest Byner (1989-93) and running back Terry Allen (1995-98).
22 Todd Bowles, S, 1986-90. Bowles was a starter in Super Bowl XXII and later an NFL coach. The No. 22 also was worn by running back Charlie "Choo Choo" Justice from 1950-1954, and cornerback Carlos Rogers from 2005-10.
23 DeAngelo Hall, CB, 2008-17. Hall's distinguished career includes 10 defensive touchdowns, five on interceptions and five on fumbles. He's a three-time Pro Bowler and holds the NFL record for most interceptions in a game, with four. But he only barely wins the spot here - Brig Owens also wore 23, and his Super Bowl VII interception is one of the biggest plays in team history.
24 Bill Malinchak, WR, 1970-76. Malinchak was best known as a punt blocker, and revolutionized the position. He told the team website in 2014 that under coach George Allen, Washington spent "at least two hours a day on special teams." The number also was worn by Champ Bailey, who was traded to the Broncos for Clinton Portis in 2014, cornerback Josh Norman, who arrived via the Panthers, and is currently held by running back Antonio Gibson.
25 Joe Washington, RB, 1981-84. The only player in NFL history to throw for a touchdown, catch a touchdown and return a kickoff for a TD in the same game. He played in two Super Bowls with Washington, winning Super Bowl XVII. His number also was worn by University of Richmond grad Tim Hightower during his brief stint, and longtime third-down back Chris Thompson.
26 Clinton Portis, RB, 2004-10. Portis is the toast of an exceptional class to have donned No. 26. The number also was worn by famed coach Don Shula, who played one season in Washington as a defensive back in 1957. The number also was sported by defensive back Paul Krause, who played from 1964-67 and was named one of the 80 Greatest Redskins on the occasion of the team's 80th anniversary. The greatest player to ever wear the number in Washington is Adrian Peterson, but he didn't hang around long enough to make this cut.
27 Ken Houston, S, 1973-80. After being traded from the Houston Oilers, Houston made seven consecutive Pro Bowls in Washington. He intercepted 49 passes and scored 12 touchdowns in his career.
28 Darrell Green, CB, 1983-2002. No Washington player has worn No. 28 since Green left, and it's not hard to see why. The two-time Super Bowl champion had a career that spanned three decades, and is a member of the Hall of Fame. His 295 games played are the most in history, and the most in NFL history by a defensive player.
29 Mark Murphy, S, 1977-84. His on-field career included a Super Bowl interception and a Pro Bowl appearance, but Murphy is best known now as the President and CEO of the Green Bay Packers. He was involved in the business side during his playing days as well, and represented his fellow players during the 1982 NFL strike. Current No. 29 Kendall Fuller is well on his way to a memorable career too.
30 Brian Mitchell, RB, 1990-99. Only Jerry Rice has more total yardage in his NFL career, and Mitchell's 13 special teams touchdowns also are second all-time, behind Devin Hester. He's currently a broadcaster in the DC area.
31 Don Bosseler, FB, 1957-64. Bosseler gets the nod over recent players Rock Cartwright, Fabian Moreau and Kam Curl. Bosseler finished his career with 3,112 yards and 22 touchdowns.
32 Bob McChesney, End, 1936-43. McChesney made two Pro Bowls playing alongside the next honoree…
33 Sammy Baugh, QB, 1937-52. Baugh one of only two players whose number is officially was retired by the team. In practice, other numbers aren't used, but could be brought back into circulation. Players now are honored by induction into the Ring of Fame at FedEx Field, which has 47 members.
34 Brian Davis, CB, 1987-90. A young player looking to join this list should choose No. 34. No Washington player has worn it longer than Davis, whose stint with the team lasted just four years. Davis is the answer to a trivia question: He's the last player to tackle Walter Payton in an NFL game.
35 Bill Dudley, HB, 1950-51, '53. Virginians need no introduction to Dudley, who is one of the top collegiate athletes of all time (the state college player of the year award is named after him). His time at UVA is best known, but he led Washington in scoring all three of his seasons with the team.
36 Chuck Drazenovich, LB, 1950-59. A four-time Pro Bowler, Drazenovich's number has had a distinguished history. It was worn by Sean Taylor as a rookie, and also has been sported in Washington by Frank Wycheck, T.J. Duckett and Darrel Young.
37 Pat Fischer, DB, 1968-77. After starting his career in St. Louis, Fischer spent a decade in Washington, where he reached a Pro Bowl and intercepted 27 passes.
38 George Rogers, RB, 1985-87. Rogers was a No. 1 pick in the NFL draft who finished out his career with Washington, taking over for John Riggins after his retirement. Rogers won a Super Bowl in D.C., and finished his career with 7,176 rushing yards.
39 Clem Stralka, OL, 1938-42, 1945-46. After being named to the Pro Bowl in 1942, Stralka's career was interrupted as he served in the military during World War II. The number was also worn by running back Rob Goode, who was selected to the Pro Bowl in 1951, then left the NFL for three years to serve in the Korean War. Goode made the Pro Bowl in his first season back as well.
40 Wayne Millner, End, 1936-41. Caught two touchdown passes from Sammy Baugh in the 1937 NFL title game, and is a member of both the college and pro football halls of fame.
41 Mike Bass, CB, 1969-75. Bass was named one of the 80 Greatest Redskins, and logged 30 interceptions in his time with the team. He didn't miss any of the 98 regular-season games played during his tenure.
42 Charley Taylor, WR, 1964-77. Taylor is one of a handful of players whose number is informally retired, as no one has worn it in a regular-season game since he retired. A Hall of Famer, Taylor switched from running back to receiver early in his career.
43 Larry Brown, RB, 1969-76. The numbers 42-44 all are informally retired. Brown was a four-time Pro Bowler who was ordered to carry around a football for the duration of training camp by Vince Lombardi so he would cut down on his fumbles.
44 John Riggins, RB, 1976-85. One of the most famous players in team history, The Diesel sat out the 1980 season when Washington wouldn't give him a raise on his $300,000 a year contract. A year later he declared: "I'm bored, I'm broke and I'm back." He got a raise in 1983, to $800,000 a year.
45 Mike Sellers, TE/FB, 1998-2000, 2004-11. Sellers claims No. 45 on longevity alone. He wore it for portions of three decades. He was a Pro Bowler in 2008.
46 Alfred Morris, RB, 2012-15. As with Robert Griffin III, it's tough to place Morris in the Washington canon given how short his tenure was, but he was a fan favorite and produced big.
47 Chris Cooley, TE, 2004-12. Cooley edges out halfback Dick James, who wore the number from 1956-63 and made the "80 Greatest Redskins" list.
48 Ben Scotti, DB, 1959-61. Scotti played 71 games in the NFL, but his true impact on pop culture came later, when he teamed with his brother Tony to form a media company that launched "Weird Al" Yankovic and later produced the TV show "Baywatch."
49 Bobby Mitchell, RB, 1962-68. A Hall of Famer, Mitchell started his career with the Browns but made his name in Washington, where he scored 49 touchdowns. Washington was the last NFL team to integrate, and Mitchell was one of three Black players on the 1962 team. Mitchell's number was officially retired in 2020.
50 Ravin Caldwell, LB, 1987-92. Caldwell recorded 8½ sacks for Washington and has two Super Bowl rings.
51 Monte Coleman, LB, 1979-94. Inducted into the Ring of Fame last year, Coleman is one of only three players to play at least 16 seasons with the team (Sammy Baugh, Darrell Green).
52 Neal Olkewicz, LB, 1979-89. The team's defensive MVP in 1988, Olkewicz was on two Super Bowl-winning squads. He's been put on notice with the drafting of linebacker Jamin Davis.
53 Jeff Bostic, C, 1980-93. This number has been a distinguished one for the franchise. Along with Bostic, linebacker Harold McLinton (1969-78) and center Al DeMao (1945-53) were on the "80 Greatest Redskins" list. DeMao, who played offense and defense, averaged nearly 60 minutes of playing time per game.
54 Kurt Gouveia, LB, 1987-94. Gouveia played 13 seasons in the NFL, then one season in the XFL before joining the coaching ranks. His son, Jeron Gouveia-Winslow, played at Virginia Tech.
55 Chris Hanburger, LB, 1965-78. A Hall of Famer, Hanburger, a Hampton native, was a nine-time Pro Bowler.
56 Len Hauss, C, 1964-77. Hauss' consistency stands out, as he made six Pro Bowls and started 192 consecutive games. The number was also worn by LaVar Arrington, who as much as any other player exemplifies the Washington teams of the early 2000s, full of talent but with no shortage of drama.
57 Ken Harvey, LB, 1994-98. A four-time Pro Bowler, Harvey remains active in the DC community. He wins the spot, but a tip of the cap is in order to longtime long snapper Nick Sundberg.
58 Wilber Marshall, LB, 1988-92. Marshall played only five seasons with Washington in his distinguished career, but was twice voted All-Pro in that time.
59 London Fletcher, LB, 2007-13. Fletcher's number is not destined for retirement, formal or informal. It's been worn several times since he left. Still, he's one of the franchise's all-time best at the position.
60 Chris Samuels, T, 2000-09. A six-time Pro Bowler, Samuels later served as a high school football coach in Northern Virginia.
61 Ken Huff, G, 1983-85. Huff was one of the Hogs for three seasons, but this number hasn't received much use over the course of team history.
62 Don Boll, OL, 1953-59. It's slim pickings at No. 62, a number reserved for linemen. Though, in general, offensive linemen choose in the 70s and defensive linemen pick in the 90s.
63 Raleigh McKenzie, OL, 1985-94. A two-time Super Bowl winner, McKenzie was later is a scout for the Oakland Raiders while his brother Reggie was the general manager.
64 Kedric Golston, DE, 2006-16. A sixth-round pick, Goldston stuck around for a decade in Washington and was a familiar face in a time of regular roster turnover.
65 Dave Butz, DT, 1975-88. Butz was the fifth overall pick by the St. Louis Cardinals, but was signed away two years later by Washington, which gave up two first-round draft picks. Butz rewarded the team with more than a decade of production, a better return than the next player who was obtained by trading two first-round picks to St. Louis.
66 Joe Jacoby, OL, 1981-93. Jacoby was one of the finalists in Hall of Fame voting, but ultimately did not get the call to Canton.
67 Ray Brown, OL, 1989-95, 2004-05. Brown returned for a second stint in Washington at the end of his career, retiring at age 43 after starting a playoff game against the Seattle Seahawks.
68 Russ Grimm, OL, 1981-91. Grimm was a four-time All-Pro and a four-time Super Bowl champion. He was one of two finalists for the Pittsburgh Steelers coaching job, which eventually went to Mike Tomlin.
69 Mark Schlereth, OL, 1989-94. Schlereth made a Pro Bowl as a member of the team, and remains visible as an analyst on Fox's NFL programming. He's also appeared on the soap opera "Guiding Light."
70 Sam Huff, LB, 1964-67, 1969. A pro and college Hall of Famer, he retired before the 1968 season but was talked out of it the next year by Vince Lombardi.
71 Trent Williams, OL, 2010-19. Williams, now in San Francisco, makes a living keeping quarterbacks clean, but No. 71 also was worn by Charles Mann, who had double-digit sack totals four times in his career.
72 Dexter Manley, DE, 1981-89. The "Secretary of Defense" was a fifth-round draft pick by Washington and holds the single-season record with 18½ sacks.
73 Mark May, OL, 1981-1990. A first-round draft pick, May was later a college football analyst for ESPN. He'll be pushed in the coming years by center Chase Roullier.
74 George Starke, OL, 1973-84. The "head hog" was initially cut by Washington before playing a down. He tried out with the Cowboys, who also cut him, but made the Washington roster the next year.
75 Brandon Scherff, OL, 2015-present. Scherff is Washington's only first-team All-Pro in the Dan Snyder era. Like Williams, he shares the number with a famed player from the other side of the ball - in this case Deacon Jones, who is widely credited with coining the term "sack."
76 Morgan Moses, OL, 2014-2020. The most prominent Richmonder on the list, Moses shares the number with "Over the Hill" member Walter Rock, "Hog" Ed Simmons and "The Rock," Jon Jansen.
77 Bill Brundige, DL, 1970-77. Brundige famously blocked a field goal attempt by Garo Yepremian in Super Bowl VII. Yepremian attempted to throw the ball to comical results. No. 77 was worn in the 1990s by offensive lineman Tre' Johnson.
78 Bruce Smith, DE, 2000-03. Smith, a Hokies star, remains the NFL career sack leader with 200 sacks. He broke the record after joining Washington late in his career.
79 Ron McDole, DE, 1971-78. McDole's 12 interceptions defined his career, but it's his nickname, "The Dancing Bear," that stuck. Sonny Jurgensen called him that at a Georgetown nightclub. Broadcaster Pat Summerall was there and told the story during the broadcast of that week's game.
80 Gene Brito, DE, 1951-53, 1955-58. The favorite player of two U.S. presidents (John F. Kennedy and Richard Nixon), Brito won the MVP (then called the player of the year award) in 1955.
81 Art Monk, WR, 1980-93. Monk's number is among those that has not been re-issued since his retirement. He was inducted into the Hall of Fame alongside Darrell Green in 2008.
82 Michael Westbrook, WR, 1995-2001. A former first-round pick, Westbrook is best known for punching a teammate, but also had a productive 1999 season with 1,195 yards and nine touchdowns.
83 Ricky Sanders, WR, 1986-93. Sanders caught nine passes for 193 yards and two touchdowns in Super Bowl XXII.
84 Gary Clark, WR, 1985-92. A two-time Super Bowl champion, Clark was named an All-Pro three times and had 10,856 yards in his NFL career.
85 Don Warren, TE, 1979-92. Known for his blocking, Warren spent his entire 14-year career with the Redskins and was a member of three Super Bowl teams. His longevity gives him the nod over Vernon Davis.
86 Jordan Reed, TE, 2013-19. One of the great what-ifs in team history, Reed was unstoppable when healthy, but was eventually forced to retire as the result of nine documented concussions.
87 Jerry Smith, TE, 1965-77. Smith was one of the first gay players in the NFL. He didn't come out publicly, but many of his teammates knew. At the time of his retirement, he held the record for most touchdown receptions by a tight end (60) until Shannon Sharpe broke that record. He died from AIDS in 1986.
88 Billy "White Shoes" Johnson, WR, 1988. Johnson is credited with starting the trend of elaborate end zone celebrations by receivers after catching touchdown passes.
89 Santana Moss, WR, 2005-14. Moss' 1,483 yards are the most in a season by a Washington player. He'll forever go down in Redskins lore for his two touchdown catches in the final 3:46 to beat the Dallas Cowboys on "Monday Night Football."
90 Montez Sweat, DE, 2019-present. The second-youngest player on the list, Sweat wins the nod more or less by default at this point - he supplants fellow pass rusher Kenard Lang.
91 Ryan Kerrigan, LB, 2011-20. The franchise's all-time sack leader, he recorded 95.5 in Washington and picked up four Pro Bowl nods along the way.
92 Chris Baker, DL, 2011-16. Baker was an afterthought when he joined Washington, and as such he was assigned a number nobody else wanted: the No. 92, which recently had been vacated by Albert Haynesworth.
93 Phillip Daniels, DL, 2004-10. Daniels played 15 seasons in the NFL, but his four-sack performance against the Cowboys in a 35-7 win in 2005 is what fans might remember most. It's likely he'll be turning this spot over to Jonathan Allen in the near future.
94 Daron Payne, DL, 2018-present. Payne's role doesn't translate well statistically, but he's regularly double-teamed by opposing offensive lines. He gets the nod over Sean Gilbert, who came to Washington in a mega-trade but lasted just one year.
95 Joe Salave'a, DL, 2004-06. Salave'a was a starter on a 2005 Washington team that went 10-6 and made it to the playoffs. He has been an assistant coach at Washington State University since 2012.
96 Barry Cofield Jr., NT, 2011-14. Cofield had a career-high eight deflections as a nose tackle in 2011 and was named a co-defensive captain in 2012.
97 Jumpy Geathers, DT, 1990-92. Geathers is the patriarch of a large football family, with four nephews and a son who have played in the NFL. Tim Settle could have a claim on the spot with a breakout season.
98 Brian Orakpo, DE, 2009-14. Orakpo's final seasons with the team soured fans' memory, but he was briefly the face of the franchise, and of GEICO auto insurance. That's enough to edge Matt Ioannidis for now, but probably not for long.
99 Chase Young, DE, 2020-present. The youngest player on the list, if his career ended tomorrow Young still gets the nod here. The spot was previously held by Marco Coleman, who played three years with the team, including a 12-sack, Pro Bowl year in 2000. That's impressive, but Young is flat-out dominant.
(804) 649-6546
Twitter: @michaelpRTD