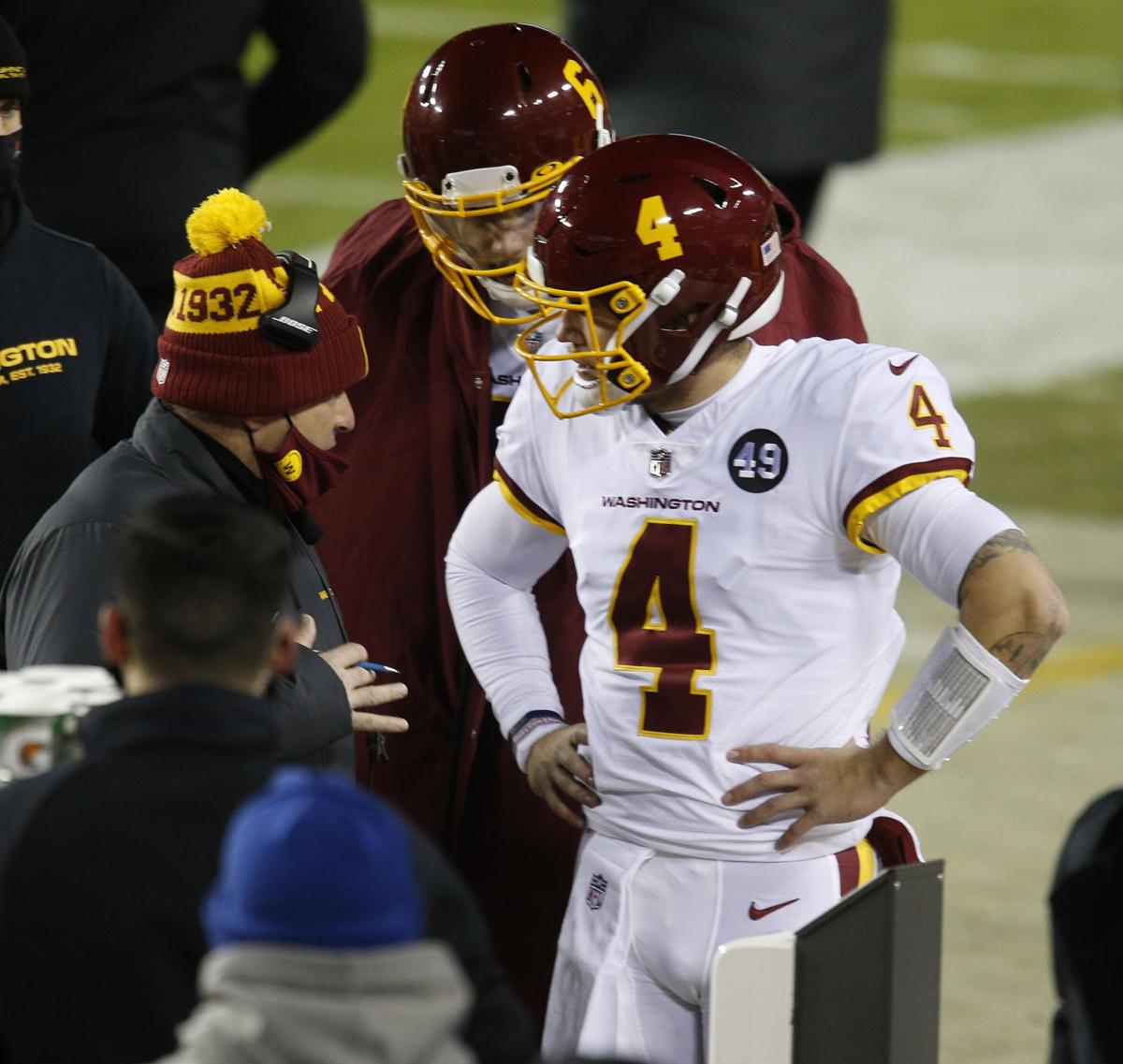 The Washington Football Team used five quarterbacks this season, four of whom saw playing time.
Now the coaching staff must sort out what the future will look like at the position, with a number of key decisions ahead. Taylor Heinicke and Kyle Allen seem most likely to return, but would either be considered a starter headed into 2021?
That would leave coach Ron Rivera with the option of landing a big-name quarterback, or rolling the dice on a quarterback competition in next year's training camp.
Here's a look at all the options:
On the roster:
Alex Smith:
There are two ways Smith could leave - via retirement or being released. For salary cap purposes, there is no difference between the two.
Smith has no further guaranteed money remaining on his deal. If he enters next year without a modified deal, he would be owed $19 million for the season, an outcome that is extremely unlikely.
Smith still has $10.8 million of his signing bonus that has not yet counted against Washington's cap. If he leaves, that money would accelerate into the 2021 season. If he stays, a portion could be deferred for another year.
From a cap perspective, Washington has the money to absorb the hit, and little incentive to roll it over into future years, given the big checks that will need to be written to the team's young defensive stars.
If he wants to return, and Rivera wants him back, the two sides can renegotiate Smith's contract to make it more in line with what his market value would be - somewhere in the ballpark of $3-5 million for the year, with incentives.
If Smith decides he wants to continue playing, the ball is in Rivera's court. If the coach decides to pass on retaining Smith, it seems likely there would be a market for his services, particularly given his reputation as an excellent mentor for young quarterbacks.
Before all that happens, he'll be given the comeback player of the year award the night before the Super Bowl, ending the least suspenseful balloting in NFL awards history.
Best guess: Smith decides to retire, and the comeback player of the year award is named in his honor.
Taylor Heinicke:
The call to join Washington happened two weeks too late to work in Heinicke's favor.
The Old Dominion quarterback, who is now a national legend, was not on the active roster for six games, the NFL minimum to count as an "accrued" season for contract purposes.
That means Heinicke is a restricted free agent, giving Washington a handful of options:
1) Don't do anything: If Rivera decides he's fine with Kyle Allen as his backup, Heinicke can be released and become a regular unrestricted free agent.
2) Right of first refusal tender: Heinicke would be allowed to solicit offers from other teams, and Washington would get the right to match any deal he signed. If Washington chose not to match, there would be no draft pick compensation. If no teams make an offer, he would receive a 1-year, $2.1 million contract in Washington.
3) Second-round tender: Washington commits to a 1-year, $3.3 million contract for Heinicke. Other teams can negotiate with Heinicke, and if he reaches a deal, Washington could choose to match that deal or opt to receive a second-round pick from the team that poaches Heinicke.
4) First-round tender: Same rules as the second-round tender, but a team would have to give up a first-round pick to poach Heinicke away, and Washington has to commit to a $4.6 million contract. This option is unlikely.
Heinicke's ability to read defenses is unquestioned, and he single-handedly kept Washington afloat in a playoff game against one of the league's best teams.
But his durability is a big question mark. He has been injured three times in the NFL, even though he's only played in a handful of games.
Best guess: Heinicke gets a second-round tender, and stays in Washington as the team's backup quarterback.
Kyle Allen:
Allen is clearly loved by Rivera and offensive coordinator Scott Turner, and was the team's backup quarterback in 2020 before his season was cut short by injury.
He ended up needing surgery to repair a dislocated ankle, and will spend most of the offseason in rehab.
The timing of his recovery will determine where Allen stands in the roster battle. If he is able to return in time for minicamp, it's possible he could enter the competition alongside the other quarterbacks, but if he is still limited when training camp begins, which is also a possibility, he could remain on the roster but as the third quarterback, meaning he would be inactive on game days.
Allen's contract is the least complicated of the bunch. He is an "exclusive rights free agent," meaning as long as Washington wants him, he must play for the veteran minimum in 2021, which will be in the ballpark of $750,000. If he is on the roster for the 2021 season, he will be a restricted free agent when the season ends.
Best guess: Allen is on the 53-man roster in 2021, but is inactive in Week 1.
Steven Montez:
Montez looks like a quarterback. He's 6-foot-6, 235, and his father played a year in the NFL. After playing collegiately in Colorado, Montez went undrafted.
He was kept on the practice squad to develop in Washington this year, but never entered a game. After Heinicke was injured in the playoff game, leaving Montez as the next man up, he was seen on the sideline with a look that did not exactly communicate confidence in the situation.
Near the end of the season, Rivera cited Montez's lack of playing time as a reason Heinicke was brought in.
"Part of the worry came from watching him during warmups," Rivera said of the first game Montez was elevated to the active roster. "At one point, even though we didn't have fans in the stands, you could kind of see he had a bit of awe in his face."
The coaching staff will have to decide if they want to give Montez action in preseason games, to see if he develops, or move on to another practice squad quarterback.
Best guess: Montez is not on the team in 2021.
Draft a quarterback:
With Washington's draft position, No. 19 overall, there won't be a sure thing available at the quarterback position. The four top quarterbacks - Trevor Lawrence (Clemson), Justin Fields (Ohio State), Zach Wilson (BYU) and Trey Lance (North Dakota St.) - are all likely to be off the board.
That leaves a number of players who could develop into stars, but not necessarily in time for Week 1.
There is also the issues of holes elsewhere on the team, including linebacker, safety, wide receiver and tight end. Using a draft pick on a quarterback, even if it's not a first rounder, would slow efforts to build depth at other positions.
If Washington does decide to draft a quarterback early, a pair of SEC signal callers could be in play: Florida's Kyle Trask and Alabama's Mac Jones. Going hunting for treasure in the late rounds could lead the Football Team to somebody like Northwestern's Peyton Ramsey.
Best guess: Washington will not use a first or second-day draft pick on a quarterback.
Sign a free agent:
The salary cap will be Washington's friend this offseason. The cap is a percentage of the league's revenue from the previous year, and because of the coronavirus pandemic limiting ticket sales, the cap will go down next year for the first time in modern NFL history, from $198 million to an estimated $175 million.
For teams that had been spending to the limit, that's going to create tough choices as they likely have to cut veteran players in order to get into compliance with the new number.
The Washington Football team does not have that problem. At the moment, Washington has $37.6 million in space available on the reduced cap, but that's before freeing up the nearly $20 million tied up in Alex Smith's contract.
That makes Washington a prime contender for marquee free agents, including at the quarterback position. Some of the biggest names:
Dak Prescott: It seems unlikely the Cowboys let him walk, but the franchise tag will probably be unworkable with the new cap, meaning the two sides will need to reach a long-term agreement. If they don't, he'll immediately be the biggest name on the market. Prescott landing in Washington would add more juice to one of the league's most famous rivalries.
Ryan Fitzpatrick: If Rivera feels really good about his defense, he might want to look to a veteran quarterback who can step in and lead Washington to bigger things in 2021. Philip Rivers would fit in this category too, if he decides not to retire. Given that Rivera has repeatedly expressed a desire to keep his team young, this seems unlikely to happen.
Cam Newton: The tie here is obvious - Rivera and Newton were joined at the hip for years in Carolina, and Newton proved himself worthy of an NFL starting job this season in New England. However, Rivera had the opportunity to bring Newton in last year and chose not to. Dwayne Haskins would have complicated that situation, but if Rivera really wanted his former quarterback, it seems like he would have made the move then.
Tyrod Taylor: The former Virginia Tech quarterback has bounced around the past few years, but would be cheap and has been spoken of highly everywhere he's gone. At age 31, he's still got plenty of football in front of him.
Free agency officially opens on March 17.
Trade for a quarterback:
This is where the real fun is. If Washington is serious about getting a big-name, top-tier franchise quarterback, there are a few they might be able to pry away from their current teams, though at considerable cost.
Deshaun Watson: This is the dream scenario for any team - a young quarterback who has already established himself as one of the league's best. There's a reason there's no precedent for this: It's just not something that ever happens in the NFL. If, somehow, Houston were to decide to deal him, the bidding war would be fierce. Any conversation would start at multiple first-round picks, and given that Washington's is No. 19 overall, that would put them at a disadvantage. Still, it's worth a phone call, and worth more than that if there's even a hint of interest.
Matt Stafford: The Lions appear to be entering a rebuilding phase, and there could be mutual interest from both sides in moving on. Detroit would want to get younger at a key position, while Stafford, at age 32, may not want to play for a fifth coach in an organization that seems perpetually stuck in neutral.
Stafford has two years remaining on his contract. He'll make $20 million in 2021 and $22.5 million in 2022. Both numbers provide high value, especially when considering Kirk Cousins is pulling in $33 million a year and is arguably the lesser of the two quarterbacks.
Stafford's possible value in a trade? Well, a former first-round quarterback of the exact same age was traded a few years ago - his name was Alex Smith. Washington had to deal Kendall Fuller and a third-round pick to land Smith. That's probably a good baseline for where to start in a potential Stafford deal.
Marcus Mariota: The former No. 2 overall pick would be an underwhelming pick from a playing standpoint, but his leadership skills were praised in Tennessee and Las Vegas, and he would seem to be the perfect fit for Rivera's culture transformation. Mariota probably occupies a middle ground here, a player who could step in right away, but be expected to step aside for Heinicke, Allen or a rookie at the appropriate time.
Mariota's deal with the Raiders calls for a $10.7 million salary next year, and the trade compensation here probably wouldn't be overly burdensome.
Carson Wentz: Is Wentz good? It's a fair question to ask, given what happened this year, but there's also a body of evidence that suggests that yes, he can be very good. He's on an expensive contract and it's a potentially risky commitment, but if the Eagles are sold on trading him, they probably wouldn't be opposed to him staying in the division if they think Washington is getting saddled with a bad deal for the next few years. As Rivera might say, this potential deal is interesting, but probably not important.
Prediction:
Washington seems likely to keep Heinicke and Allen. Given Allen's injury, Heinicke projects as the No. 2 on the 2021 roster, with Allen the No. 3 - inactive on game days as he works towards a return.
That makes it likely Washington will snag a quarterback through either free agency or a trade.
Any of these options are plausible, but I'll put my chips on two in particular - Matt Stafford, given how much football he has left and his history of playing through tough injuries, and Tyrod Taylor, who would be a value play here, allowing Washington to continue to build the nucleus of a perennial contender.
That also leaves room for a late-round draft pick or undrafted player to join the Football Team as a practice squad quarterback in 2021.
(804) 649-6546
Twitter: @michaelpRTD