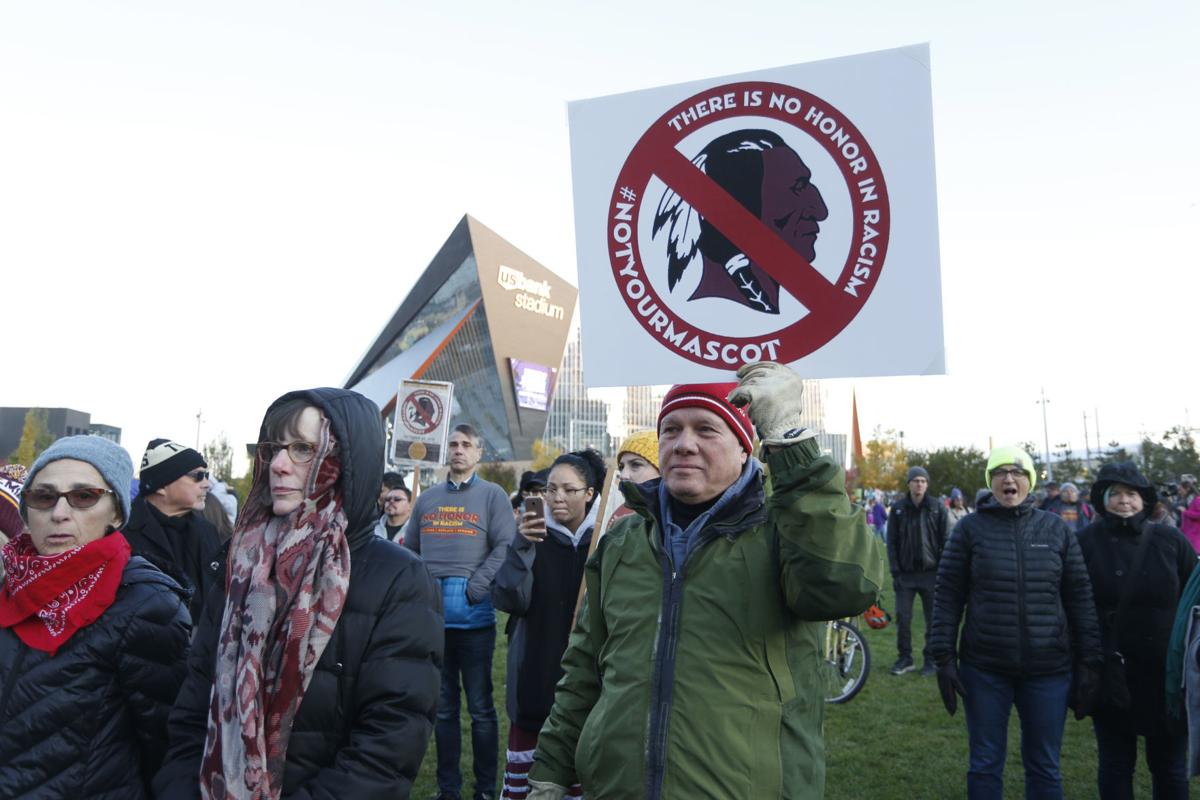 Chief Kenneth Branham of the Monacan Indian Nation has been hoping to get the name changed for years.
His tribe, along with others, have gotten in touch with the Washington Redskins, but they've always gotten the same response.
"We got the usual, 'Nice talking to you, but no, we're not changing it,'" he said.
The debate over the Redskins' name has been around in one form or another since the 1960s, but recently, the tides have turned. A combination of factors — both economic and political — led owner Dan Snyder to announce last Friday that the team would conduct a "thorough review" of its name.
Branham thinks the term is racist. He doesn't know else it could be seen.
He stammers a bit trying to find the words to describe why he finds it offensive — something he sees as glaringly obvious.
"Would they ever put up with a team being the Chicago Sambos?" Branham said. "Or the Chicago Blackskins? The Philadelphia Jews?"
Other Native Americans, like Chief Walt "Red Hawk" Brown of the Cheroenhaka Tribe, don't find the name offensive at all. Brown sees it as a representation of his community in broader popular culture — something that doesn't come around all that often.
"This is a strong symbol that represents my people, my culture, my traditions," Brown said. "Redskins. Because we are Redskins. That's what we are."
He's strongly opposed to the name being changed. He sees the "eradication" of these symbols as an attack on his culture — an attempt to ignore the experiences of his people.
In Brown's mind, people who are opposed to the name "Redskins" don't understand its historical roots.
"We used red paint for healing," Brown said. "We used it when we went to war. Our skins were red — red from the sun and red from the particular root that we used to put the red paint on our faces, on our arms and on our legs."
He sees the removal of Native imagery and references as essentially an attempt to whitewash history.
"The solution is to educate, not to eradicate," he said.
Chief Lynette Allston of the Nottoway Indian tribe looks at history a little differently. She hears "redskin" and thinks not of her people's culture and traditions but of the historical oppression they have faced for generations.
"I go back to the reference of redskins as a way to count Native People that had been killed," Allston said. "It was a way to count scalps — how many redskins you can turn in to receive a bounty for having killed Native People."
To her, the term is so derogatory that she prefers to refer to it as "the r-word." Her tribe was one of many to sign a petition with the National Congress of American Indians asking for the Redskins to change their name several years ago.
Gregory Smithers, a professor of Native American history at VCU, said the term has a "complicated history." Some scholars believe the word originated as a "benign" way to differentiate Native People and European settlers.
Smithers stresses the importance of understanding the intent behind the names and images used to represent a "conquered race."
"This was a form of racist nostalgia in which American popular culture position Native Americans as relics of the past," he said by email. "This proved well-suited to marketing agencies, American universities and professional sports teams, all of whom used Native imagery to advertise their brands."
While Allston doesn't think the imagery is as offensive as the name, she thinks the entire idea of using a people as a mascot is extremely problematic.
For Branham, the mascot is as — if not more — offensive than the name.
"There are many varied opinions though Indian country," Allston said. "Some people, it just doesn't bother them. Others feel that pain — that historical trauma — that follows from being murdered."
Brown sees no problem with the mascot or the fact that fans have been known to wear Native American head dresses to games.
He believes that most Native Americans share his opinion, citing a poll conducted by the Washington Post that found nine out of 10 Native Americans didn't find the name offensive.
A letter from five Native American leaders addressed to Roger Goodell speaks to the contrary. The Native groups listed several demands, but among other things, they asked for people to stop using the Washington Post poll to "rationalize the use of the racist r-word name."
"These surveys were not academically vetted and were called unethical and inaccurate by the Native American Journalist Association as well as deemed damaging by other prominent organizations that represent Native Peoples," the July 6 letter said.
The 2016 poll has been widely circulated in support of the Redskins' name, though it only surveyed 504 Native People. Smithers called the methodology of the study "deeply flawed."
A 2020 study conducted by researchers from the University of Michigan and UC-Berkley found that over half the people that "strongly identify" with Native American culture were deeply offended by the use of the imagery. While not as widely circulated, the study had a larger sample size and asked participants how engaged they are with their Native community.
Many Native Americans don't feel like their voices are being heard on either side. Both Brown and Branham believe the debate is dominated by more influential groups, which could account for the recent shift in debate.
While tribes like the Nottoway have been pushing for this change for years, the review of the team's name only comes after three of its biggest corporate sponsors — FedEx, Pepsi and Nike — expressed public disapproval.
Branham thinks a popular proverb sums it up best: money talks.
"It doesn't have anything to do with these people changing the way they think," he said. "To them, there's still nothing wrong with what they're doing, but it's hitting them where it hurts — in the wallet.
"I'm glad these companies got behind these people and said, 'Enough is enough.' Sometimes that's what it takes."
Allston has a more optimistic outlook. She believes the country is truly in a time of change amid the Black Lives Matter movement.
"We are in a period of correction on a number of things that are affecting minority populations," Allston said. "Many things that are going on that are primed for adjustment. This is a different era — a different time."
Others believe the debate over the name is taking attention away from larger issues that Native Americans face.
According to the National Congress of American Indians, the average lifespan for Native Americans is 5.5 years shorter than all other races and ethnicities throughout the U.S. as a whole. The suicide rate for Native Americans is 2.5 times higher, and the homicide rate is also more than double the national average.
"Let's look at coronavirus in the Navajo nation," Brown said. "People are dying like flies there. You don't ever see anything about that hardly. All of the sudden, we've popped up again with the renaming of the Washington Redskins because some entities want to say that Redskins is a derogatory and racist name."
One of the largest concerns for Native People in the area has been gaining federal recognition. Federally recognized tribes have certain inherent rights to self government and are eligible for funding and services from the Department of the Interior Indian Affairs.
There are currently 11 recognized tribes in Virginia, six of which just gained federal recognition at the end of 2018. That's something they've been working on for most of Branham's lifetime.
Progress is slow, but Branham has been patient. He knows there are more pressing issues in his community than the name of a football team, but if it's changed, he'll see it as a victory.
"It's a step forward — it's a small step …" Branham said. "We'll take it and move on to something a little bit bigger. Every time something like this happens, and it's corrected, that's something my grandchildren won't have to think about when they take over.