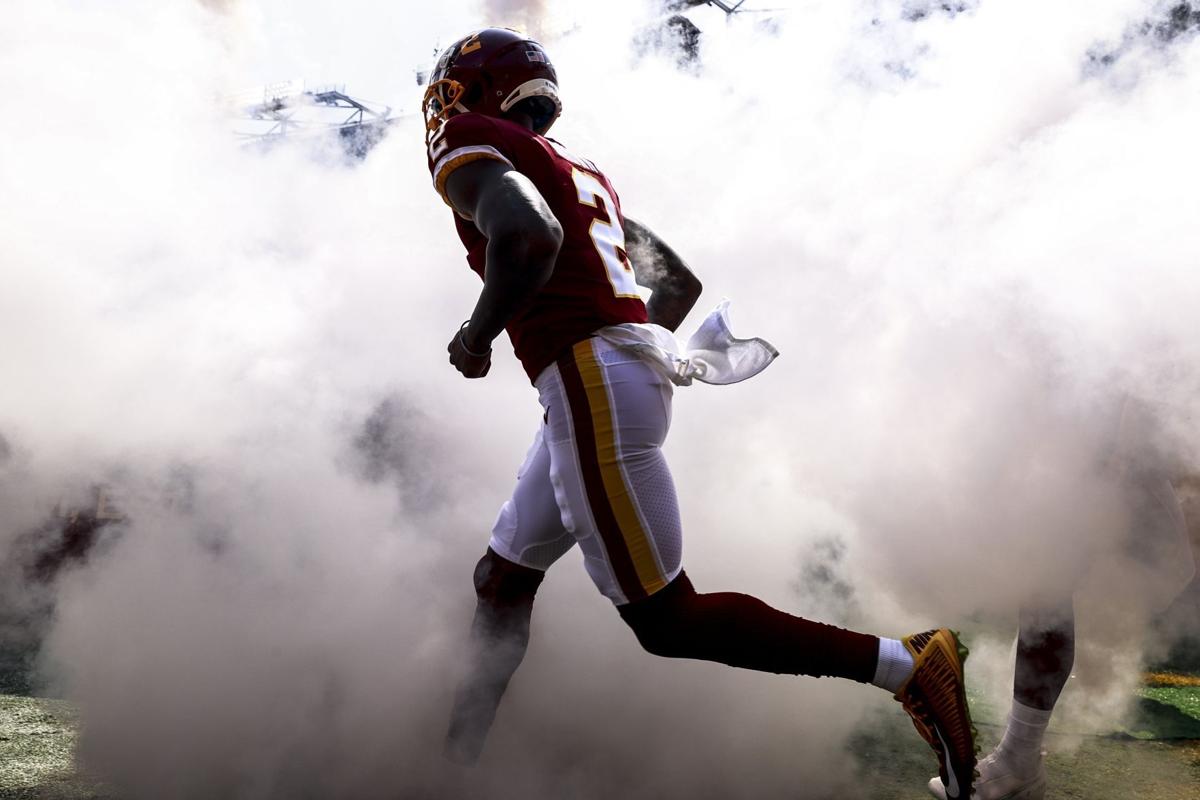 LANDOVER, Md. - About four rows of fans were displaced at FedEx Field on Sunday when a rain water pipe burst open and flooded the seats underneath the overhang in the lower level.
The fans were ushered to suites to watch the rest of the game, given team merchandise and paid a visit by team president Jason Wright and co-CEO Tanya Snyder.
The water stopped pouring a few minutes later, and had mostly dried up about 15 minutes later, at halftime.
The team estimated there would be about 45,000 fans in attendance before Sunday's game. That number is well short of capacity, but the lower bowl was full and those who were there made a significant amount of noise, giving the game a fun atmosphere.
Observations from the field.....
--The decision to keep DeAndre Carter as a punt returner paid off immediately. Carter ripped off a 14-yard return early to give Washington the ball in Chargers territory, helping the team to an early field goal.
--Dustin Hopkins converted his first three field goals, easing fears about his performance, but then missed from 51 yards in the second half. Coach Ron Rivera said he thinks it's a mental block by Hopkins when he's kicking from longer than 50, noting that Hopkins' early kicks would have easily been good from the distance.
--Rookies struggle, that's a fact of NFL life. But it was a particularly rough day for Sam Cosmi at right tackle and Benjamin St-Juste at cornerback. Both were picked on repeatedly by the Chargers - Rivera will have to go back to the drawing board and find a way to give them protection moving forward.
--Washington started the game in a three-safety look, keeping rookie linebacker Jamin Davis on the sideline. Rivera chalked that up as "situational," though it's clear the team has a lot of faith in all three safeties, and the unit generally performed well on Sunday.
--Rough day for the zebras. They missed two face mask calls against Antonio Gibson, then called a phantom pass interference on the Chargers to extend a drive. The weirdest of them all, though, was ruling a play a fumble when Justin Herbert was able to throw the ball 15 yards and clearly hadn't been hit by Montez Sweat during his wind-up.
--I was fine with Ron Rivera's decision to punt the ball with 6:43 remaining. The case against it is pretty clear - Justin Herbert is dealing, and there's a chance you don't see the ball again.
But a fourth-and-7 is a big ask, and a miss puts the Chargers on the doorstep of field-goal range.
Also, there's this if you're Rivera: You (allegedly) have the best defensive line in football. Shouldn't that be the perfect opportunity for them to make the kind of game-changing play that's needed?
They didn't, and while it's just one week, it was a tough one for a group that was garnering national hype in the preseason.
(804) 649-6546
Twitter: @michaelpRTD