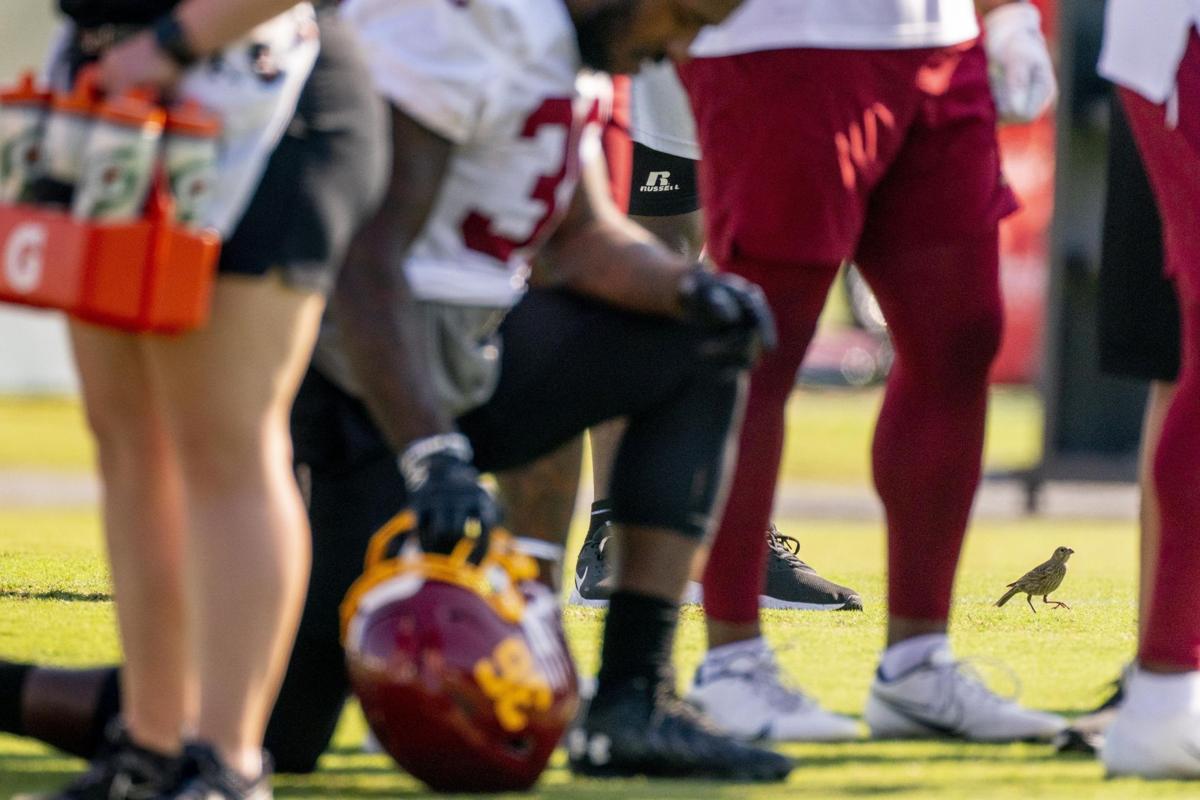 A stellar day for Washington's quarterbacks included a no-look pass by Ryan Fitzpatrick and a return to form for fan favorite Taylor Heinicke.
Heinicke has had a rough camp so far in terms of accuracy and quick decision-making. It appeared he took an extra half-second to stop and set for his throws on Thursday — it may not always be possible in games, but it paid dividends on the practice field.
Fitzpatrick has been steady in his production, with the occasional highlight like Thursday's no-look throw. On the other end of the depth chart, Steven Montez was able to end the session with a touchdown pass after two straight days of being intercepted. (To be fair, Troy Apke dropped an easy interception that would have ended things two plays earlier.)
All three quarterbacks will get their first opportunity to show off in front of fans at FedEx Field on Friday night, as the team hosts an open practice capped at 25,000 attendees — tickets are free through the team website.
Other practice observations
The Washington Football Team has a new mascot. Well, not quite like that.
"Ted the Bird" is a small bird that has been on the practice field every day during the team's workouts. Ted is fearless, walking around during drills and only fluttering away when the action comes his way at full speed.
Players stop and point every time Ted comes their way, and the team announced Wednesday that the bird had been signed to a lifetime contract.
"Man, he probably got a little more than me," receiver DeAndre Carter joked.
"That's a very brave bird," defensive lineman James Smith-Williams added. "He hangs around and doesn't move. ... A team mascot. There's your new team name."
Dyami Brown may not be a regular contributor, but when he's out there, he's going to be explosive.
Brown routinely catches 30- and 40-yard passes in stride and has a great feel for where to be when the ball lands.
Fantasy football players should still beware — Brown will be heavily limited by the number of targets that will go to Terry McLaurin, Curtis Samuel, Logan Thomas and even Antonio Gibson. But he's a fun addition.
Speaking of McLaurin, his excellence is somewhat taken for granted. All he does is come out every day and beat up on two pretty good NFL cornerbacks.
Every time I start to get concerned about William Jackson, I remember who he's going against — McLaurin's technical precision and commitment to details is unmatched among players that have come through here in recent years.
After an offseason of hype about Khaleke Hudson making a second-year leap at linebacker, he's been largely silent during this year's camp. Of course, that could just mean that they're keeping that menu of plays under wraps until it's needed during the season.
Safety Kam Curl did not practice due to illness on Thursday. Defensive tackle Jonathan Allen appeared to be full-go after taking time off with a hamstring injury.
Quarterback Kyle Allen (ankle) did not practice, while Gibson (lingering toe issues) didn't appear to be held back during running drills.
(804) 649-6546
Twitter: @michaelpRTD