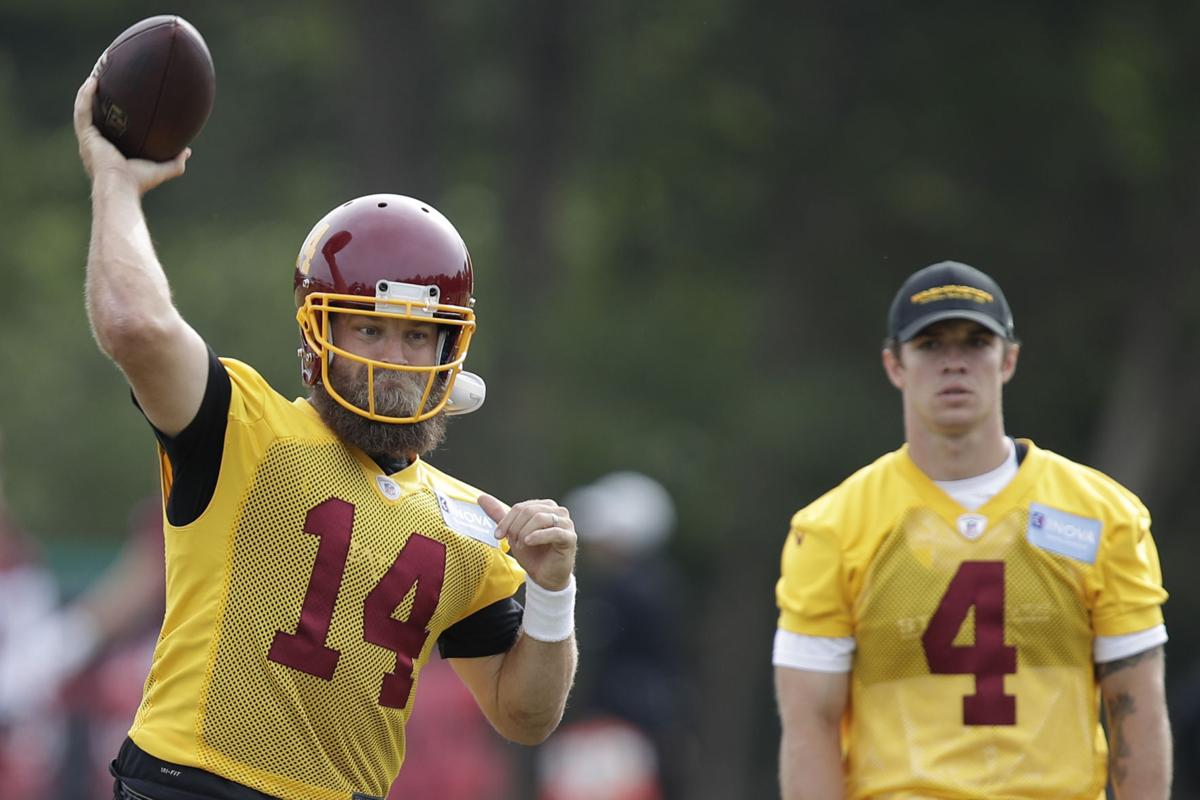 ASHBURN — With OTAs and minicamp in the books, four receivers have solidified their spots on the Washington Football Team's roster this year.
Barring injury or the unforseen, Terry McLaurin, Curtis Samuel, Adam Humphries and rookie Dyami Brown will be a part of this year's team.
A traditional NFL roster has six receiver spots, and, well, that leaves a lot of talent that's about to feel the heat in Richmond.
Among those competing for a job in camp will be Kelvin Harmon, Antonio Gandy-Golden, Cam Sims, Isaiah Wright, Steven Sims Jr., Dax Milne and DeAndre Carter.
Perhaps it's no surprise that during Thursday's workout, four of those players — Sims Jr., Milne, Carter and Wright — were the four chosen to return punts during the special teams section. At this point, every snap matters.
Cam Sims would seem to be on the safest ground of the group. The coaches like him, and he's proven that he can produce in game settings, as he did last year.
Wright also made a splash in limited 2020 action, while Harmon impressed in his rookie season in 2019, and has so far shown no sluggishness after rehabbing a torn ACL.
Milne, a late-round pick from BYU, is also a name to watch. Practice squad eligibility will matter on cut day, which could land him there, but coaches are intrigued by what he brings to the table. As for Steven Sims Jr., who has the most NFL experience in the group, it's hard to see him making the final 53 given how intense the competition has been so far.
Gandy-Golden, the former Liberty standout who didn't play much in his rookie season, had the play of the day on Thursday, a spinning, one-handed catch that sent McLaurin sprinting off the bench to celebrate with him.
More practice observations:
For the second day in a row, the defense completely dominated the offense during live competition. Coach Ron Rivera suggested after that those results can be misleading, because he asked the offensive line not to do certain things in the interest of getting everybody out of the minicamp healthy (mission nearly accomplished — Logan Thomas was the lone player to get banged up during the week).
That's a fair caveat, but it wasn't just the line. The secondary got the better of the receivers, and after failing to convert any of their breakups to interceptions on Wednesday, the defensive backs had a pick party on Thursday, with Bobby McCain pulling in two and Khaleke Hudson snagging another. The line also created two by tipping passes.
Most importantly, though, it's time to talk quarterbacks. Taylor Heinicke outplayed Ryan Fitzpatrick throughout the week and, once again, Rivera promised competition at training camp.
"They're going to compete," Rivera said. "They're going to push each other, and I'm looking forward to it."
Fitzpatrick was clear about his intent for the sessions — he noted early on that he's going to throw the ball where he thinks it should be thrown, and then he'll huddle with the receivers after and sort out why things didn't work.
So it's not entirely fair to say there were several inaccurate or misthrown balls, because they might have been "learning opportunities" more than they were "bad passes."
But Heinicke's raw talent shone once again. In a red-zone drill, he threw a pass to the corner of the end zone while stepping backward, that landed in the perfect spot with perfect touch (Gandy-Golden caught the pass, whether he was in bounds is a matter of intense dispute between the two units and their coaches).
After Steven Sims dropped a screen pass, Heinicke found him a minute later for a 35-yarder, and then during the next session crossed the field to give him a fist bump and some support.
Both quarterbacks got to throw long bombs to Brown, the talented rookie, during 11-on-11 time, but only Heinicke's found its target.
Will it be a true competition? Will Fitzpatrick shine when it's time to roll in Richmond? Stay tuned.
The battle to back up Montez Sweat and Chase Young is a fascinating one, with a pair of seventh-rounders making their case this week. James Smith-Williams (2020 draft) and Shaka Toney (2021) both made impact plays this week, and generally pushed around their overmatched second- and third-string competition on the offensive line.
Toney tipped a pass that turned into an interception, and both seem to possess a knack for positioning that will help them against elaborate NFL offenses.
Dustin Hopkins hit a 42-yarder to end minicamp and spare the players their conditioning work — he also made a 55-yarder to start the festivities on Thursday.
(804) 649-6546
Twitter: @michaelpRTD