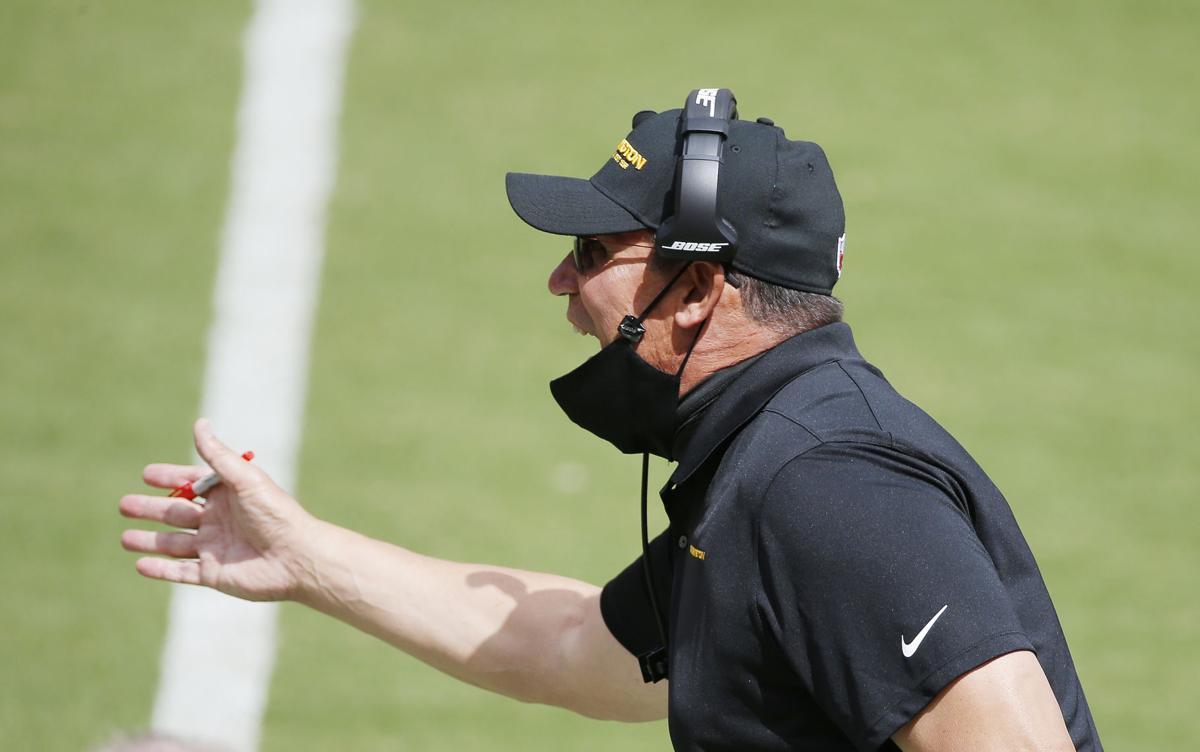 ASHBURN - Tuesday's practice seemed to be mostly focused on installing Washington's playbook for the year, but on Wednesday, the competitive juices flowed, and the defense dominated.
In the middle of the two-hour minicamp workout, Washington Football Team coach Ron Rivera set up a simulated scenario, putting 1:10 on the clock and his offense on its own 42-yard line. They had timeouts available.
Washington's first-team unit, led by Ryan Fitzpatrick, had a drive characterized by a lack of urgency early, and with 14 seconds remaining, the ball was only at the opposing 28-yard line.
Cam Sims made a reaching sideline catch to put the unit in the red zone, but two attempts at a touchdown both failed - the first was a high, arcing pass to Logan Thomas which was too high to pull down, and the second was to Terry McLaurin, but the quarterback and receiver weren't on the same page and the ball landed harmlessly away from the play.
Taylor Heinicke took over with the second team and had little immediate success. On third down he seemed to anticipate DeAndre Carter running a slant route, but Carter kept running and the ball fell incomplete. On fourth down they dialed up the play again, and completed it.
The drive should have ended on the next play, as Benjamin St-Juste jumped a route intended for Carter and picked it off, but dropped it as he fell to the ground.
Heinicke scrambled for a fourth-down conversion, but St-Juste broke up the final touchdown opportunity, a pass to Dyami Brown.
The defense spent most of the session celebrating boisterously. Fitzpatrick and Heinicke both returned to the sidelines and offered up pointers to the team's receivers.
Other practice observations:
--St-Juste had a monster day, and was seemingly everywhere, but almost all of the team's corners had spotlight plays of their own. One thing to note, though - there were no interceptions.
--Heinicke went deep to Dyami Brown a couple times, completing two of the day's most impressive passes. Late in the session he tried one that traveled about 60 yards in the air, and Brown got good separation but the pass was thrown a touch too far.
--Heinicke took a handful of chances and was mostly successful, but had a pair of long throws that could have easily been intercepted.
--The cornerback on that one was Troy Apke, who is being auditioned in the role after being converted from safety. The anti-Apke bias from this blog is well known, but today didn't do anything to change my mind, especially after other corners, including Danny Johnson, had big plays.
--We saw lots of Antonio Gibson today in lots of different roles, including catching passes out of the backfield. He didn't look hampered at all by the injury - and this on the heels of a similar workout yesterday.
--Two batted passes by the defensive line today, one from Montez Sweat and one from James Smith-Williams.
--Sammis Reyes update: he was in the correct position to pull in a touchdown but linebacker Jordan Kunaszyk made an aggressive break on the ball and was able to bat it down before Reyes could get to it. Reyes' learning is coming along well - he's positioning himself mostly in the right spots. But his game doesn't look fluid yet, and barring a major leap in the next six weeks, I still think he's more likely to be inactive/practice squad than anything else, at least to start the year.
--Landon Collins continued to be a vocal participant from the sidelines, but has not yet been cleared to return to action.
--Jonathan Allen said the team and his agent continue to work on a potential long-term contract, and that he wants to stay in D.C. long-term. If Washington wants him, they'd be wise to lock him up now. We've seen how hard it is to do once a player gets closer to that franchise-tag money.
(804) 649-6546
Twitter: @michaelpRTD