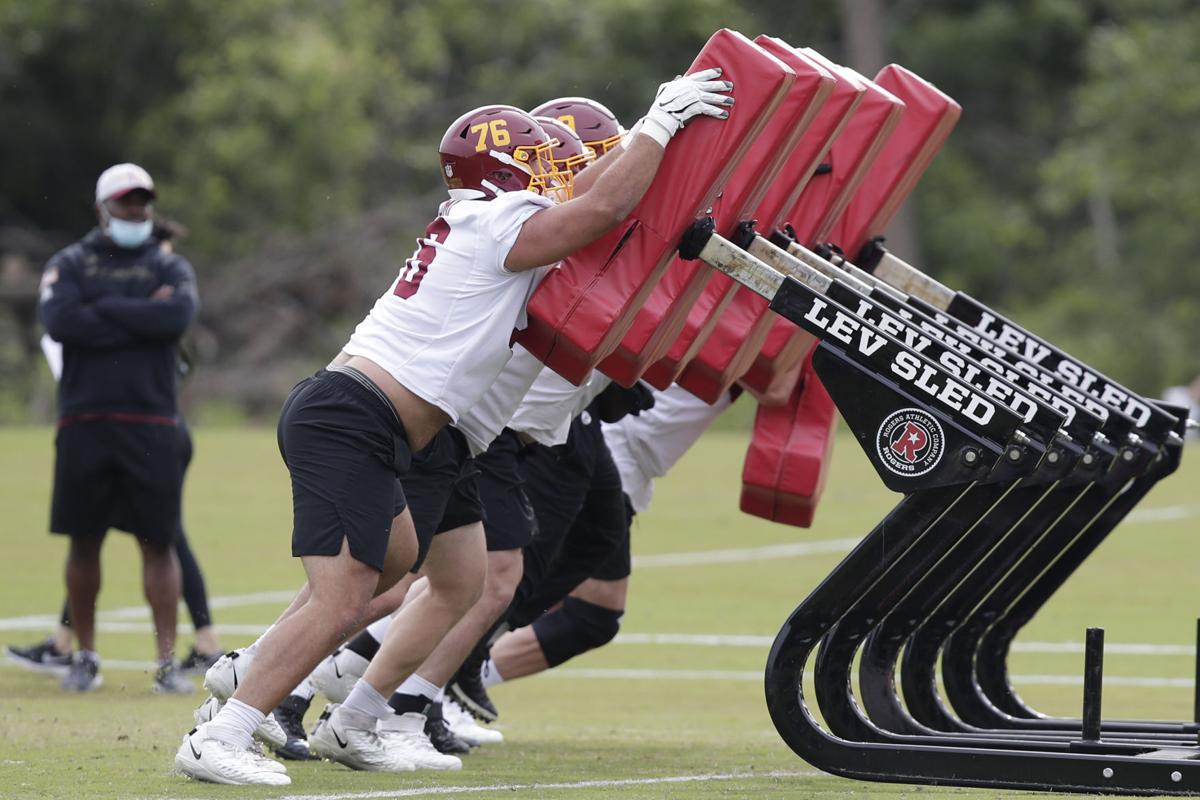 ASHBURN - Brandon Scherff was in the weight room last week when newly drafted offensive lineman Sam Cosmi joined him.
"I said, 'Holy s---, Where'd you come from?'" Scherff said, then remembered he was being filmed for television. "Sorry. Excuse my French. I just said, 'Jeez Louise, Where'd you come from?'
"He started laughing, but ... he's strong. And today he showed off his speed too."
Scherff noted that the players wear tracking devices that measure their speed, and said his new goal is to catch up to Cosmi.
The rookie from Texas has made an early impression on the coaching staff, one further confirmed when they felt good enough at the position to move on from Morgan Moses.
During first-team work on Wednesday, Cosmi mostly watched while Charles Leno worked the left tackle position and Cornelius Lucas worked at right tackle, but in an NFL season, there are always plenty of opportunities to play, especially on the line.
Coach Ron Rivera promised competition across the board - though he'll make an exception for Scherff, the All-Pro, and likely center Chase Roullier too.
"There's nothing set in stone," Rivera said. "A lot of these positions will be competitive. I mean, every position has a different player that could start - for the most part. There's a couple that are pretty solid. I'm not going to lie to you about that."
Rivera also singled out Saahdiq Charles, who missed most of his rookie season with injury, as somebody who "is having a really good camp."
Charles worked on a side field Wednesday, which Rivera said was part of a planned acclimation period for him as he returns from knee surgery.
As for Scherff, he's the longest tenured member of the group now, and even though he's only playing this season on a franchise tag, he takes his duties as the veteran member seriously.
"I remember Thursdays after OTAs, it was a race to (Kory Lichtensteiger's) house, and we played volleyball and everybody got together," Scherff said of his rookie season. "Just bringing the team together like that, outside of football. You can get to know your teammates a lot more with just personal stuff and not football stuff, so you can become a lot closer that way."
As for his own contract, Scherff was tight-lipped, as usual.
"I'm hoping we can work through something and get something done, but that's between my agent and the team," he said. "I'm not worried about that. I'm worried about getting better these next couple of weeks and getting ready for the season."
Other practice observations:
--Jonathan Allen and Chase Young were the two notable absences. Coaches stressed that the workouts were voluntary and said they had spoken with both players ahead of the practices.
--Taylor Heinicke sat out the workout because of an injury he had on Tuesday. During a walkthrough period, he was elbowed above the eye by a running back during a play-action drill, and needed stitches. Rivera yelled, "Yo, Adrian!" at Heinicke as he entered the room for post-practice interviews, a reference to Heinicke looking like Rocky.
--Heinicke's absence meant more work for Kyle Allen and Steven Montez, though the drills weren't competitive enough to draw any conclusions about their offseason progress. Montez also did a handful of drills at other positions, which Rivera noted is a COVID-era necessity.
--Bobby McCain had the play of the day for the defense, a right-place, right-time interception of Ryan Fitzpatrick. Of course, McCain has the benefit of having worked against Fitzpatrick in last year's offseason practices as well, back in Miami.
--During red zone work, both Fitzpatrick and Allen delivered impressive strikes to the corner of the end zone for touchdowns. Fitzpatrick's was pulled in by Steven Sims, while Allen's went to Isaiah Wright.
--In a Tech-on-Tech showdown, Kendall Fuller gave the football a big punch after Logan Thomas hauled it in, but Thomas was able to maintain his grip on the ball.
--Cole Holcomb had an impressive pass breakup in the red zone session, leaping in front of Sammis Reyes to deny him a touchdown from Fitzpatrick.
(804) 649-6546
Twitter: @michaelpRTD