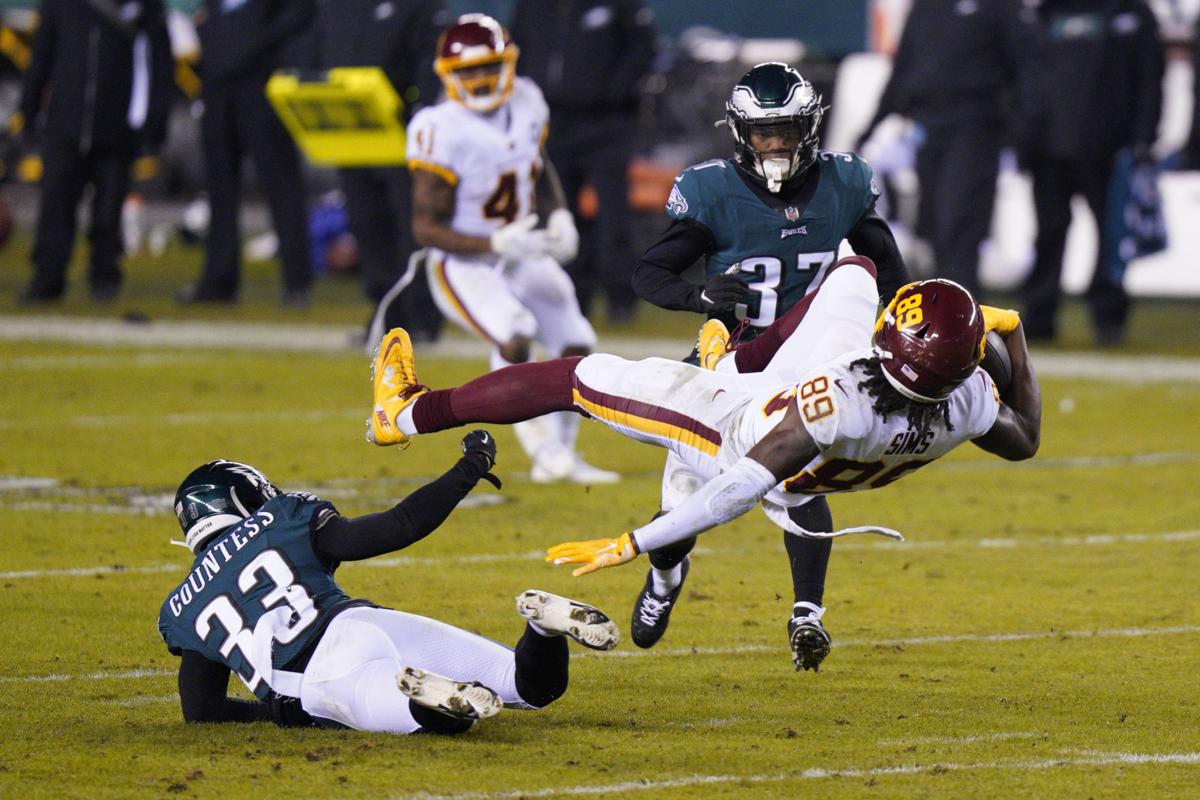 PHILADELPHIA - It took a number of bold coaching decisions, and some timely substitutions, but Philadelphia Eagles coach Doug Pederson was finally able to get his team in position to lose on Sunday night.
"I'm trying not to get fired tonight," a laughing NBC analyst Chris Collinsworth said, toeing the line between telling America what was happening and protecting the sanctity of the multi-billion dollar National Football League.
When the dust settled, the Washington Football Team emerged as a 20-14 victor, winning the NFC East with a 7-9 record and earning a home playoff game against Tom Brady and the Tampa Bay Buccaneers, which will take place Saturday night at 8:20 p.m. at FedEx Field.
First, though, came one of the wildest sequences of the season, even by NFC East standards.
Pederson twice declined to kick a game-tying field goal, then benched quarterback Jalen Hurts in favor of third-stringer Nate Sudfeld for the fourth quarter.
The Eagles could not make the playoffs by winning, but could improve their draft position by losing. They will now hold the sixth pick.
"Yes, I was coaching to win," Pederson said. "Nate has obviously been here for four years, and I felt he deserved the opportunity to get some snaps. Listen, if there's anything out there that thinks I was not trying to win the game - [Zach] Ertz is out there, Brandon Graham is out there, Darius Slay is out there. All our top guys are still on the field at the end. So we're gonna win the game."
Even with the help, Washington still struggled to generate forward momentum behind quarterback Alex Smith, who was clearly hobbled by a calf injury and was unable to scramble, something the Eagles took advantage of.
After an early touchdown by Washington, the Eagles started pressuring him up the middle, and the Football Team offense was largely ineffective the rest of the game.
"In the beginning of the game I felt pretty good moving around and light on my feet," Smith said. "But definitely the second half was feeling it a little bit. Left a lot out there in the second half as an offense certainly, there's a lot of plays I wish I had back."
One exception was a crucial pre-halftime drive where Smith connected with tight end Logan Thomas for a 13-yard touchdown pass. Thomas (Virginia Tech) made one of the season's most impressive catches, using his 6-foot-6 frame to snatch the ball away from defenders.
Meanwhile the Eagles took a lead behind Hurts, the latest mobile quarterback to have his way with the star-studded Washington defense.
However, Washington was able to grind out a victory, and the postgame celebration was no less sweet, as players wore shirts and hats commemorating the team's first playoff appearance since 2015.
"I'll tell you what, I have a lot of respect for Philadelphia," Washington coach Ron Rivera said. "Those guys could have rolled over and they didn't. They fought us. You have to give them credit, you really do, for playing the way they did and making it a fight."
Rivera said he considered pulling Smith in favor of backup Taylor Heinicke, but ultimately decided things were working well enough.
Getting the victory behind Smith (calf), receiver Terry McLaurin (ankle) and running back Antonio Gibson (toe) was cited by Rivera as an example of the kind of fight this year's team has.
The team feels the same way about its coach - defensive lineman Jonathan Allen presented Rivera with the game ball in the locker room, noting the coach's battle with cancer earlier this year and everything he went through to get to that moment on Sunday night.
Rivera said he encouraged a boisterous celebration as a tribute to all Washington had been through.
"I think the big thing that stood out to me was them and how euphoric they were," he said. "They know it's been hard. They know it's been tough. They know that so much has been thrown at them, and for them to come out on top was a big thing for those guys."
Notes: With the playoff appearance, Washington will pick at No. 19 in the NFL draft if they lose this weekend, and later if they defeat Tampa Bay. ... In 2021, Washington will face its divisional opponents twice, all teams in the NFC South and AFC West once, and the Packers and Seahawks. If a 17th game is approved by NFL owners, that game will be against the Bills.
(804) 649-6546
Twitter: @michaelpRTD