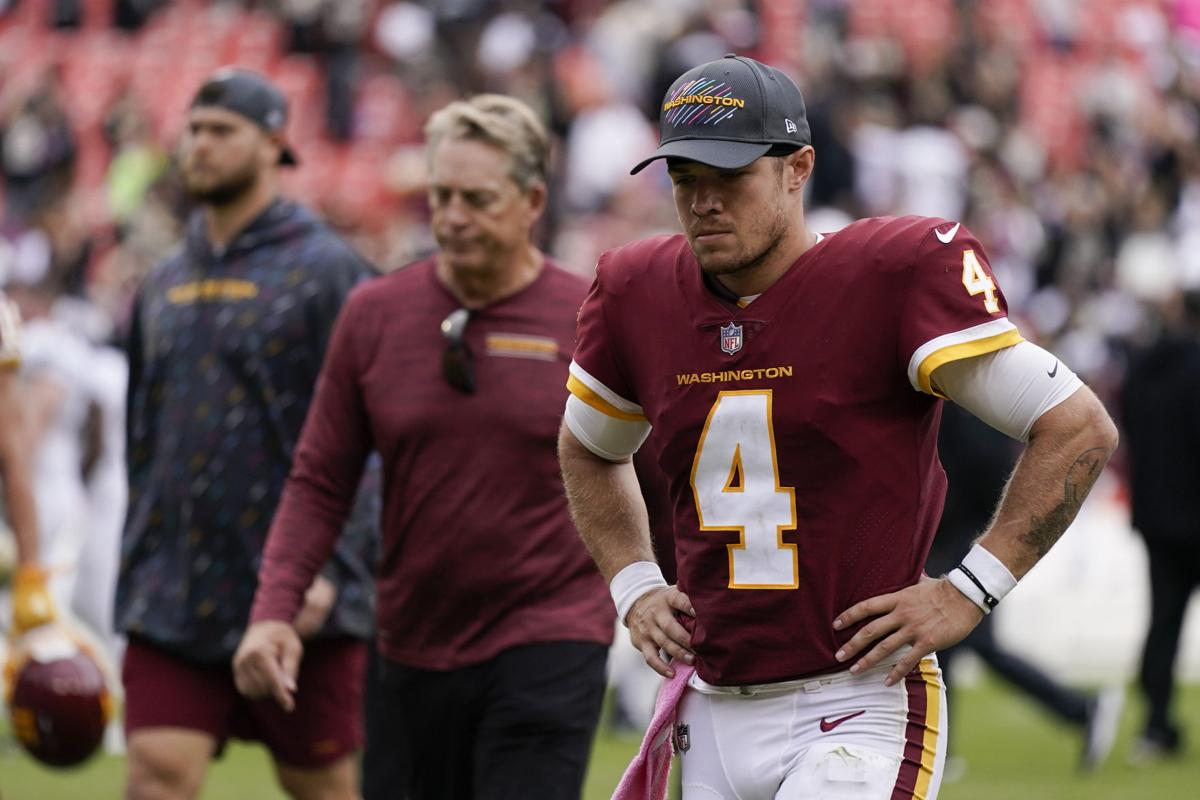 LANDOVER, Md. — After a tough 33-22 loss, Washington's Taylor Heinicke and Jack Del Rio walked off the field together, awaiting a week that will bring fresh questions about both of them.
Del Rio, the defensive coordinator, oversees a unit that wasn't just confident entering the season, but downright boisterous about what it planned to accomplish.
Here's what's obvious: The secondary is a mess. William Jackson III has largely been a bust, Landon Collins is playing his final season here, and Kendall Fuller and Bobby McCain have been fine, at best.
A rough start to the season for the much-heralded defensive line compounded those issues, but the line started turning things around on Sunday.
Is it fair to blame Del Rio for mistakes that are largely of the players' own doing? No, but that's the business.
Heinicke, the quarterback, is 2-2 as a starter, with dramatic, inspiring wins against uninspiring teams (the Giants and Falcons), and tough losses against two of the league's better defenses (the Saints and Bills).
At this point, it's safe to say that's who he is. But Washington can't hope for more now. He's a dynamic presence who rallies the locker room and creates the sort of excitement this franchise lacks.
There's also no way that the other options, a (hypothetically healthy) Ryan Fitzpatrick or Kyle Allen, would be sporting a better record at this juncture.
Still, in the NFL, change is a constant when expectations aren't met. The challenge for coach Ron Rivera is sorting out what's fixable and what's not.
The offense didn't do enough on Sunday to suggest that minor defensive improvements can push things over the top.
And the defense isn't good enough to warrant making a change at quarterback in the hope of getting marginally better at the position.
Thus, the status quo feels likely to prevail, at least into a brutal slate that continues with the Chiefs and Packers in the next two weeks.
Give it to Sean Payton, going for it on fourth-and-1 in his own territory was a gutsy call. He put the ball in his quarterback's hands, even on a day where Jameis Winston didn't have his best stuff (if that's a thing that exists).
Saints punter Blake Gillikin got a game ball after the win, and it was well-deserved. He pinned Washington inside the 5-yard line twice.
I didn't have a problem with Washington going for it on fourth-and-10 instead of kicking a 53-yard field goal in the sense that that was a better play than punting. But it's a big issue that the kicker, Dustin Hopkins, isn't trusted to attempt a 53-yard kick. An NFL kicker should be expected to have a chance from that distance.
A tip of the hat to the backups on offense, because the unit picked up key contributions from players coming off the bench, even while adding two new injuries — Curtis Samuel re-aggravated his groin injury, and offensive lineman Sam Cosmi (ankle) had to leave early as well. Tight end Ricky Seals-Jones performed admirably in relief, and receiver DeAndre Carter picked up where Samuel left off with key receptions. On the line, Cornelius Lucas was stout as well — the group has arguably overachieved this season given the unit's talent.
"I feel like we didn't skip a beat," Heinicke said of the reserves. "They came and showed out today, and it was good to see. So I'm sure their confidence is building."
No official word on attendance as of late Sunday, but about 40,000 people were in the building on Sunday, and it seems all but assured that Washington will remain the league's lowest-attended team.
Team co-CEO Tanya Snyder was outside the stadium before the game as part of Washington's annual breast cancer awareness game. Snyder said the initiative has distributed more than 9 million pink ribbons to date.
(804) 649-6546
Twitter: @michaelpRTD