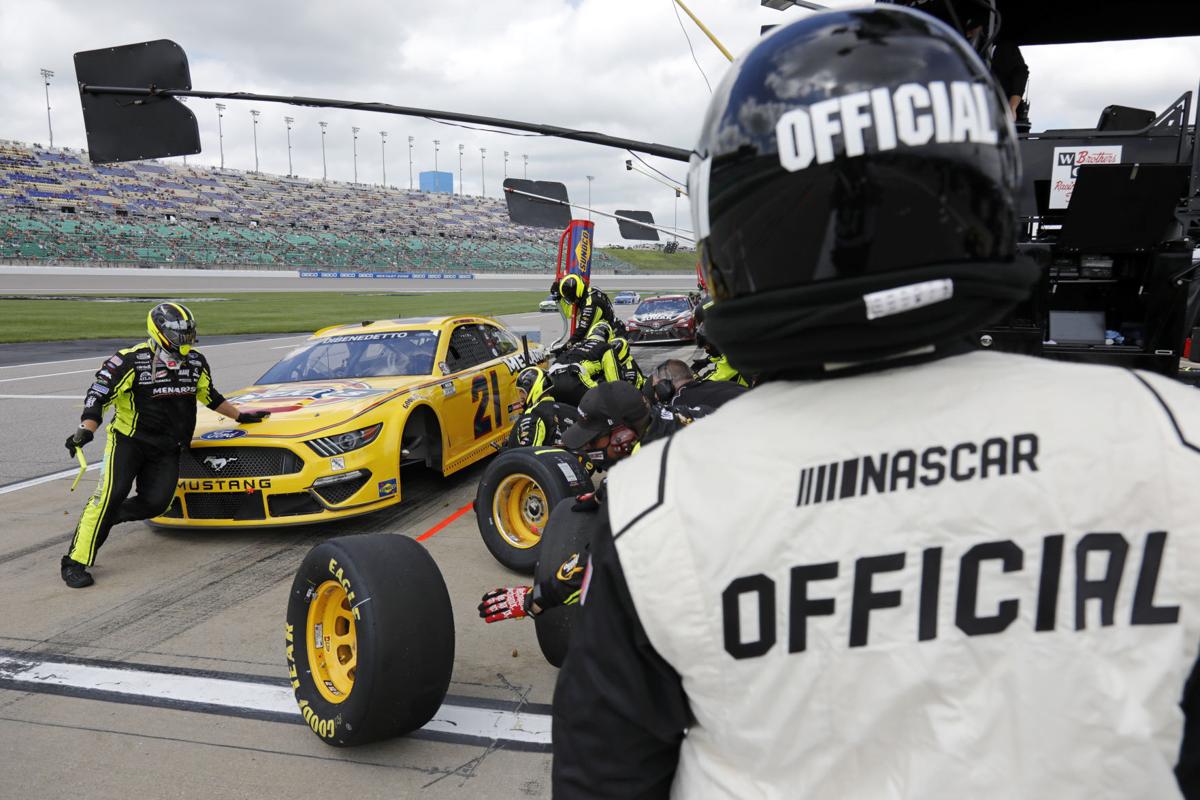 More than a few Cup Series stock car racers, and NASCAR itself, are ready to shrug off the last event at Kansas Speedway and look ahead to next Sunday's race at one of the sport's oldest venues, Darlington Raceway.
We'll get to NASCAR's lamentable moment. First, a look at the highs and lows for some of the drivers.
Kansas was great for superstar Kyle Busch, who drove his Toyota to his first victory of 2021. He is, incidentally, the 10th different winner in 11 Cup races this season, a reminder that a NASCAR starting field of 40 has plenty of cars capable of getting to the front.
Kevin Harvick, whose 58 career Cup Series wins have him in a tie with Busch for victories among active drivers, can't be too unhappy with second place at Kansas, his best finish of the year. Likewise, Matt DiBenedetto was pleased with his solid season-best fourth-place finish.
Among those for whom the Kansas race went from very good to miserable were Denny Hamlin, Kyle Larson and Ryan Blaney — all three foiled when somebody tried too hard.
Hamlin, yet to win this season, did what he has done in nearly every race this year — ran great but didn't win.
With about 25 laps to go, Hamlin and Larson were dueling for the lead and appeared to be the two drivers who would decide the race between themselves. Larson was a little quicker, Hamlin overdid it and smacked the wall, sustaining enough damage to demote himself to a 12th-place finish.
Larson's try-too-hard moment came as the race was near its end and involved Blaney. Larson's Chevrolet had led nearly half the laps, but was in the second row — behind Blaney — for a late restart after a caution.
When the green flew, Larson put his front bumper on the back of Blaney's Ford and pushed. Sometimes that works. If it had, the two of them might have finished 1-2. But this time, Larson's shove was overdone and upset both cars. He and Blaney veered out of the racing groove and both struggled to regain speed.
By the time the two drivers recovered, it was way too late. Larson finished 19th, Blaney 21st — another reminder of the depth of a modern NASCAR field. Limp to the checkered flag and you are almost certain to finish outside the top 10.
Now about NASCAR's miscue. Maybe that was a case of trying too hard as well.
Nearly halfway through the race, during a sequence of green-flag pit stops, one crew let a tire get away and roll across pit road onto the infield grass. It was far from the race surface. NASCAR waited more than 15 laps — until all the teams had made their stops — before waving the caution so the tire could be retrieved.
The thing is, tires — when hit by a race car — can become deadly missiles. That has happened at racetracks. Leaving a tire sitting for 15 laps, even it's off the pavement — isn't safe. NASCAR should've waved the caution as soon as the tire rolled too far to be retrieved by a crew member.
On Monday, NASCAR inspection and officiating official Elton Sawyer (formerly one of Virginia's short-track stars) drew the unhappy assignment of explaining the delay. He said the tire was in a place that made it not a safety issue. Then he said that when all the teams had made pit stops, "we knew we had to go get it."
Yes, they had to get it because it was a safety issue.
Next time, wave the flag.
Sawyer also said a factor in the delay was so a caution wouldn't interfere with team "strategies they have worked up."
Problem is, the delay ruined the strategies a few teams had worked up. Half a dozen teams had waited to get new tires, sacrificing on-track speed, hoping a caution flag would intervene. With the field slowed under caution, they could get fresh rubber without losing a lap to the leader.
Next time, wave the flag.
As it turned out, the Kansas blues were not disasters for sanctioning body or drivers.
NASCAR got away with the ill-advised delay in waving the caution. Nobody hit the abandoned tire.
As disappointed as Hamlin, Larson and Ryan were, all three are expected to be among the leaders at Darlington Raceway this Sunday. Hamlin, according to at least one odds-making service, is the betting favorite.
And the spring race at Darlington is reason to celebrate for fans who like the quirky 1.366-mile egg-shaped track where NASCAR has raced since 1950.
After decades of holding two annual Cup races, Darlington was reduced to a single event from 2005 to 2019. But when NASCAR put together a patchwork schedule in 2020, Darlington was host for three events, empty stands and all.
This year, NASCAR restored the Darlington spring event to its regular schedule. And it's the annual "throwback" weekend, with race cars sporting paint schemes in tribute to the sport's past.
The promotion is a huge hit with fans, and with pandemic restrictions eased, there will be fans at Darlington — probably about 35 percent of the track's 47,000-fan capacity.
Darlington Raceway president Kerry Tharp credited fans, and their love for NASCAR history, with influencing the return of the spring race at the track. He said Monday that the track will be selling tickets all week and suggested fans check the track's website to make purchases.
At some point, maybe, Darlington will have a throwback website. Give that a few years.
Randy Hallman, a veteran NASCAR writer, is retired from the Richmond Times-Dispatch. Email him at fullthrottlerh@gmail.com and follow him on Twitter @RandyLHallman.