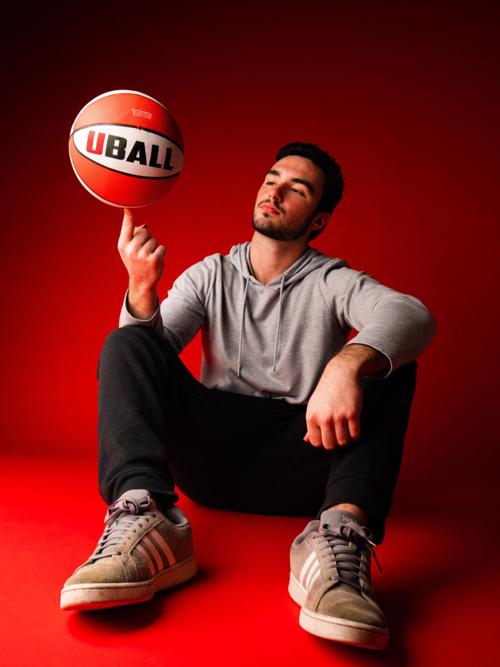 Tim Shields remembers the spring breakers in Fort Lauderdale, Fla., heckling him for bringing his prototype basketball hoop onto the beach. It was spring break in March 2019, and the former UVA student had driven 15 hours with his transportable basketball hoop.
He figured the heckling would stop once he set up his UBALL hoop — which can be assembled in minutes for play on grass or sand — and people could see for themselves how the variation of basketball worked. But shortly after he put up the then-wooden backboard, he said police officers asked him to take it down because it was homemade. He went to the police station that night to explain that safety wasn't a concern, asking that they didn't take it down again.
And the next day, within an hour, a huge crowd began to gather around the hoop. The same police officers played, too, he said.
"The rest was history from there," Shields said. "That was kind of the final turning point of, 'Oh, wow, there's a lot here.' "
The 22-year-old entrepreneur and Richmond native created UBALL, an iteration of basketball. Shields worked to design a hoop that was durable enough for dunking but simultaneously could be carried like a backpack to locations that don't traditionally have blacktop basketball courts — like the beach. Shields won $50,000 at a University of Virginia entrepreneurship competition alongside his older sister, Molly, and then he spent a year working on the product before it was officially put on the market in August 2020.
Now, UBALL has support from Milwaukee Bucks guard Jrue Holiday, who's currently playing in the NBA Finals against the Phoenix Suns. This August, UBALL is set to co-launch as a professional sport alongside a Los Angeles summer league called Venice Ball.
"It would kind of be an unfinished piece if you've created this ability to set up hoops ... on the beach and not stick your flag in it and say this is also a new sport," Tim Shields said.
His aspirations are analogous to the way that beach volleyball stemmed from volleyball and eventually became its own sport. UBALL has specific rules that vary from basketball, like "no dribbling." Instead, players get three steps to pass or shoot, similar to Ultimate Frisbee, where the sport gets its name (UBALL is short for Ultimate Basketball).
Tim Shields dropped out of school after winning the Pike Engineering Entrepreneurship Fellows Showcase during April of his sophomore year. His sister helped with the showcase, but she said Tim was the "main guy" — he later took over fully when his sister went to medical school. The contest was judged by top executives who reassured Shields that "there's a lot here."
Working on UBALL full time was an opportunity Shields would have regretted if he didn't take, he said, so he left school. Molly Shields said that though her brother's path wasn't as traditional, it was the best decision for him because he's driven enough to create his own "blueprint."
Tim Shields was always confident in his idea — the judges and many others reiterated that the concept itself was viable. The very first version, which Molly Shields said her brother built with a metal pole and a spike from an umbrella, drew the interest of passersby when they brought it to Virginia Beach. The hurdles for Tim Shields were getting the product to market.
Alongside an engineering company in Charlotte, N.C., they tweaked the hoop's design. To fasten the rim to the backboard, they needed a material that could be quickly secured and removed, but that was also as strong as a regular basketball rim. The hoop had to be sturdy, but have enough breathing room in case elements like sand got in.
The year-long process, which was prolonged due to COVID-19, consisted primarily of trial-and-error tests with various prototypes. Tim Shields would drive to Charlotte about once a week to check on progress. After the entrepreneurship competition, the overall concept remained unchanged but Molly Shields said her brother worked on the intricacies to make it stronger and more practical.
"He's just very fearless," Molly Shields said. "He's not afraid to fail, and he clearly hasn't. There's been setbacks along the way, as any company would have, but he's always taken them in stride."
That's why Molly Shields says her brother is perfect for the job. He's driven and doesn't take days off, she said. He's continually reshaping goals, and then working backward to figure out how to achieve them, she added.
The idea started when the Shields' family went on vacation and didn't feel like leaving the beach. The four siblings played 2-on-2 frequently, and Molly Shields said they laughed about the idea of somehow playing basketball on the beach.
"That's where Tim's light bulb went off, and was like, we totally could do this," Molly Shields said.
They researched the concept and realized it didn't exist before the entrepreneurship competition, and decided the idea was worth pursuing.
In November, Holiday reached out via social media, Tim Shields said. The NBA player has been busy in the recent months, but Tim Shields said Holiday's role will expand once his season concludes. Holiday will help with the brand development side of things by growing UBALL's network of athletes it works with.
"He's going to be sort of a partnership engine," Tim Shields said of Holiday.
Looking forward, Tim Shields hopes the company grows so much that it becomes "unrecognizable" compared to when it started. Sales are still in the early stages because he wants to collect sufficient feedback before scaling the production process to avoid quality control issues. But Tim Shields has a plethora of other ideas related to the company, like creating a league of UBALL teams run by private corporations instead of traditional franchises.
The professional league that's launching in August opens opportunities for future product lines and merchandising, too. The family takes a UBALL hoop on vacation, Molly Shields said — a huge crowd came over to join on their latest trip — but the company has certainly grown beyond its original reach.
"All of this was only a matter of time," Molly Shields said. "It's getting outside of our little community or school bubble to the real world and the NBA world which is really, really cool. I wasn't surprised because I knew Tim was able to do this."
"From here, it's [only] going to be more."