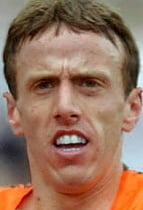 When almost 20,000 runners fill the streets for a stretch of almost eight hours, it can be easy to run in relative anonymity, if that's what you seek.
Three races took place in Richmond on Saturday, and the first was the HCA Virginia 8k.
It started at 7 a.m., just after sunrise, and the elite runners finished more than 30 minutes before the marathoners even began.
That made it easy to overlook one of the country's most prominent runners.
Alan Webb once was the next big thing in middle-distance running in the United States. The former Reston resident and South Lakes High School graduate was the first American high school runner to run a sub-4-minute mile.
He set the American record for the mile, 3:46.91, and made the 2004 Olympic team.
Saturday, he finished seventh in the 8k, which was not his goal.
Webb makes no excuses for the current state of his career. He isn't running from anything. Instead, he's trying to run back onto the national and international scene.
He does not blame the weight of expectations for his recent subpar performances.
"I had lofty goals I wanted to reach," Webb said. "I did reach some of them, but not all.
"For the last few years, it really has been very frustrating," he said. "I have not run well. That's the long and short of it."
Webb had two stress fractures in his lower legs. And there always is competition. Other elite runners do not cower and step aside when Webb is in their race.
"Nobody will wait for me," he said. "They're going to go twice as hard, and they do.
"Today was pretty bad. I got dropped. I tried to go for it, and those guys just ran away from me."
Webb is just 30 years old. He still has time to win an Olympic or World Championship medal.
And the journey to such lofty goals begins with the first step. That's what brought Webb to Richmond. Webb, who still is sponsored by Nike, isn't asking anyone to hand him anything.
"I wanted to get a race in," he said. "I'm looking week to week. I'm trying to do well in a race before we start talking about the Olympics."
Joy Sanders does not dream of the Olympics. She does not dream of winning an 8k or any race for that matter.
What she hopes for is to run a marathon again.
She planned to do that in the Richmond Marathon this year. Instead, she had to change to the half-marathon.
A year ago, Sanders was diagnosed with myasthenia gravis, a neuromuscular disorder.
"I'd been having a lot of muscle weakness," she said. "I was falling a lot. I fell in the middle of Leigh Street leaving work one day and ended up with a concussion."
Sanders, 44, has been hospitalized five times since January. Every 21 days, she undergoes a procedure that extracts a significant quantity of blood, has the plasma removed and replaced with albumin, a protein.
"The most recent challenge is that I was in the hospital two weeks ago because I'm anemic," she said. "That made it difficult to finish my training for the marathon."
So she ran the half-marathon instead.
But the real question is why run at all? Why add more discomfort to the discomfort she already must endure?
"Most people think if you've got muscle weakness, you can't do anything," Sanders said. "Running, to me, is proving the disease is not going to define me."
Sanders said she wasn't supposed to have a goal for Saturday's race. But at the 10-mile mark, she told her running partner, Bruce Amateau, who ran specifically to watch over Sanders, she wanted to break 3:15.
"It was a good day with a very emotional finish to it," she said. "I hadn't given much thought to it until I started coming down Tredegar (the final descent) and realized all my poor body has been put through, yet I chose to put it through 13.1 miles.
"That proves to me that so much of life is mind over matter."
Webb and Sanders ran in relative anonymity Saturday. For vastly different reasons, both hope better days are ahead.