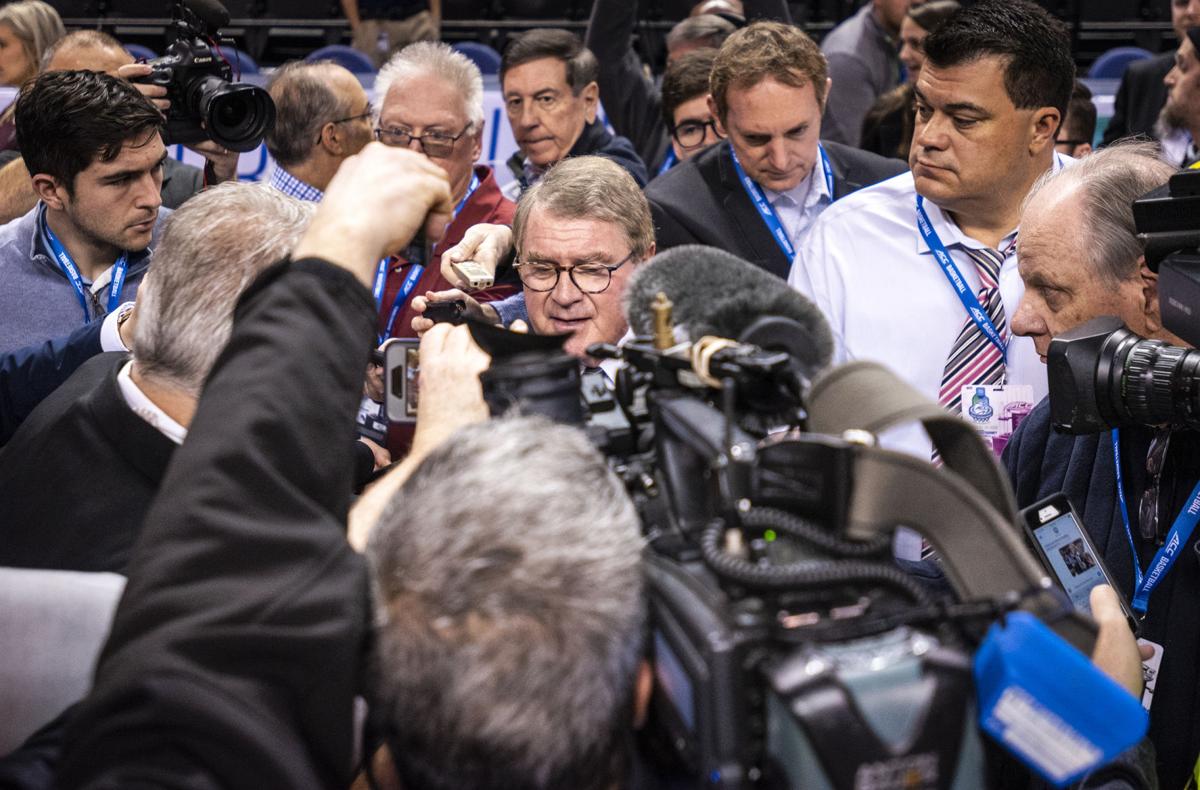 The ACC staged seven football games last week, four with fans, three without. Three contests have been rescheduled, another canceled, and the date of the league's championship game remains uncertain.
No one thought sports in a pandemic would be linear.
"It's been," ACC commissioner John Swofford said Friday, "at least through the first week, what we would have expected. … We did anticipate that we would need to be very flexible and nimble in terms of our scheduling, and that indeed came into play before we ever played a game."
Coronavirus hiccups aside, Swofford is encouraged by not only the trust among the conference's 15 schools but also protocols that entail, in some cases, private jets transporting COVID-19 tests to a Raleigh, N.C., lab for rapid processing.
During our half-hour conversation, Swofford also said he anticipates the ACC scheduling a full complement of 20 men's basketball league games, plus a handful of nonconference dates. He hopes the latter includes the 22nd annual ACC-Big Ten Challenge.
Before unpacking basketball further, let's dive into the present: football.
The ACC announced Aug. 18 that league schools would test athletes in contact sports such as football and soccer three times per week for COVID-19, with a day-before-competition test in football administered by a third party selected by the league office. Swofford revealed Friday that MAKO Medical Laboratories is coordinating those tests.
Depending on the school's location, MAKO either flies or drives the tests to Durham for processing, with results available no later than early morning of game day. These are the more expensive PCR, or molecular, tests, as opposed to antigen tests that can be processed in minutes, and the schools are paying the bill.
"We'll see how the antigen tests evolve and take the advice of our medical advisory committee," Swofford said. "But right now that advice is that this is the best approach and the most dependable approach based on the quality of the tests and the availability of the tests. …
"It's something that's just necessary in order to play this season. … It's a cost that's worth it in terms of protection of our players."
Swofford said ACC schools have been diligent throughout the past six months not to compromise the availability of tests in their respective communities.
"Our schools and the conference office are comfortable that it's not taking away from any type of similar testing that's needed in any of our locales," he said.
Miami, Louisville, Florida State, Notre Dame, Pittsburgh, Wake Forest and North Carolina hosted football games last week, the first four with limited attendance, the latter three without spectators, decisions based on local protocols. Chaired by Cameron Wolfe, an infectious disease expert at Duke, the ACC medical advisory group has not detected any virus spread from competition or practice, Swofford said.
But infections among the student bodies at Virginia Tech and North Carolina State spilled into the football programs, forcing the postponement first of N.C. State's game at Tech and later the Hokies' contest versus Virginia.
The Cavaliers' Nov. 14 date with Duke then was moved to next week to avoid UVA having consecutive open dates. Also, North Carolina's nonconference game versus Charlotte, scheduled for Saturday, was canceled Thursday because the 49ers have too many offensive linemen quarantined.
Based on the input of coaches and the medical advisory panel, the ACC has not adopted an overall roster minimum for football competition but does recommend having at least seven scholarship offensive linemen available. Virginia Tech's Justin Fuente and UVA's Bronco Mendenhall supported the flexible guidelines.
"I think that says good things about the culture of the league and trust factor in the league," Swofford said. "The communication flow has just been outstanding through all of [the postponements]. We went into the year emphasizing, look, this is going to be different than anything we've ever experienced and there's going to need to be trust among the institutions. There's going to need to be empathy. There can be a problem at any institution at any time.
"I hate that one school, in this instance Virginia Tech, has been affected twice right out of the gate."
Though the Tech-UVA Commonwealth Cup game has been rescheduled for Dec. 12, the ACC title contest remains an either/or of Dec. 12 or Dec. 19. Swofford said the conference is engaged with its bowl partners to determine what postseason might resemble.
The NCAA Division I Council this week recommended that the men's basketball season start Nov. 25, the day after Thanksgiving. Moreover, the NCAA hopes to play its championship tournament as scheduled, in March and April.
ACC coaches unanimously and publicly lobbied for this season's NCAA tournament to include all 346 eligible teams, rather than the standard 68. But the logistics, especially during a pandemic, were untenable.
"Unfortunately, we didn't get much buy-in from our colleagues [nationally] on that," Swofford said. "But I think it was certainly something worth considering and could have worked well given the extreme nature of what we're dealing with this year."
With the NCAA basketball decisions in hand, a six-member ACC subcommittee, armed with the conference's lessons from planning for football and fall Olympic sports, is working on schedule recommendations to forward to the league's athletic directors. The subcommittee includes three coaches (Virginia's Tony Bennett, Duke's Mike Krzyzewski and N.C. State's Kevin Keatts) and three ADs (North Carolina's Bubba Cunningham, Notre Dame's Jack Swarbrick and Louisville's Vince Tyra).
Swofford does not anticipate an NBA-like bubble for college basketball but does expect the disruptions that have already affected football.
"I think that's what we're all trying to find," Swofford said. "Where's the sweet spot, whether it's in sports or other aspects of life?"