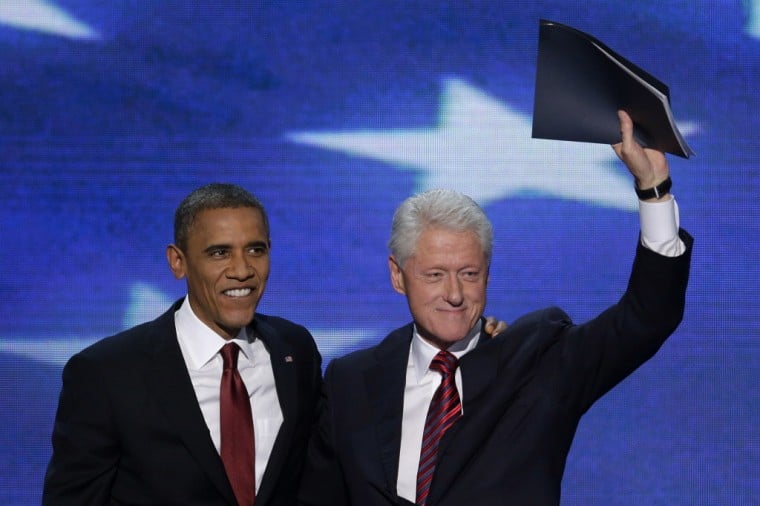 In less than two months, my 1-year-old will experience his first presidential election. I'm already anticipating some crankier-than-usual, late-night diaper changes: once a child sees James Carville for the first time, he can never unseen him.
But this column isn't all about him. It's about me. And my wife. That's because we're about to experience our first presidential election as parents.
Gone are the days when it seemed fun to vote for the underdog, whether it was the First Dude to legalize pot or the fast-talking Texas billionaire Muppet. Sticking it to the man is much less fun the more and more you resemble…the man.
Now it's time to take this voting thing seriously. When I step into the booth in November, I'll be asking myself some deep and serious questions: who's least likely to plunge the nation into global thermonuclear war? (And if they also support some pretty liberal open container laws, then it's a double win.) Also, what's up with taxes, anyways? Or that national deficit thing-a-ma-jig?
By the time you're in your 30s, you're equally disillusioned about the motives of politicians as you are about the upward trajectory of your own child. This ultimately leads you to one conclusion: your child should and will be president.
So if the asteroid hurtles past earth a hair to the left and if a cure is found for the Porcupine Pink Eye Epidemic of 2019, and we even make it to 2055ish, here are the top 10 reasons our kid will be president.
10. The Iranians aren't scary. You know what's scary? The creepy voice of a talking toy bear when the batteries just start to give out in the dark of night. "I see youuuuuuuuu…bahhhhh!!!" If you can deal with the evil talking bear, you can deal with Ahmadinejad.
9. Nolan has a history of waffling on healthcare. (Sometime he prefers cherry-flavored infant's ibuprofen formula. Other times, there is no beating out grape.)
8. He likes "mom jeans." The larger the elastic band and higher "waisted" they are, the better. (Sorry, Obama).
7. Nolan has stained many garments purchased from the Gap. (Come on, who doesn't appreciate an good and timely Clinton – Lewinsky joke??!)
6. During the summer months, he's raised by a pack of Wolf Blitzers.
5. Nolan has one hell of a handshake. Be sure to spritz some sanitizer on your paws afterward; just trust me on this.
4. My winning 12th grade class president campaign slogan can't miss: ReWard Yourself. (I may just visit Cafepress.com and print off a few hundred of these bumper stickers right now…)
3. Nolan has a tremendous appreciation for the American heartland and the hard-working, salt-of-the-earth family. In other words, his favorite song is "Old McDonald."
2. A good, strong Gaelic name like "Nolan" stirs the melting pot that is our diverse voting populace. The name even translates to "champion" or "little proud one." If we can pair him with VP candidate Drinky McRedcheeks – who rants through the beginning of debates and sleeps through the end – then we've got a winning ticket. Hands down.
1. I read (and wrote) it on Wikipedia.
Mike Ward is his kid's dad – take that, Dr. Laura – as well as a marketing director for Snagajob by day and a freelancer by night. Follow him on Twitter @TheDiaperFund