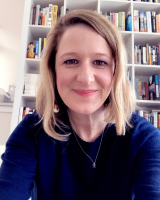 Colleen Curran
Bio

Colleen Curran covers arts and entertainment for the Richmond Times-Dispatch. She writes the weekly column Top Five Weekend Events.
Innsbrook After Hours concerts will be held at the Innsbrook Pavilion this year starting with NO BS! Brass Band on July 7. The concert series …
After a global pandemic-induced staycation summer last year, people are ready to hit the road for a return to summer vacation.
The Richmond Symphony at Forest Hill Park, music and brews on Brown's Island for a good cause, Mobile Soul Sunday and Vibefest are all happeni…
"Tapawingo," an independent film starring Jon Heder and Billy Zane, will be filming in Hopewell this summer, as well as locations in Petersbur…
Two Virginia poets have been awarded $50,000 fellowships from the Academy of American Poets.
Top five weekend events: Flowers After 5, Monument Avenue 10K and Innsbrook Uncorked & Untapped
Two of Richmond's favorite festivals will return in person this year.
Preston Brooks, 54, didn't know what to do when he ran out of food. He'd never run out before.
When Aidan Bryant was 14 years old, he got inspired by a YouTube video of pop music star Pink performing her signature aerial routine at a concert.
View all