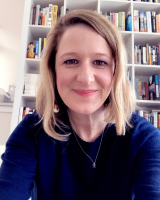 Colleen Curran
Bio

Colleen Curran covers arts and entertainment for the Richmond Times-Dispatch. She writes the weekly column Top Five Weekend Events.
Dominion Riverrock returns, After Hours concert series kicks off at The Meadow Event Park, Menuhin is finally here, and there's a lot more fun…
Gena Lashley, a Chesterfield County mom of two who works in the school system, started crying when she talked about the past year juggling her…
After a long, quiet year without them, outdoor concerts are back in Richmond this spring and summer.
Brown's Island concerts, baseball games, farmers markets and more events are back in Richmond!
Last year, a video of Richmond-area UPS driver Anthony Gaskin went viral when the neighbors in the Hallsley neighborhood of Midlothian threw h…
Drinking is on the rise across the nation due to the pandemic. Alcohol consumption among adults increased by 14% from 2019 to 2020 according to a recent study published in JAMA Network Open. Women in particular reported a 41% increase in alcohol consumption.
Ring in the month of May this weekend with a new farm festival at Meadow Event Park, RVA Fashion Week, Spring PlantFest and an artisan market …
Spring is in full effect this weekend with Historic Garden Week tours, Herbs Galore and More, and the return of the Richmond Kickers.
There's a lot to do this weekend with NASCAR's return to the Richmond Raceway, a celebration of Jackson Ward's 150th anniversary with guided t…
Bring your puppy to Maymont, attend a silent dance party in Shockoe Bottom, swing by a pop-up market at The Diamond or head to the rooftop at …
View all