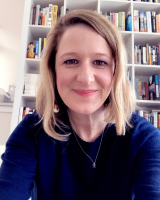 Colleen Curran
Bio

Colleen Curran covers arts and entertainment for the Richmond Times-Dispatch. She writes the weekly column Top Five Weekend Events.
Working parents are feeling anxious facing a virtual start to public school in most counties.
After delaying its outdoor concert series for months, Innsbrook After Hours has canceled its entire season due to restrictions caused by the c…
Tonight, George Floyd's family members will gather in Richmond where a hologram will temporarily replace the statue of Robert E. Lee.
The Richmond Symphony announced its fall season with a mix of in-person concerts, livestreamed shows and open air family-friendly performances…
Outdoor concerts are on the schedule at Lewis Ginter Botanical Garden for the first time this summer, with a few changes due to the coronavirus.
The American Civil War Museum will offer free admission to public school students in Virginia from now until next June, as well Virginia publi…
The clothing and styles of the Roaring '20s are going on view at the Valentine with the eagerly anticipated exhibit "Ain't Misbehavin': 1920s …
"Sweet Magnolias" is the surprise hit of the summer on Netflix.
Lewis Ginter Botanical Garden reopens to the public on Thursday.
Stacy Shaw, a 30-year veteran arts administrator, has been hired as the first-ever executive director of the Byrd Theatre in Richmond.
View all