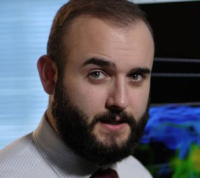 John Boyer
Meteorologist
Bio

John Boyer is the first staff meteorologist for the Richmond Times-Dispatch. He joined the RTD newsroom in November 2016. Boyer earned his degree in meteorology from North Carolina State University in Raleigh.
Saturday's high tied 1929 record
The region hits a higher rain average
It may be happening too fast for some and not fast enough for others, but fall is finally unfurling in central Virginia.
The remnants of Hurricane Sally left behind another unwelcome soaking across much of Virginia between Thursday and early Friday morning.
Flooding expected over weekend
Sally's expected rain totals have trended higher for southeastern Virginia, with 4 to 6 inches possible from South Hill to Norfolk by Friday. …
Remnants of Sally will cross Virginia
A rare occurrence: five active storms
Teddy apt to go over open seas for now
View all