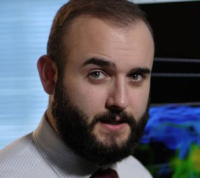 John Boyer
Meteorologist
Bio

John Boyer is the first staff meteorologist for the Richmond Times-Dispatch. He joined the RTD newsroom in November 2016. Boyer earned his degree in meteorology from North Carolina State University in Raleigh.
By Friday afternoon, metro Richmond generally had 72-hour rain totals of 1 to 5 inches. For parts of the Rappahannock basin and Northern Neck,…
This flash flood-prone pattern is due to a moisture-rich tropical air mass, plus a languid upper-level low that triggers numerous, yet slow-mo…
This week is bringing Richmond's first spell of morning lows in the 70s for 2021. Such days are getting more common, and we'd expect a few doz…
The past several hurricane seasons devastated parts of the United States, yet some stretches of coastline have gone generations without seeing…
Here are NOAA's statewide climate highlights for May. Precipitation averaged 2.19 inches, the driest since 2015 and 12th-lowest for May in the…
Scattered downpours could bring relief to parts of Virginia this week, but also problems. Roanoke and Lynchburg have been waiting weeks for si…
Hot days can be so familiar to us that they can hide their danger. And they aren't as visual or clear-cut as other kinds of extreme weather.
There's been no shortage of record highs in Richmond over the past decade. But June is one exception. This month has gone the longest without …
An annular (ring-like) solar eclipse will streak over the Arctic from Canada to Russia on Thursday. In our area, a partial (crescent-shaped) e…
View all