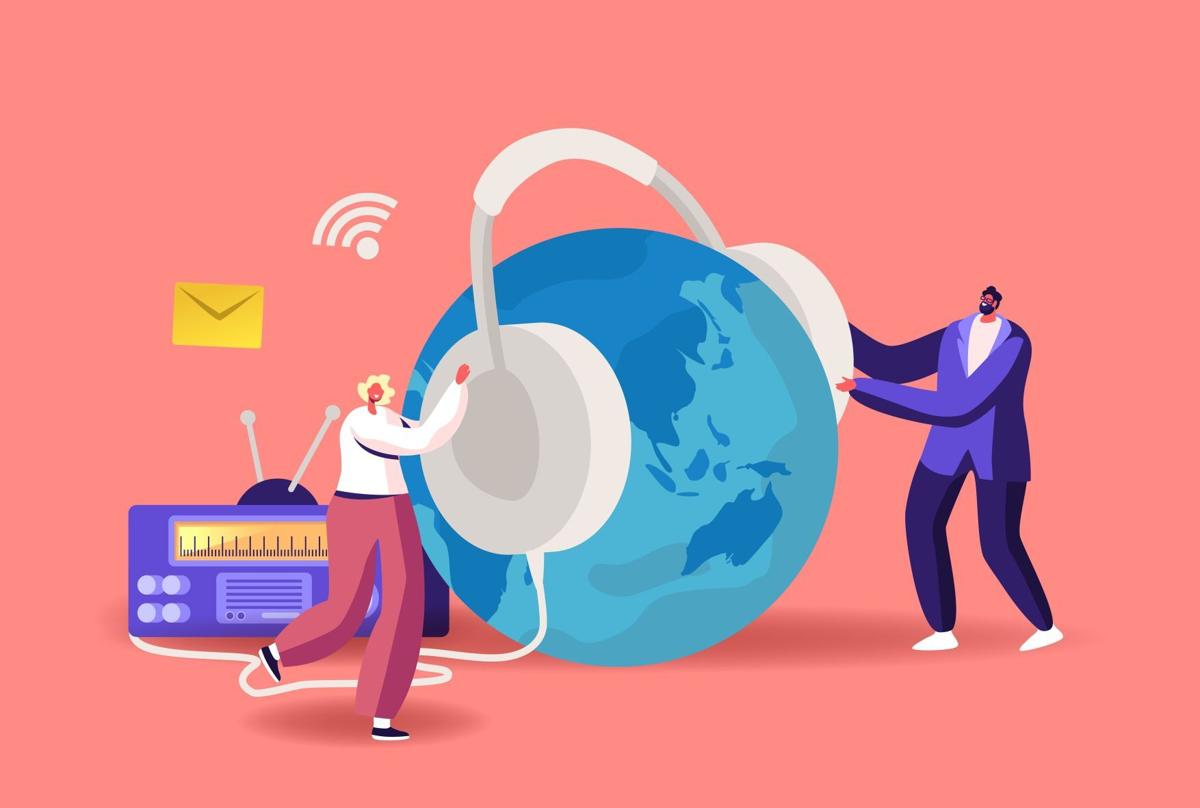 When I spent a few days in Ubud, Bali's cultural-tourism capital, gamelan music was rarely out of earshot. The intricate percussive music — the principal thing that drew me to the island — clanged from shops, restaurants and abundant open-air performance spaces. I expected to experience that ubiquity again when I returned recently, some 20 years later. Instead, as I glided over the Indonesian archipelago, I heard thumping EDM, treacly pop and whole foundries of shrieking heavy metal.
Of course, I didn't travel to Bali in person this time. The island and the rest of Indonesia are closed to international travelers because of COVID-19, according to the latest State Department advisory. Neither could I have physically floated above the South Pacific. It was my cursor that did the hovering as it navigated Radio.garden, a website that portrays more than 33,000 streaming radio stations as individual green dots on a spinnable virtual globe that charts oceans, deserts and mountains but not national borders.
Radio Garden is a banquet for anyone who enjoys maps, international music and travel, and self-guided cultural studies. It began in 2016 as a temporary project of the Netherlands Institute for Sound and Vision, devised by interactive design firms Studio Puckey and Moniker. The site was such a sensation that co-designer Jonathan Puckey decided to keep it in operation after its initial run. The website, also available as an app, became an independent company in 2019 — just in time for the pandemic, which boosted usage by as much as 750% in some periods.
"Since launching it, my view has always been to not mess up the magic that makes people fall in love with the platform, while improving everything else," Puckey said by email. "I try not to think too much about the millions of people using the platform every week, but my heart does skip a beat whenever I look at our live map and see people across the world using it."
To the Amsterdam-based Dutch British designer, the site's essence is "this exciting tension between people and their geographical location. In some ways, we are formed by our surroundings, and, in other ways, we shape them. Culture flows through the world and shifts in language, accent and tone at every bend."
Each green dot represents a streaming service, only some of which mirror a radio station's terrestrial broadcast signal. Several regions are populated by many more stations that could possibly be accommodated on the AM and FM spectra. Green dots are especially thick on the ground in Western Europe, where Paris' 472 stations make the French capital No. 1 with a bullet on Radio Garden's hit parade. Much thinner are China, Iran, the Arab world and much of Africa, due to both political and technical considerations.
"While we were blocked in China on a domain level and in the major app stores for unknown reasons, we have been receiving submissions for stations in China again recently," Puckey wrote. (Most of the currently available ones are in the Hong Kong/Macao/Guangzhou region.) "In certain countries, bandwidth costs are very high, which might make it unsustainable to stream online."
Radio Garden isn't the only web platform that streams radio from around the world. Other sites — streema.com and mytuner-radio.com are just two of them — often offer more information about stations and programming than Radio Garden does. Puckey plans to add more such data and to translate his site into such languages as Arabic, Spanish, Portuguese, French and possibly others. But Radio Garden has a significant advantage over other worldwide streaming-radio sites, he suggested.
"While these services work well if you already know what you want to listen to, they do not offer much in the form of magic or heart when it comes to discovering new things," he wrote. "There is a magical space in between getting lost and finding your way that we try to tap into with Radio Garden."