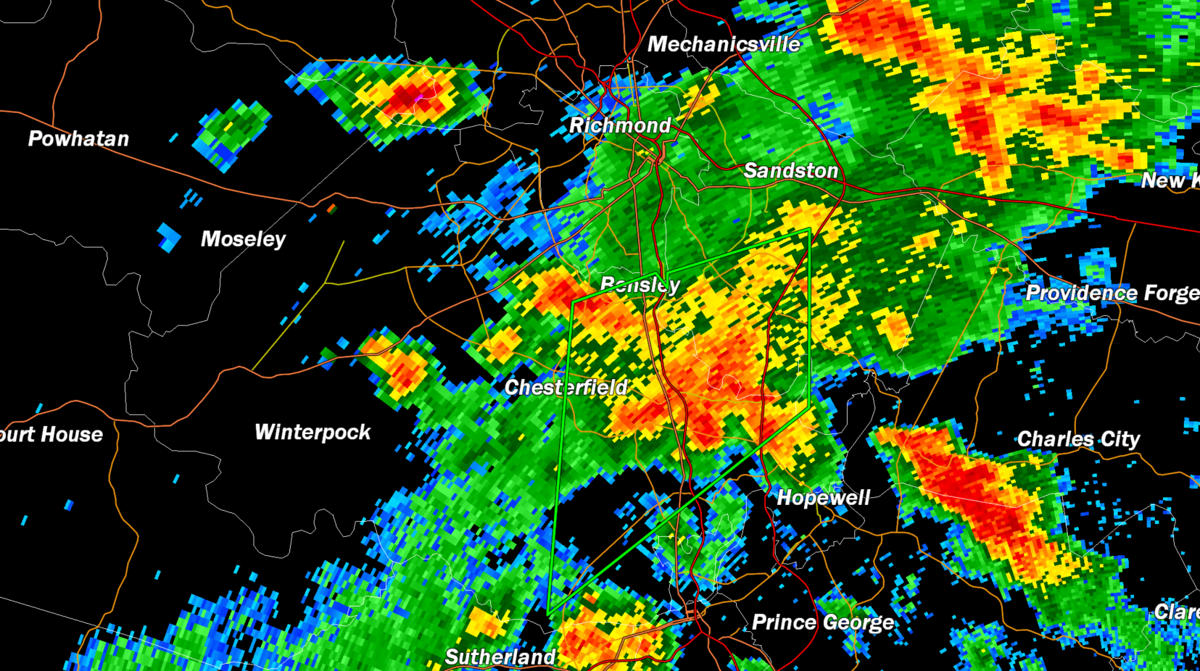 5:55 p.m. update: Be on the lookout for high water as downpours continue to rumble across central Virginia this evening.
A flash flood warning is in effect until 8:30 p.m. for:
• eastern Chesterfield County, including Chester, Bensley and Bellwood.
• southern Henrico County, including Varina and areas south of Richmond International Airport.
A slow-moving storm caused at least 2 to 3 inches of rain to fall near Interstate 95 and Route 10, which is enough to cause rises on nearby streams and creeks, and flood some roads and low-lying areas. Another 1 to 2 inches could fall as storms linger into the early evening.
For the rest of this evening, more showers and storms are possible across central Virginia in hit-or-miss fashion, generally with a southwest-to-northeast motion. The activity is likely to taper off between 8 p.m. and midnight.
Earlier in the afternoon, a severe thunderstorm warning and flash flood warning had been in effect for the northern part of metro Richmond between Short Pump and Ashland. Both warnings have now expired.
Here are reports relayed by the National Weather Service in Wakefield:
• A gauge near Glen Allen reported nearly 2 inches of rainfall during 15 minutes.
• water covered some roads in Short Pump.
• At 2:55 p.m., a lightning strike caused a house fire on North Oaks Drive east of Ashland in Hanover County.
According to Dominion Energy's online outage map, there were 2,848 customers without power in the Richmond metro region as of 3 p.m., mainly in Henrico County and Hanover County. That figure dropped to 447 customers by 5:30 p.m.