It's official: Richmond has never seen so much snow so early in the season.
You might also say that it was our snowstorm of the decade, but it's in a statistical dead heat with the January 2016 snowstorm.
The 11.5 inches of snow reported as Richmond International Airport's total for Sunday was just 0.1-inch higher than the total from Jan. 22-23, 2016.
Looking back at the area-wide amounts, the northern suburbs got 15 to 16 inches of snow in 2016.
This time, the maximum amount on the western and southern side of metro area was about 14 inches.
Sunday's snowstorm will also go down as Richmond's twelfth-largest snowstorm in records going back to 1897, and the second-largest one for the month of December.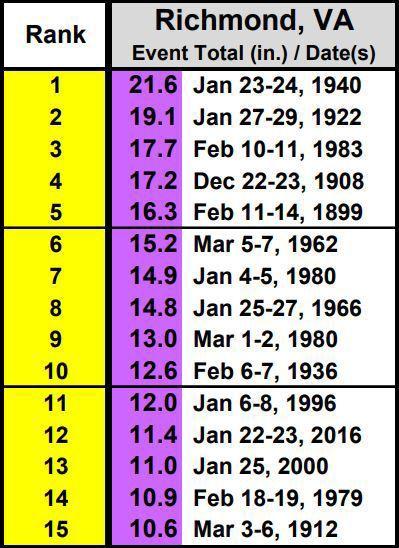 The record December snowstorm for Richmond was 17.2 inches on Dec. 22-23, 1908, according to the National Weather Service in Wakefield.
The heaviest snow total that occurred earlier than Dec. 10 was 7.3 inches on Nov. 6-7, 1953.
Totals across central Virginia:
(reports via the National Weather Service as of Monday morning)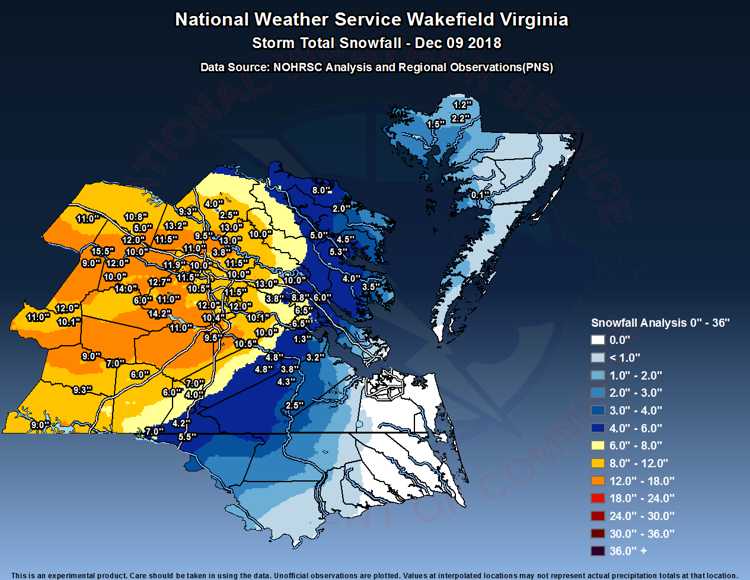 Richmond: 10 to 13 inches
Chesterfield: 10.4 to 14.2 inches
Henrico: 10 to 14.1 inches
Hanover: 9.5 to 13.2 inches
Cumberland: 9 to 12 inches
James City: 4 to 8.8 inches
Louisa: 10.8 to 12 inches
Powhatan: 10 to 14 inches
Prince Edward: 10.1 to 12 inches
Prince George: 9.5 to 12 inches
Sussex: 3.8 to 4.8 inches
Most of the state saw significant snowfall on Sunday with the exceptions of Northern Virginia, where it was dry, and Hampton Roads, where the precipitation fell as rain and wintry mix.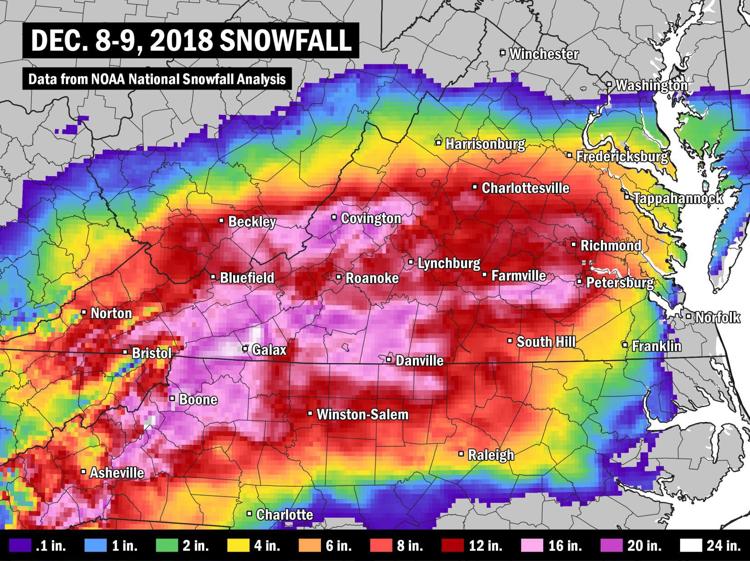 The northern fringe of the snow got as far as Fairfax before succumbing to dry air.
Most areas south of Interstate 64 and west of Interstate 95 picked up 1 foot or more.
At the very most, there was a report of 24 inches in western Grayson County.