(NOTE: This story was updated on Tuesday, Sept. 10 to include additional information.)
Hurricane Dorian came ashore in Cape Hatteras on Friday, Sept. 6 as a potent storm, yet with far less of the ferocity it first displayed over the Bahamas.
Still, North Carolina and Virginia once again felt the disruption wrought by rapid coastal flooding, crashing trees, torrential rains and fleeting tornadoes.
After grazing the North Carolina beaches from the Wilmington area to Cape Lookout, the eye of Dorian officially made landfall over Cape Hatteras at 8:35 a.m. with 90 mph sustained winds, according to the National Hurricane Center.
The last time Cape Hatteras was the site of a head-on hurricane landfall was during Gloria in 1985. Though it's an interesting technicality, dozens of hurricanes have affected Hatteras Island to some degree since then.
From a historical perspective, Dorian did not rank among the strongest hurricanes to ever hit the Tar Heel State. Coincidentally, it had identical wind and sea level pressure to Hurricane Florence when that storm plodded ashore near Wilmington last September, though Dorian took a more typical forward pace of 14 mph.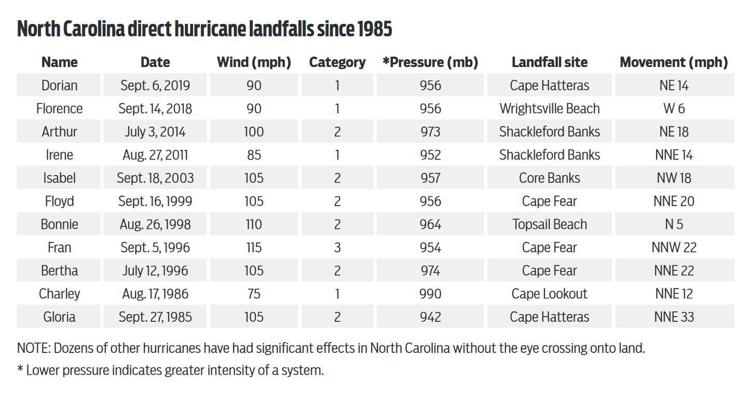 Dorian was a named tropical system for 15 days, and maintained hurricane strength for 11 consecutive days. Neither is a record for longevity.
It developed into a tropical storm east of the Lesser Antilles on Aug. 24, blew into the eastern Caribbean region on Aug. 27, then strengthened into a hurricane as it crossed the U.S. Virgin Islands on Aug. 28.
Dorian was likely the most ferocious hurricane known to make landfall in the Bahamas, especially considering that it paused for three days over the northern part of the island chain.
At peak strength over the Abaco Islands in the Bahamas on Sept. 1, Dorian's sustained winds hit 185 mph, with gusts to 225 mph.
That tied the all-time Atlantic hurricane landfall strength record set by a cataclysmic 1935 storm in the Florida Keys.
According to the tropical meteorology department at Colorado State University, Dorian is in a tie for the second-strongest peak sustained winds for any Atlantic hurricane since 1950. In 1980, Allen set the record at 190 mph, while Gilbert in 1988 and Wilma in 2005 also peaked at 185 mph. Allen, Gilbert and Wilma, however, did not strike land at that full strength.
There's more uncertainty about the records of ocean-going storms in the distant eras that predate satellites and reconnaissance by the Hurricane Hunters aircraft.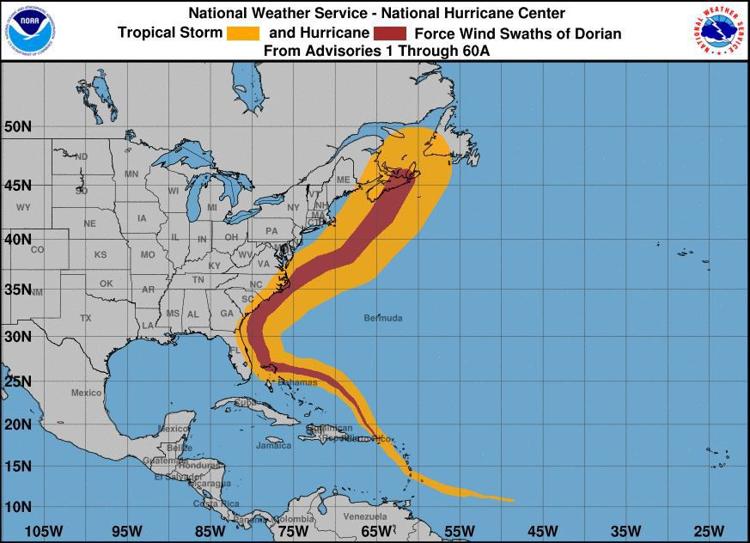 Dorian curved northwest, then northeast along the Southeast U.S. coast, with the core of strongest winds staying offshore until making landfall in the Outer Banks on Sept. 6.
It maintained hurricane strength until Saturday, Sept. 7 as it raced toward eastern Canada. Dorian retained strong wind speeds, but took on non-tropical characteristics as it crossed Nova Scotia and Newfoundland.
On Sept. 8, the National Hurricane Center issued its final advisory on Dorian as it weakened in open waters south of Greenland.
While the damage caused by the winds and waves have yet to be fully assessed along the entire path, these weather observations show the scope of the system as it affected our region.
Preliminary peak gusts by state (including nearby coastal waters), according to the National Weather Service:
Florida: 69 mph at New Smyrna Beach
Georgia: 67 mph buoy at Raccoon Bluff
South Carolina: 98 mph at a buoy southeast of Centenary
North Carolina: 110 mph at Cedar Island Ferry Terminal
Virginia: 83 mph at Chesapeake Light Tower
Delaware: 49 mph at Lewes
New Jersey: 50 mph at Rutgers
Rhode Island: 58 mph at Charlestown
Massachusetts: 76 mph at Nantucket Shoals buoy
Maine: 49 mph southeast of Roque Bluffs
Preliminary peak rainfall by state:
Florida: 5.68 inches near Palm Coast
Georgia: 2.83 inches near Darien
South Carolina: 15.21 inches near Pawleys Island
North Carolina: 13.1 inches near Wilmington
Virginia: 3.66 inches in Virginia Beach
Maryland: 4 inches near Berlin
Delaware: 1.7 inches at Bethany Beach
Massachusetts: 3.15 inches on Nantucket
Maine: 3.37 inches at Eastport
Selected gusts across our region:
Richmond International Airport — 38 mph
Selected rain totals across the region:
Virginia Beach — 3.66 inches
Newport News — 1.19 inches
Chesterfield County Airport — 0.61 inches
Richmond International Airport — 0.38 inches
More than 47,000 customers were without power in southeastern Virginia at 10:45 a.m. Friday, according to Dominion Energy's online outage map. The figure for that region declined to 23,225 by 4:30 p.m. and 10,317 by 7 p.m.
Outage figures for the Middle Peninsula and Northern Neck hovered between 1,000 and 1,900 throughout the morning but fell to just 7 by 7 p.m.
Outages for the Richmond region were even more isolated, on the order of 500 customers during the midmorning hours.