Around 1:30 p.m. on Aug. 6, 1993, Harry Jones was taking a nap at his antique store in Petersburg's Old Towne historic district unaware that his business was in the path of a tornado that was estimated to have winds topping out around 200 miles per hour.
Jones was sleeping in a bed on the third floor above his business, Antiques & Oddity, when the sound of the storm woke him.
"It all happened within seconds. There's really actually no 'before' and no 'after.' It didn't seem like it," Jones said recently. "I heard a noise. I rose out of bed because it was so horrendous."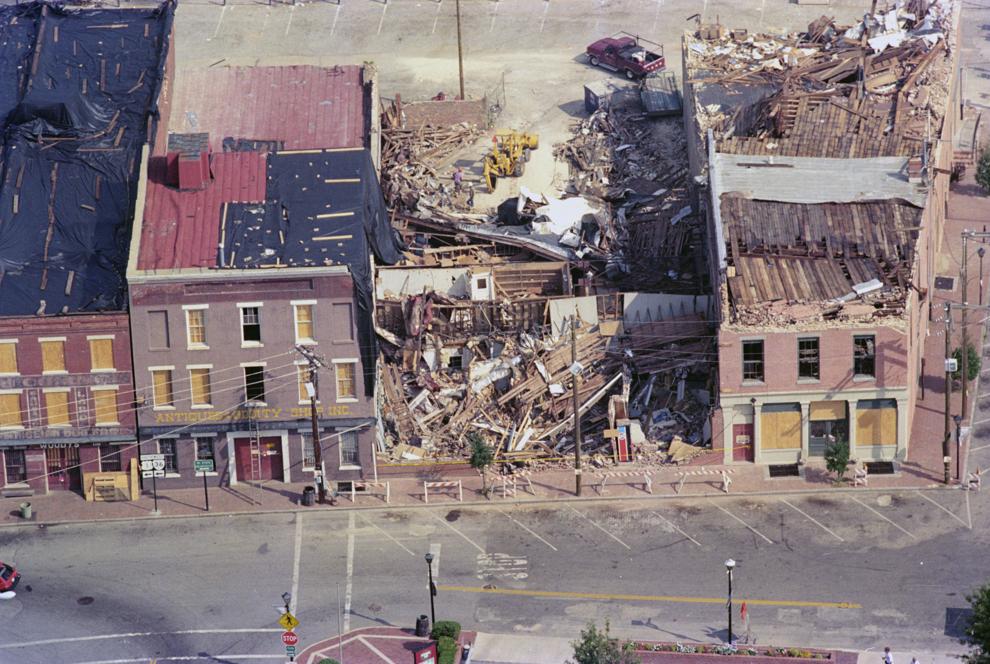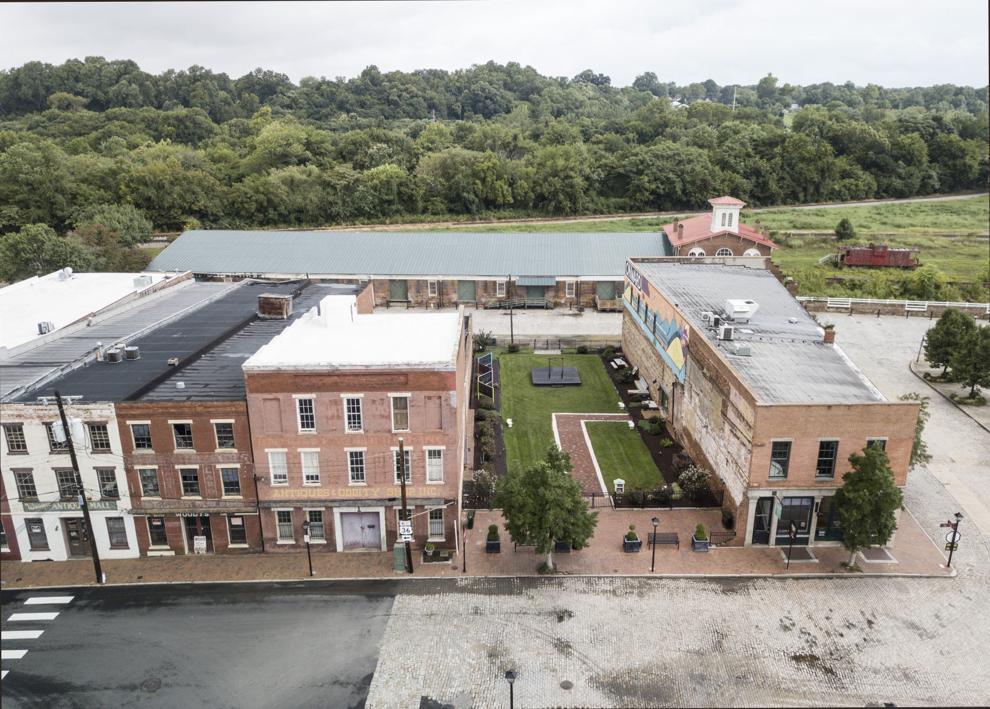 Then his building at 1 W. Old Street partially collapsed, sending debris crashing through a neighboring plumbing supply store. An upright beam kept the roof of his building from falling in on him, Jones said.
The store owner was able to get out of the building without having suffered so much as a scratch.
Around that same time, Art Hardy had been driving to his North Sycamore Street insurance business across the street from Jones' store, when the wind picked up and leaves swirled in the air.
A display window at a furniture store shattered and a couch flew past his car, Hardy said.
"It was a pretty devastating day," Hardy, retired president of Crittenden Adjustment Company, said recently. "Pretty much every window in my car was broken, but I never got a scratch. Unbelievable."
Twenty-five years later, people who lived through the storm remained stunned by the tornado's power. Although no one died in Old Towne, the storm turned deadly after it ground its way northeast. The tornado went across the Appomattox River and cut a path through a Colonial Heights Walmart, killing two cashiers and fatally injuring a customer.
Theresa Wilson, who was in the back of the Walmart in the crafts section with her mother, her daughter and her nephew noticed lights flickering and heard a grinding sound. She didn't realize at the time it was a tornado.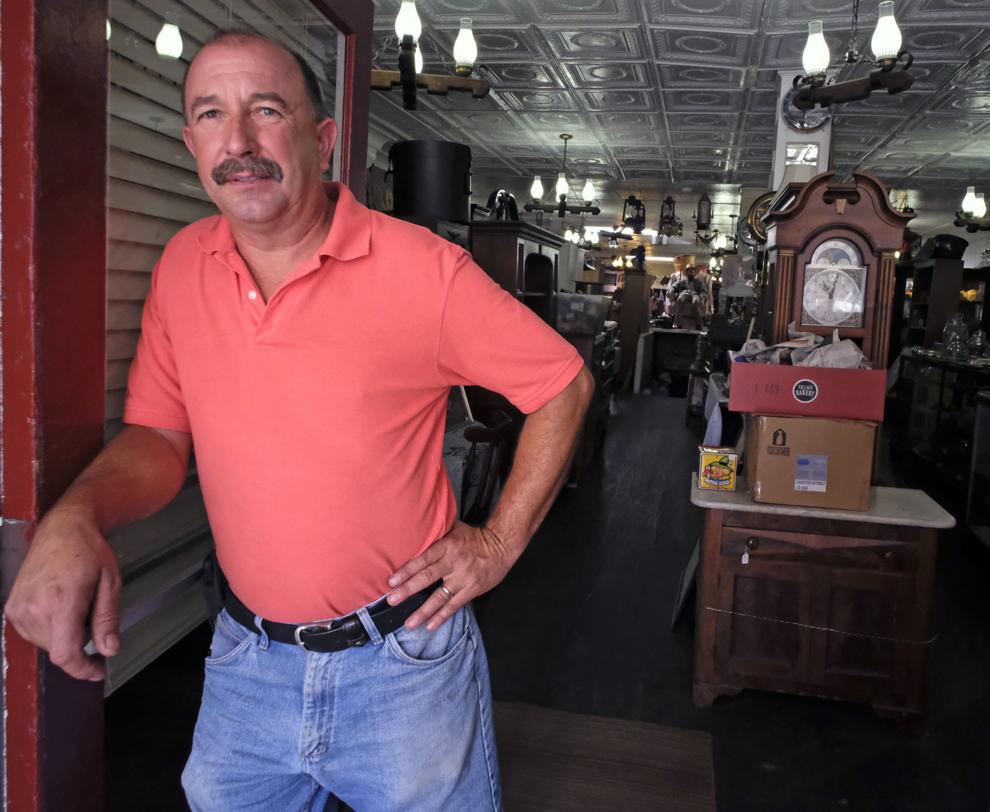 "I had no idea that's what was happening, but now I always listen for that sound because they say it sounds like a train coming, and it's so true," Wilson, a Dinwiddie County resident, said last week. "It's really loud, and it sounds like a train, and then it's over as fast as it started."
Wilson's husband, Richard, the owner of the Trading Post antique store on North Sycamore Street is thankful he missed the storm while making a furniture delivery in Ettrick. As he drove back into Old Town, he said it looked like a bomb went off.
"We thought a gas explosion had happened because the street was full of bricks and roofs and smashed-up cars," he said 
Spiros Georgogianis, co-owner of Alexander's restaurant on Bank Street in Old Towne, recalled the noise as the tornado rolled in and trees twisted around in the wind behind his business and metal roofing flew through the air. The storm sheered chimneys off his building and crushed another building a couple doors down from his business.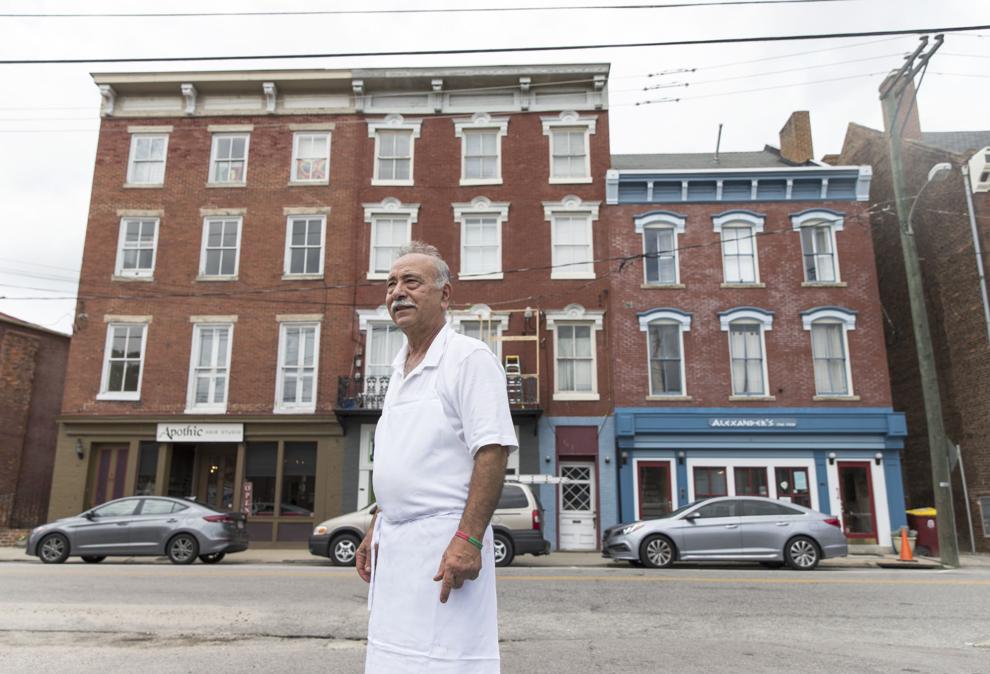 Then there was silence in the first minutes after the storm passed, Georgogianis said.
"It was so quiet. It was like eerie," Georgogianis said recently.
In Old Towne, where many buildings date back to the mid-19th century, 58 buildings were heavily damaged or destroyed, according to a report by the National Weather Service. As it rolled through the historic black neighborhood of Pocahontas Island, it destroyed or heavily damaged 47 homes. While a 200-year-old church was destroyed in Pocahontas Island, one its Bibles remained on a podium, open and untouched, the weather service said.
When the tornado moved into Colonial Heights, it knocked through Sam English's brand new dentist's office where just hours earlier staff had been preparing the office to take its first patients the following week. On that Friday, staff had come in around 8 a.m. and undergone a trial run using new computers and equipment, English said recently.
"At 12 o'clock we left, and by 2 o'clock it was gone," English said. "The front wall (of the office) was gone, the back wall was gone. All the brand new equipment was gone. The only things left were the side walls and the concrete floor."
Then the storm struck Walmart. Around the time the tornado hit, Colonial Heights Fire Chief A.G. Moore Jr. had been coming out of Southside Regional Medical Center where he had been visiting one of his employees in the hospital. Moore looked up and saw a lime green sky.
"It just didn't seem right," Moore said.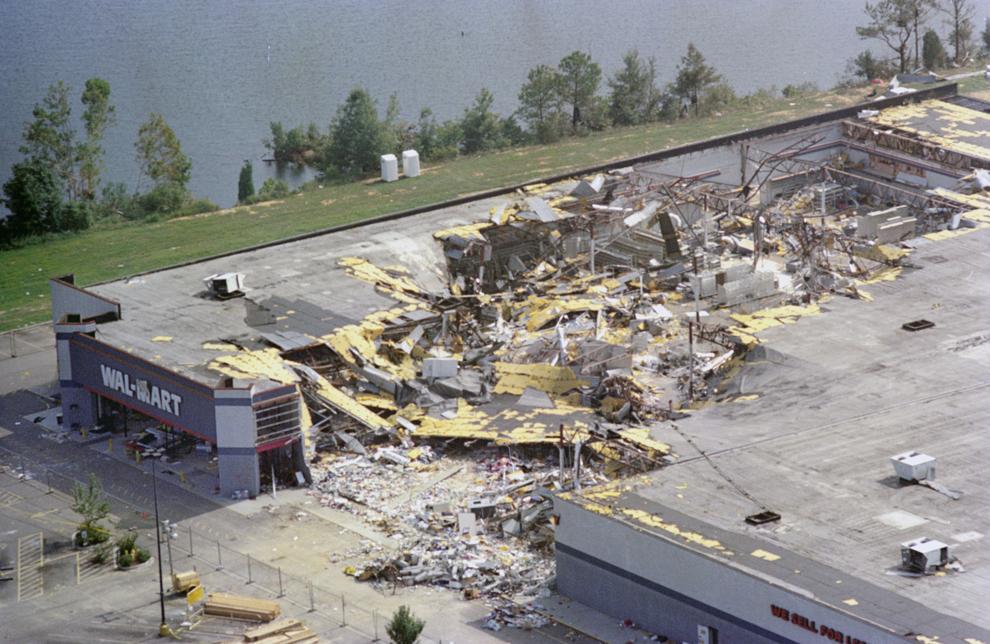 The fire chief got in his vehicle and heard emergency radio traffic reporting the Walmart had partially collapsed. When he got there, there were about 100 to 130 "walking wounded" victims with some type of scrape or bump outside the store, Moore said recently. There were other people trapped underneath rubble in the checkout area of the store, he said.
"I've been the fire chief 25 years this past March," Moore said. "It's the most challenging day that I've had yet on the job."
The tornado killed Carolyn Gunn, a 48-year-old Colonial Heights resident who worked as a Walmart cashier. Cheryl Weisheim, 40, of Hopewell, who also worked as a cashier. Mae Prosise, 56, of Petersburg, was fatally injured as she shopped at the store.
About a mile away in Tarmac, the tornado killed a fourth person — Morris C. Gupton Jr., 28, of Colonial Heights — at a sand and gravel pit company. It moved into Hopewell striking the Riverside Park Apartment Complex and damaging dozens of homes, the National Weather Service said. In the 15 to 20 minutes it was on the ground, the twister caused about $48 million in damage along a 12-mile path through the Tri-Cities region, according the weather service. About 250 people were injured.
PHOTOS: Tri-Cities tornado, 25 years later
On the afternoon of Aug. 6, 1993, a powerful tornado struck the Tri-Cities area, destroying buildings in Old Towne Petersburg and tearing through a Walmart in Colonial Heights.
Bobby Harvell, a division chief of training at the Petersburg Fire Department, said he had no idea a tornado had rolled through the city when he responded to Old Towne for a call of someone trapped in an elevator.
Harvell, a captain with the fire department when the tornado hit, figured it was just a regular call. Then his fire truck arrived in Old Towne to snapped telephone poles, downed electrical transformers and power lines strewn in the street and people milling about the wreckage.
"The tops of some of the buildings were gone, you could still see people inside the buildings," Harvell said. "The walls had fallen in."
Petersburg officials called for assistance from neighboring agencies, unaware that those agencies had their hands full helping Colonial Heights, Martin said.
"(It's) one of those things you never think you'd see," Harvell said as he reflected back on his memories from that day. "We don't get tornadoes around here that much."
After the storm hit, emergency officials closed off Old Towne because the buildings weren't safe, Harvell said. That upset business owners who wanted to get back to their buildings and inspect the damage.
Hardy, with Crittenden Adjustment Company, said he snuck back into his North Sycamore Street building, which had been condemned after its roof was sheared off by the storm. Hardy said he came back to get supplies since a key part of his business entails handling insurance claims for natural disasters like the one that had sent a piece of furniture flying by his car. He estimated his office handled about 200 claims from the storm.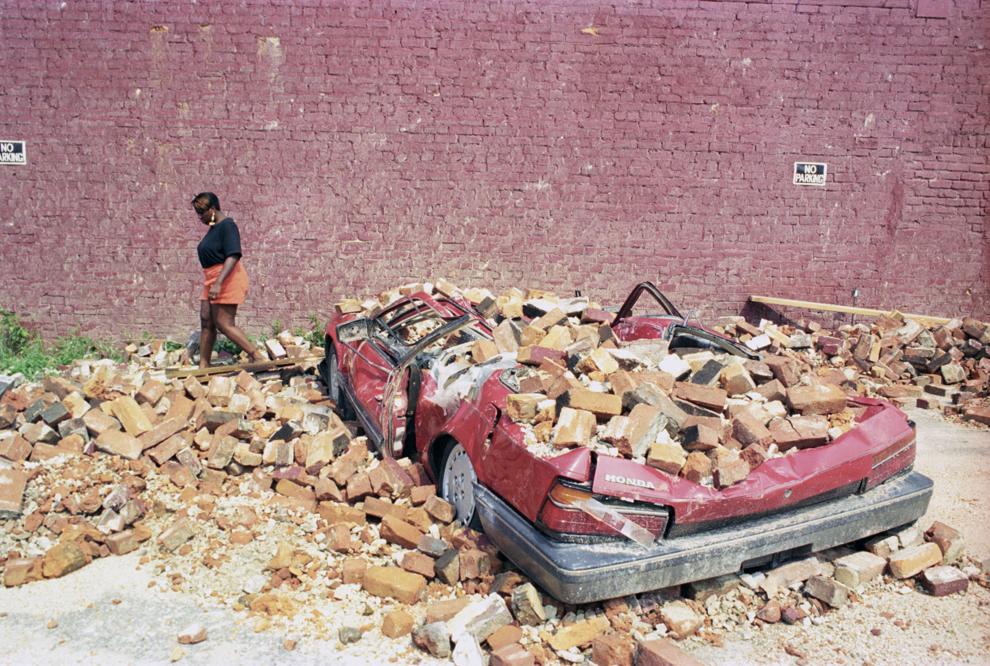 Hardy said insurance covered the $120,000 in damages to his business' former North Sycamore Street building that now houses an attorney's office. Jones said he was able to eventually move back into his building on Old Street, but that business eventually closed and nowadays he's running a pet supply store in Rawlings, Va.
"Much of Petersburg was untouched. In fact, the majority of Petersburg was untouched," said Bill Martin, who was Petersburg's director of tourism and museums at the time of the tornado. "But where the tornado hit in the city, it was devastating."
Martin, now the director at The Valentine museum in Richmond, said the storm struck at a time when business in Old Towne had been on the upswing in the historic district.
"There were businesses that never recovered," Martin said. "But now there are new businesses in many of those spaces ... That part of the city is really coming back. There are a lot of new restaurants and shops."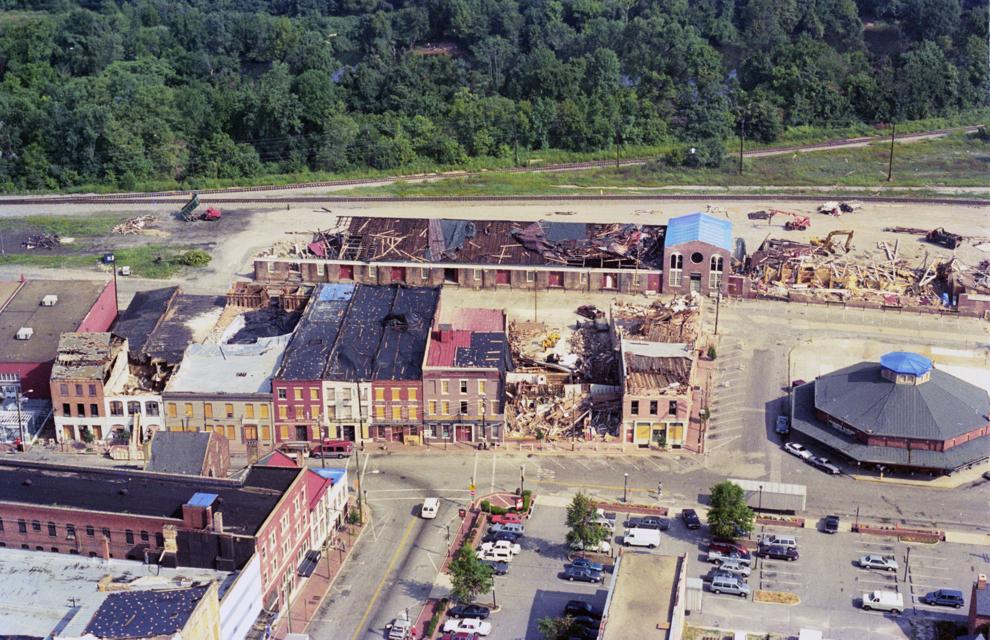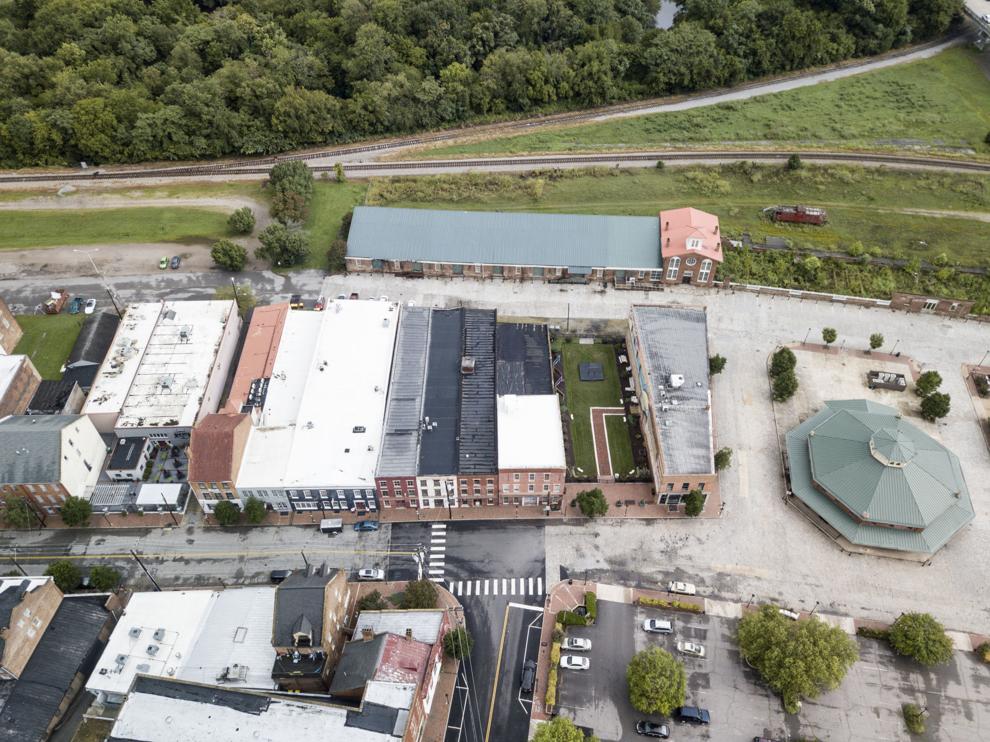 Some Old Towne buildings knocked down by the storm were never rebuilt. A wing of the South Side Station, the state's oldest train station, was not restored after the tornado leveled it. The building that collapsed a couple doors down from Alexander's was not rebuilt. In that spot, a stream runs under an outdoor patio.
Georgogianis said a lot of other independent businesses in Old Towne lacked insurance that would have allowed them to recover from the storm.
"A lot of people left. A lot of them did," Georgogianis said.
State Sen. Rosalyn Dance was only about a year into her job as Petersburg's mayor when the storm hit. Walking around Old Towne at street level masked much greater interior damage within the historic buildings, Dance said recently. She took a helicopter flight to survey the scene where she got a better view of roofless buildings struck by the storm.
From the sky, the damaged portion of the city, looked like a "junkyard" with debris haphazardly scattered about, Dance said recently.
"It looked like nobody lived there," Dance said.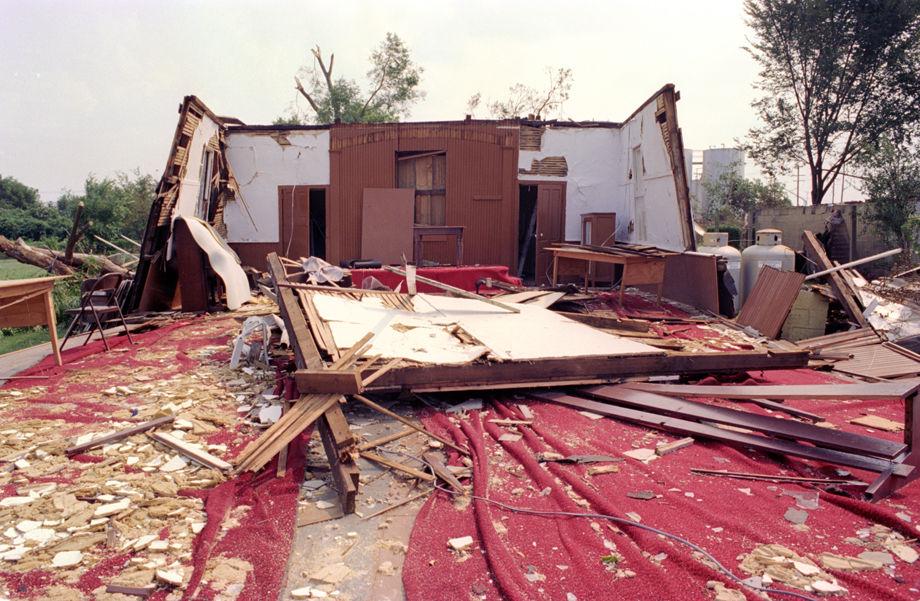 The first step was restoring basic services to businesses, such as electricity and water lines and reopening the streets, Martin said, adding that the biggest challenge was stabilizing the historic buildings hit by the storm.
"This was not a normal recovery because in a normal recovery, the buildings could have simply been bulldozed and new buildings built," Martin said. "These were National Historic Landmark buildings that had to be recovered."
Martin recalled how the city, trying to find some humor amid a terrible situation, put up a billboard on Interstate 95 in the months following the storm that made a reference to the fictional tornado that whisked Dorothy away to the land of Oz.
"The billboard said 'There's no place like Petersburg.' All you saw were ruby slippers being pulled up into the top of the billboard," Martin said.
Dance, D-Petersburg, estimated it took about 15 years for the city to rebuild from the aftermath of the storm. There were setbacks and bureaucratic headaches along the way, she said.
"It was a really sad, devastating time, but we did not give up hope," Dance said.