Richmond has sweated through hotter summers and slogged through wetter summers.
But never one quite like this.
The combination of relentless heat and excess rain in 2020 was something altogether unique for us.
Thanks to a scorching July and a drenched August, the entire period of climatological summer — June, July and August — nearly topped the local rankings for both temperature and rainfall.
All of the highs and lows from June 1 to Aug. 31 averaged to 79.1 degrees at Richmond International Airport, or about 1.7 degrees above normal.
Only four summers had a higher average temperature in the Richmond area: 2010, 2011, 1900 and 2005. But rainfall was at or below normal in those hotter summers.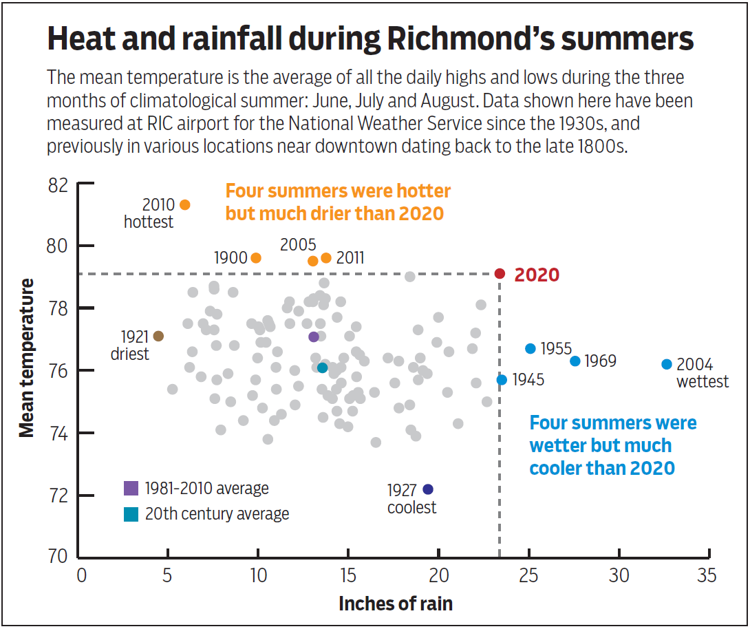 Most notably, Richmond saw its hottest July on record based on mean temperature, which also tied August 1900 as the all-time hottest month. June was right at normal, while August was warmer than normal but ranked outside the top 10.
What we lacked in terms of record-busting triple-digit highs, we made up for with an unusually long streak of 90s and stubbornly sultry lows in the 70s.
It's another data point consistent with our changing climate. Of the 20 hottest summers in Richmond's records dating to 1897, 13 have been in the 21st century.
With 23.39 inches of rain at RIC airport's official gauge, this year ranked sixth for summer precipitation behind 2004, 1969, 1889, 1955 and 1945. But all of those wetter summers had near-normal temperatures (except 1889, when only rainfall was measured).
Our average is 13.1 inches.
Two thirds of that huge total came in August, which narrowly fell short of being the wettest August on record. June was moderately wetter than usual, while July turned out dry. A drought began to emerge in our region before August's rains overwhelmed the ground.
Some local backyards were even wetter.
Volunteer rain observers reported nearly 30 inches of summer rainfall near Enon in Chesterfield County and Williamsburg, about 26 inches in South Richmond and Bon Air, and 24 inches near Petersburg and Brandermill.
Owing to the scattered nature of rain patterns in summer, some spots had a relatively drier outcome. Rainfall was only slightly above normal in the Piedmont counties south and west of metro Richmond from Cumberland to Dinwiddie. But the extreme wetness extended north and east of the city, with up to 200% of normal rainfall across the Northern Neck, Middle Peninsula and lower James River.
Despite recent wet summers, there isn't a robust long-term trend in total seasonal precipitation. But there is evidence that the wettest days involve heavier rain.
The persistent heat and downpours weren't limited to metro Richmond, or Virginia for that matter.
June-August rankings for nearby cities
Roanoke: third-hottest in 109 years, hottest since 2011, and 22nd wettest.
Lynchburg: fourth-hottest in 128 years, hottest since 1943, and fifth wettest.
Norfolk: hottest on record in 147 years and 93rd wettest.
Washington area: fifth-hottest in 149 years, hottest since 2016 and tied for 12th wettest.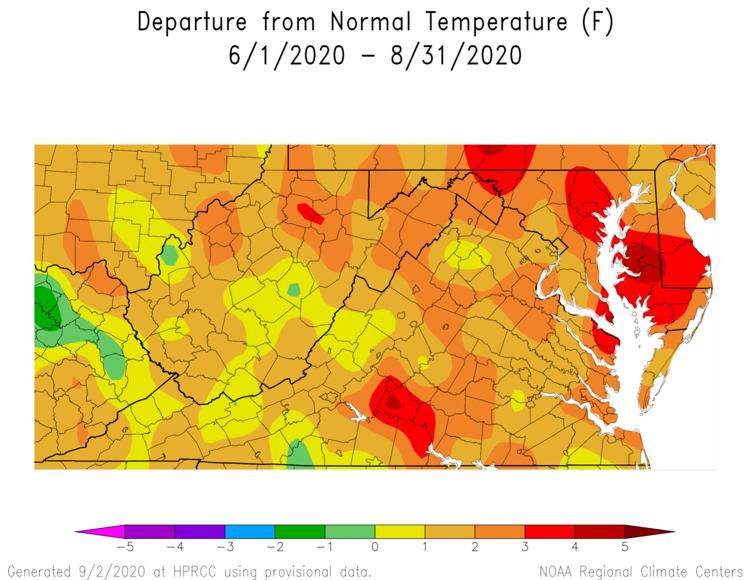 Some other long-term weather stations that ranked in the top 10 for temperature: Abingdon, Appomattox, Corbin (near Fredericksburg), Dale Enterprise (near Harrisonburg), John H. Kerr Dam (near Boydton), Sterling, Wakefield, Wallops Island, Warsaw, West Point and Williamsburg.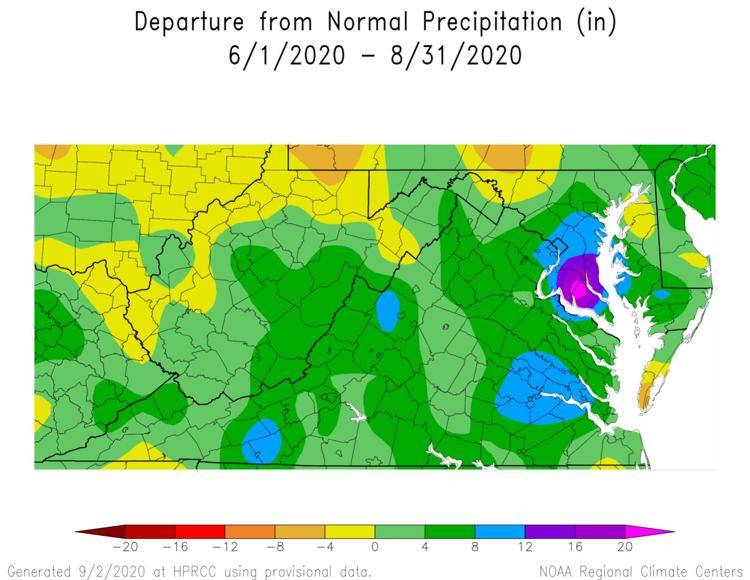 Sites with top 10 summer rainfall rankings include: Appomattox, Ashland, Chatham, Grundy, John H. Kerr Dam, Luray, Pulaski, South Boston, Staunton, Sterling, Wakefield, and Williamsburg.
Extreme readings in June-August period
Hottest high: several sites hit 102 degrees in July. Richmond peaked at 101 on July 19 and July 28.
Coolest high: 55 in Christiansburg on June 16. It was also Richmond's coolest summer day at 67.
Warmest low: 83 near Cape Charles and in Chesapeake during mid-July. Richmond had mornings at 78 on July 20 and Aug. 29.
Coldest low: 32 at Mill Gap, Highland County, on June 2. The day before, Richmond's low was 54.
Most 90s: 58 days in Disputanta, Prince George County. Richmond had 46, which was above normal but not a record.
Most 100s: Six days at Lake Drummond in Chesapeake. Richmond had three, which was the most since 2012.
Most lows in the 70s: 75 days in Norfolk. There were 57 in Richmond, which ranked third locally.
Most days with measurable rain: 55 days near Independence in Grayson County, and Keswick in Albemarle County. Richmond had 38, more than usual but not a record.
Most 1-inch rain days: 12 days near Herndon in Fairfax County. There were 10 such days in Richmond. Only 2004 had more heavy rain days here, at 11.