Unless March whips up a blizzard in central Virginia, February's back-to-back ice storms will go down as the harshest part of this winter.
But any future flakes would count toward springtime weather statistics. The climatological winter of 2020-21 is officially in the books now that March is underway.
The past three months weren't particularly cold. But it may have felt colder for a couple of reasons. One: It was a reality check after the recent streak of very mild winters. Two: the unusually long gap between any warm days.
But there's no disputing that this winter was very wet. Sunday's soaking rain ended the season on a fitting note. Richmond's precipitation from Dec. 1 to Feb. 28 amounted to 15.4 inches. The average for the three winter months is closer to 9 inches.
That excess landed the 2020-21 winter in third place of the past 135, behind 1936-37 (16.84 inches) and 1978-79 (15.93). Most of metro Richmond had a surplus ranging 4 to 8 inches since Dec. 1, or about 150% of normal.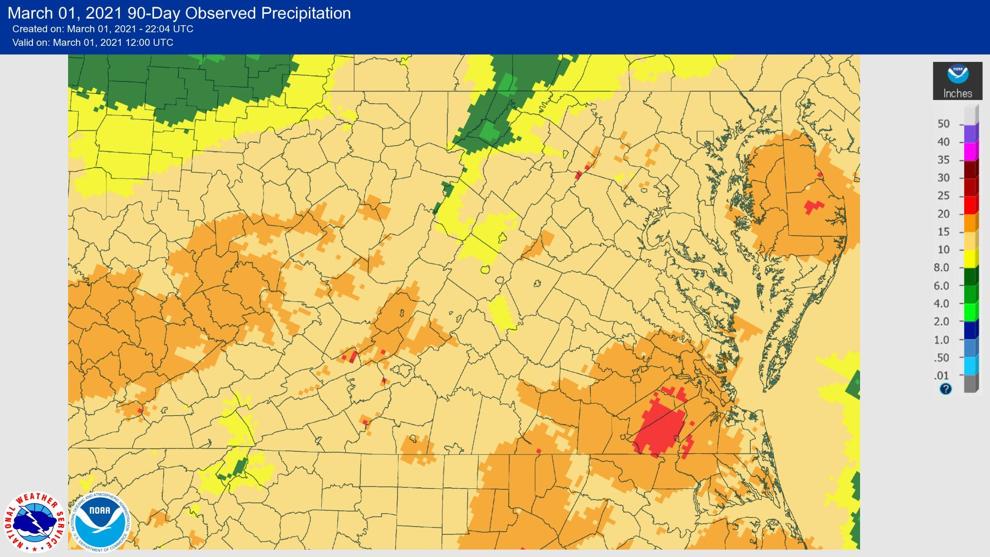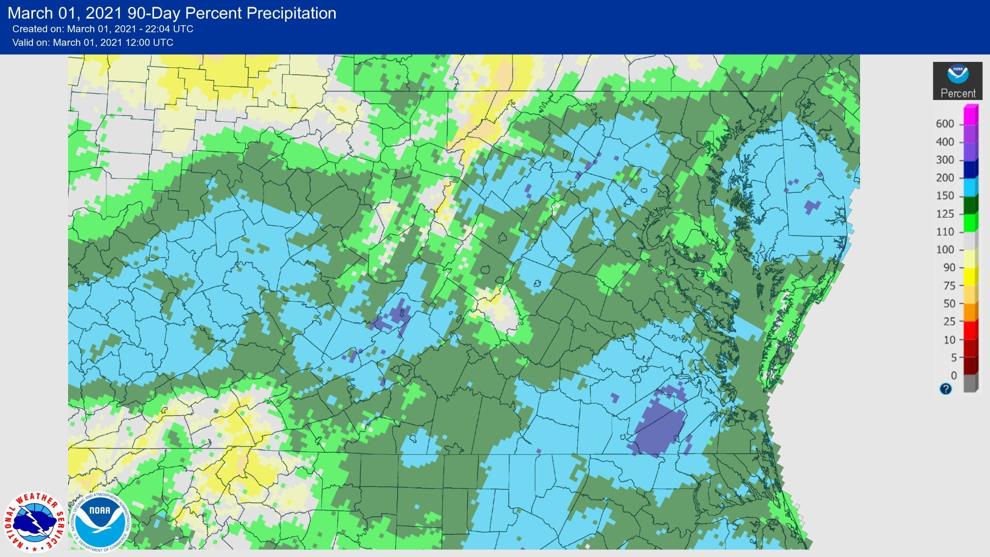 Of those 90 days, 37 had some measurable rain or snow. That's the highest count of wet winter days since the early 1980s.
The seasonal mean temperature came out to 39.6 degrees.
This was the coolest winter for Richmond since 2014-15, and much cooler than 2019-20. Compared to our 21st century standards it was slightly cool, but compared to the 20th century it was slightly warm.
The 54-degree range from Richmond's coolest morning (17) to warmest afternoon (71) was much narrower than usual. Typically, that coldest night would be closer to 10, while the warmest winter day is a bit balmier. That's reflective of the cloudy and wet conditions.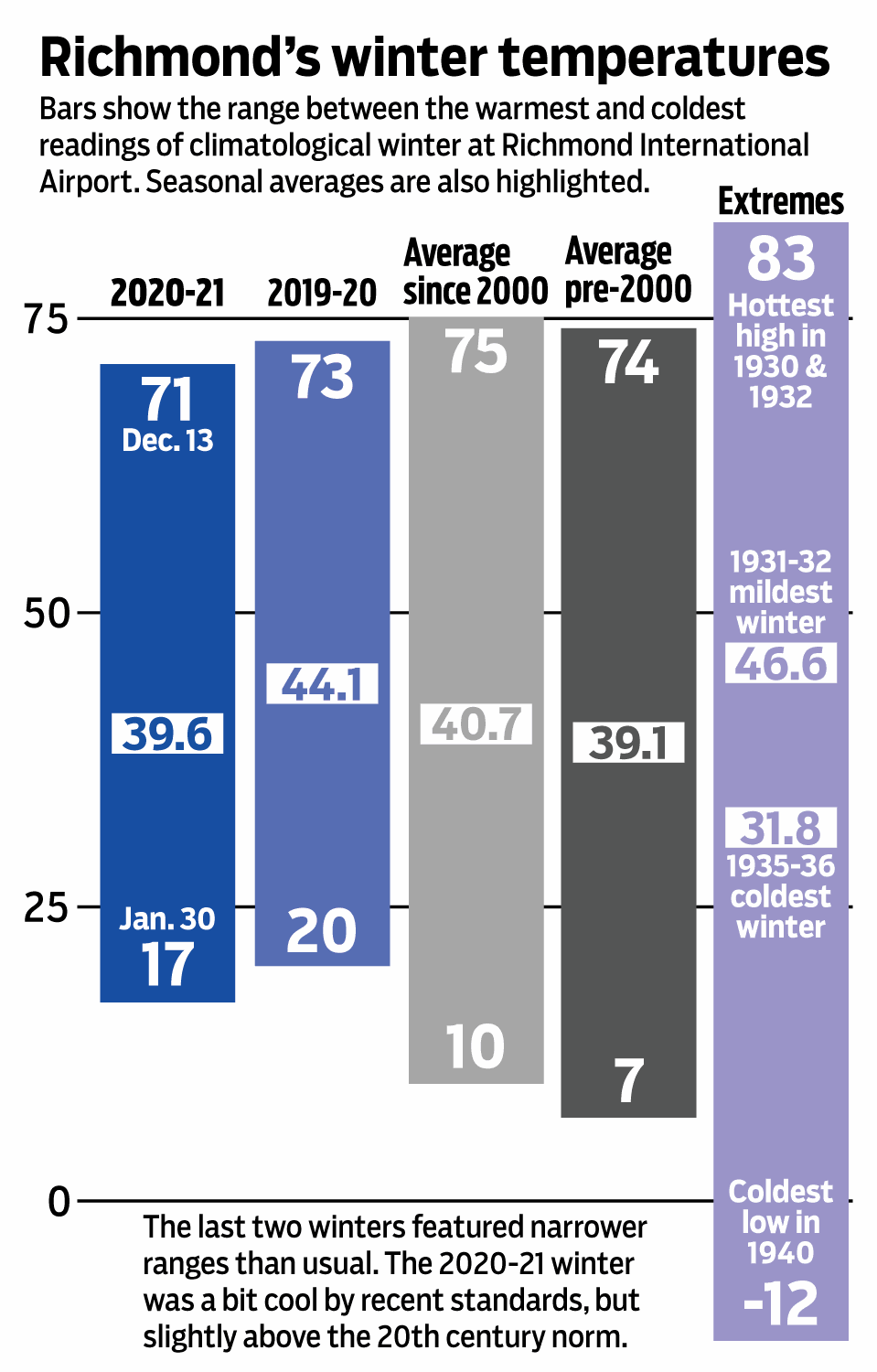 For a contrast, think back to January 2018 when Richmond plummeted to 3 below zero but soared to 70 degrees after five days.
Richmond had the fewest warm winter days in the 60s and 70s since 2009-10. No daily temperature records were broken or tied in Richmond.
La Niña dominated the winter outlook, but not the results
What we got was almost the opposite of what was expected last fall.
Our Oct. 19 story explained how a pronounced La Niña pattern in the Pacific Ocean was expected to continue into winter. The official seasonal outlook from the National Oceanic and Atmospheric Administration incorporated typical La Niña influence: above normal winter temperatures projected along the Eastern Seaboard, with drier weather over the Southeast and possibly even parts of Virginia. At that time, there was no compelling evidence pointing to such a soggy winter.
But this caveat turned out to be prescient:
"Other cycles that happen over the Artic and North Atlantic also have a major impact on our weather, but they alternate on the course of weeks rather than months. So this far out, there's no reliable way of knowing if or when big dips in the jet stream will send polar air or nor'easters blasting across the Eastern Seaboard."
Indeed, the La Niña is still going (and may be a player for much of 2021), but other cycles came to dominate the fate of the winter jet stream.
In December and January, a prevailing ridge over the eastern Pacific and western North America resulted in troughs over the Southeast U.S. That kept our weather unsettled and rainy, and also prevented any long incursions of very warm or very cold air masses.
And in February, the rearrangement of the polar vortex above the Arctic region allowed harsh cold air to finally plunge into the central United States. The result was a very active storm track — and lots of precipitation — along the Eastern Seaboard. Again, the extreme cold was kept off to our west, but enough cold filtered in to see that moisture hit us in the form of snow and ice.
That constant tug of war between Pacific, Arctic and Atlantic weather influences never really allowed a warm, dry ridge to truly dominate over the Southeast U.S.
For what it's worth, there's presently no signal for anomalous rainfall across Virginia during the spring months of March, April and May. According to NOAA, chances of wet and dry patterns are roughly even. Richmond's spring seasonal temperatures have a 46% chance of ending up above normal, making a warm spring a bit more likely than either a cool or near-normal one.
Richmond's seasonal snow scorecard for Feb. 28
Snow season continues beyond the bounds of climatological winter. On average, only 7% of Richmond's snow falls after March 1. That doesn't mean it can't be heavy, but the opportunities are fewer.
Winter's snowfall struggled to pile high across the entire region due to storm tracks that favored changeovers to wintry mix. (The sleet we saw counts toward the snow totals, but freezing rain does not.)
If we stop now, this will have been a modestly below-normal season for snow (consistent with a La Niña, albeit for other reasons). But the flakes were rather spread out, giving Richmond more days with measurable snowfall than any winter in a decade.
2020-21 season-to-date at Richmond International Airport: 7 inches
Normal season-to-date (based on 1981-2010): 9.6 inches
Record season through Feb. 28: 35.8 inches in 1966-67
2019-20 season through Feb. 28: 1.5 inch