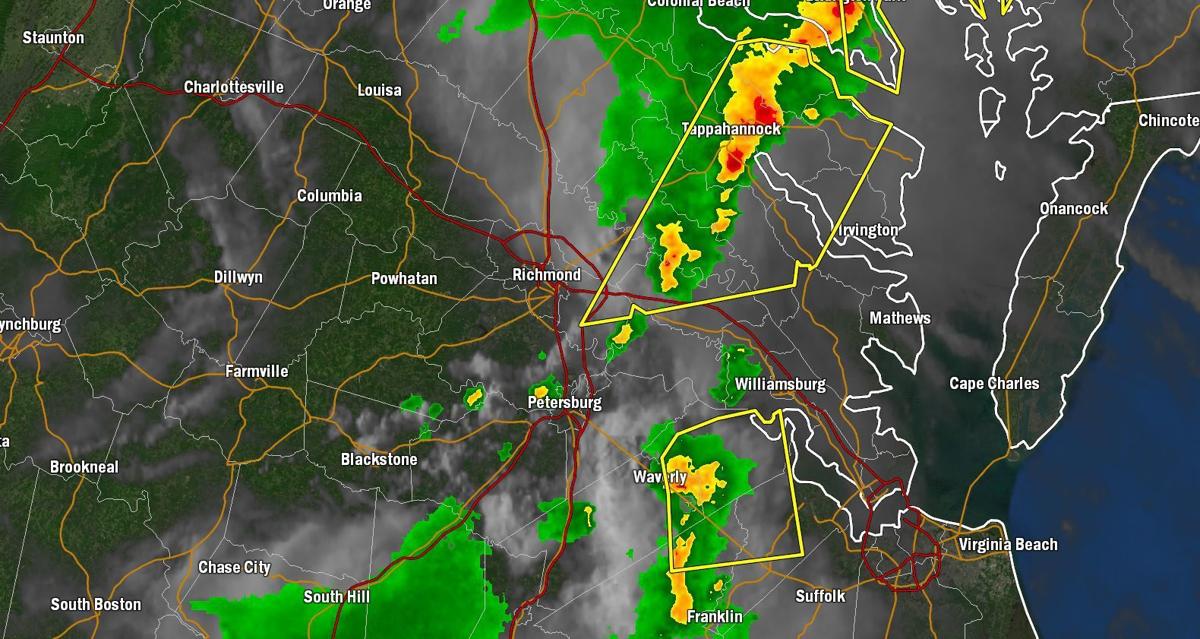 The worst weather has now cleared east of Richmond and the Interstate 95 corridor as severe storms rumble into the Tidewater region.
At 6:30 p.m., a severe storm was quickly closing in on Northumberland County, still recovering from Monday's EF-2 tornado.
The rest of the evening should be quieter in the wake of the storms, but Dominion Energy's online tracker showed about 3,000 customer outages in the Richmond metro area as of 6:15 p.m.
Several areas in Hanover County and Henrico County reported downed trees or power lines to the National Weather Service in Wakefield.
Another swath of severe weather tracked south of the Tri-Cities, from Emporia to Waverly.
That activity has stabilized the atmosphere, so we should stay dry for the rest of the evening, with the exception of some thundershowers in the Tri-Cities area where those severe storms missed earlier.
The leading edge of the severe weather keeps sweeping eastward, now stretching from Bowling Green to Ashland to Tuckahoe to Winterpock.
It's moving east at 50 mph, so conditions will soon worsen for Richmond, Sandston and Mechanicsville, and points northeast along Route 360 to Tappahannock.
Severe thunderstorm warnings are in effect for much of metro Richmond except southern Chesterfield County and the Tri-Cities.
These storms have a history of bringing down trees and disrupting power across the Piedmont.
Hail isn't as much of a concern, but some spots could see penny-sized hail.
A line of severe storms between Louisa and Farmville is sweeping east and northeast toward the Richmond region.
If the activity holds together and stays on course – which looks more likely than not – that would bring it through the metro area between 5:15 and 6:30 p.m.
Western and northwestern locales like Manakin, Short Pump, Powhatan, Glen Allen and Ashland will have concerns sooner than places closer to the southeast of Richmond Tri-Cities.
These storms have left a scattered trail of tree damage around Roanoke, Lexington and Lynchburg, according to reports relayed by the National Weather Service. Keep phones charged up in case you end up losing power.
Rain could last about one hour once it arrives, though it could be shorter for some and longer for others.
2 p.m.: severe thunderstorm watch issued
Storms could head for for central Virginia later this afternoon and evening, bringing a possibility of severe wind damage and hail.
The National Weather Service put a severe thunderstorm watch into effect until 8 p.m. for much of our region, including:
• Fredericksburg, east into much of the Northern Neck
• Lynchburg, Danville, Farmville and South Hill
• Northern Virginia and Washington
• Roanoke area northward to the Shenandoah Valley
The strongest storms could have gusts to 70 mph and 1-inch hail or larger. A tornado can't be ruled out.
As of 2 p.m., storms are developing near the Virginia-West Virginia border. That activity will generally move from southwest to northeast.
By late afternoon, the worst weather should be between the Blue Ridge and Interstate 95. By early evening, the strongest activity could be pushing through the Richmond Region into Tidewater.
Ahead of that, Richmond will be mostly sunny and warm. The hot, muggy air could provide plenty of fuel for the storms, so stay aware of any warnings that may be issued later on and be ready to bring activities inside.
Look for more updates later today.