Metro Richmond is once again under a flash flood watch, this time until 2 a.m. Saturday.
With the ground saturated from four straight days of heavy rain, any downpours that hit the area this afternoon or evening could create new trouble spots.
The latest computer models show less rainfall coverage across central Virginia compared with previous days. The flooding issues may not be as widespread, but they could be just as dangerous as before.
The stationary front responsible for our recent rains will linger over the area again on Saturday, providing more opportunities for scattered storms.
A drier but slightly hotter weather pattern will move in by Sunday and Monday, making storms more isolated in nature.
Another front will cause rainfall chances to ramp up toward the middle of next week.
Stay aware of weather changes and flash flood warnings that may be issued later today, especially if you live in or near an area that flooded in recent days, near a creek or a poor drainage area.
Weather and public safety experts once again remind motorists: "Turn around, don't drown." Six inches of running water will cause most passenger cars to stall and lose control, or knock over a person trying to walk through it. One foot of water will float many vehicles, and two feet can even carry away SUVs, vans and pickup trucks. The road bed beneath floodwaters can also potentially be damaged or washed out.
This week has been Richmond's wettest stretch of weather since the flash floods of June 22, 2018. Richmond International Airport picked up 1.59 inches on Monday, 3.61 inches on Tuesday, 1.7 inches on Wednesday and 2.57 inches on Thursday for a four-day total of 9.47 inches.
The wettest four-day period at RIC airport was July 15 to 18, 1945 with 10.55 inches.
In the city's 133-year precipitation record, this was the first instance of four consecutive days with more than 1 inch of rain. Already, this month is the area's wettest August since 2004. That month was one of the all-time wettest at 16.3 inches, a total partly achieved by the unforgettable deluges from another tropical storm named Gaston. For comparison, Richmond averages 4.66 inches in August.
Climate change contributes to the frequency and severity of flash flooding by allowing the air to hold more moisture than before. Studies show that the wettest days of the year are trending wetter for cities throughout our region. Along with land use, climate is one of the factors making us more vulnerable to flooding.
---
Metro Richmond experienced flooding downpours for the fourth straight day, while storms with large hail, high winds and possible tornadoes rampaged elsewhere in the state on Thursday.
Heavy rains in the late afternoon and evening prompted flash flood warnings from Midlothian to Highland Springs, and water returned to some Richmond streets that had been inundated the day before.
By 8 p.m., the Chesterfield County fire department searched multiple flooded apartments at the 6900 block of Starview Court, west of Chippenham Parkway. Standing water closed roads or highway lanes in several areas south of Bon Air, according to VDOT.
Earlier in the afternoon, flash flooding reports dotted the Interstate 64 corridor from Staunton to Virginia Beach. Excessive rain also struck the peninsulas, still cleaning up from Tropical Storm Isaias' tornadoes.
A storm that prompted tornado warnings in the Charlottesville area downed numerous trees, though no funnel sightings or confirmation emerged in the immediate aftermath.
The storm proceeded to damage trees throughout Louisa and Goochland counties. Another storm snapped trees and dropped golf ball-size hail between Beaverdam and Montpelier in Hanover County.
---
Rapid rainfall prompted water rescues on Wednesday
From Monday afternoon into Tuesday morning, Isaias soaked the Richmond region with 3 to 5 inches of rain.
Saturated ground set the stage for a stationary front to cause more problems on Wednesday evening.
Up to 4 inches of rain fell between Richmond's Church Hill neighborhood and East Highland Park during as many hours as storms lingered. The resulting flash flooding quickly made some streets impassable and prompted numerous emergency calls.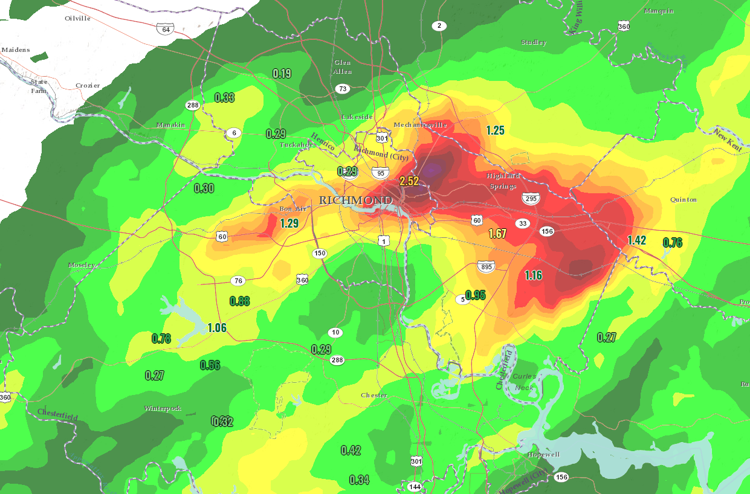 Richmond firefighters rescued or assisted 10 people stranded by the floodwaters east of downtown on Wednesday, according to spokesman Lt. Chris Armstrong.
At 7:51 p.m., two vehicles were reported stranded in a frequently flooded section of Magnolia Street, but the occupants got out of the water before crews arrived.
Firefighters also responded to a vehicle stuck in high water near the intersection of Mosby Street with Fairmount Avenue and Littlepage Street at 7:58 p.m. A person attempting to push the vehicle was removed from danger by firefighters. Five pedestrians cut off by rising water in that area were also taken to higher ground. Nearby, several cars attempted to continue driving around rescue vehicles that were blocking the flooded area.
Motorists were also helped to safety at the 700 block of North 25th Street, 2813 Fairfield Ave. and at the intersection of North 28th and Newbourne streets.
According to Armstrong, the biggest safety message is not to drive through either standing or moving water. "What people don't realize when you get in a flood like this, the manhole covers can easily come up," Armstrong said. "If they come up and you're standing in that area where the manhole cover is, you're going to potentially go down."
The National Weather Service in Wakefield issued a flood advisory for much of metro Richmond at 7:39 p.m., and added a flash flood warning at 8:08 p.m. after storms continued to unleash rain over the same areas.
Owing to the scattered nature of Wednesday's downpours, some areas less than 10 miles away saw less than a quarter-inch of rain. Flash flooding was also reported in western Mecklenburg County on Wednesday.
---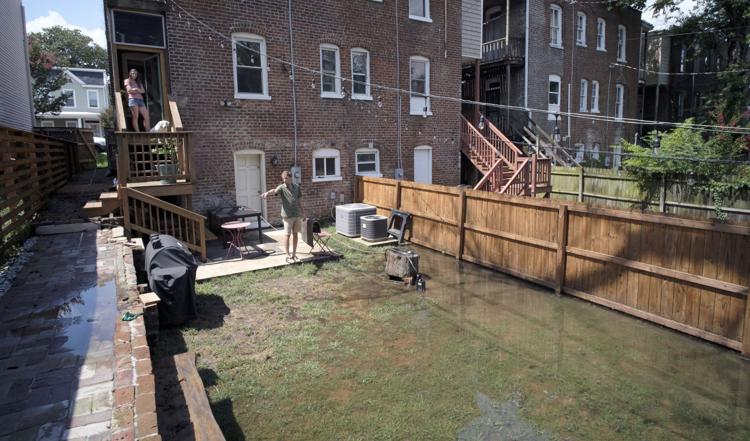 Pumping water out of a dank basement at 2 a.m. isn't one of the perks of homeownership.
For Church Hill resident Alex Fisher and his wife, Maggie Christ, however, it's what they do whenever torrential rains pelt their N. 33rd Street house and backyard as storms this week have done. In fact, as they spoke Thursday afternoon about their basement pumping mechanisms – involving a Shop-Vac, a bucket and a lot of elbow grease - at least a foot of standing water pooled just outside the door in the backyard.
Fisher and Christ also have to drain the yard, too. They run a garden hose from the yard to the street out front, otherwise water can reach so high it completely covers their yard and then start leaching into the house through the old brick in the foundation.
They've tried to do things to prevent the seepage, like filling in holes and using paints, "but it is no match for that water," Christ said.
Given their home's location within close proximity to other houses, there's little they can do, they said, to effectively pump water away from their house that wouldn't become someone else's problem.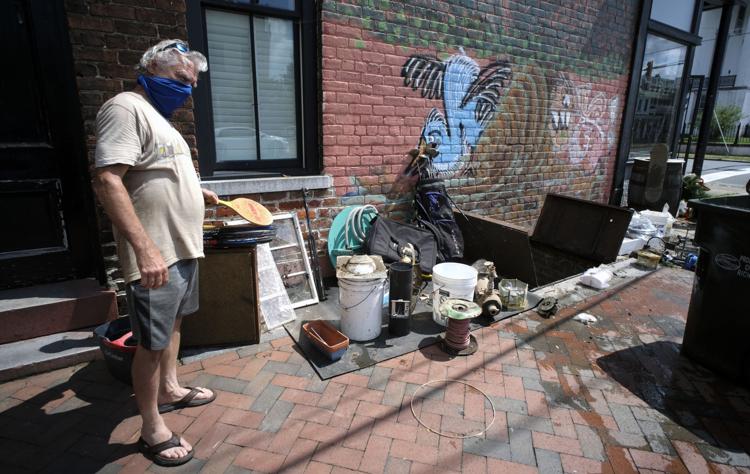 Not far away at The Roosevelt restaurant, on 25th Street, Executive Chef Matt Kirwan said the storms Tuesday night came so fast that water rose in the street around the eatery, crept halfway up the wooden ramp on the side entrance of the restaurant, and picked up and carried away a heavy planter full of dirt and flowers that was sitting out front. He posted a video on social media showing the rushing waters through the streets.
"I've never seen anything like it," Kirwan said, noting that the planter was found Thursday morning on the other side of the intersection from the restaurant.
Kirwan also had cell phone pictures of a stranded car across the street from the restaurant that had been caught in flood waters. Two passengers needed to be rescued from the vehicle.