If you think of hot, humid and stormy as our typical June weather, then the week ahead will check those boxes.
But there is such a thing as overdoing it.
Thursday could whip up a chance of strong and severe storms in central Virginia, and Friday looks unsettled too. Then another spell of above-normal temperatures is expected to take over next week.
Storms could turn severe on Thursday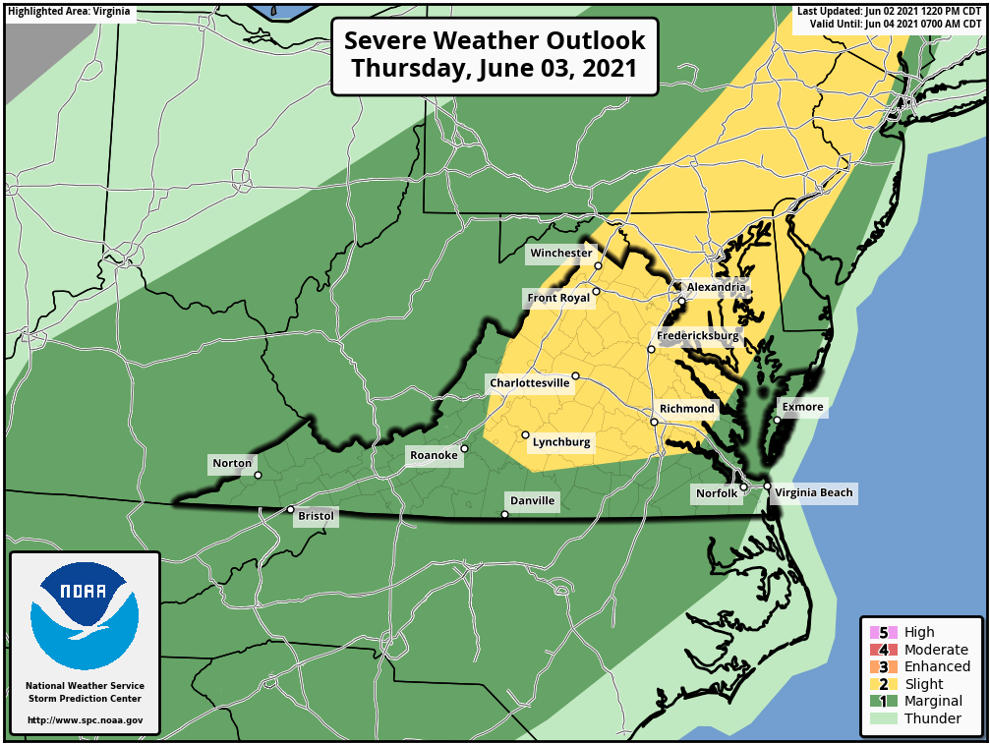 It shouldn't come as a surprise if severe thunderstorm warnings crop up in the Piedmont of Virginia on Thursday afternoon or evening, not unlike last Friday. If you've got plans outside, stay aware and be ready to act.
The main concern is strong gusts causing tree damage and localized outages. The strongest storms could produce some hail or rotation in an unlucky spot.
The thunderstorm coverage and strength could go up if we see more sunshine leading up to the afternoon. Stubborn clouds might help to limit their severity, but not necessarily prevent us from getting rained on.
Upper-level winds look a little stronger over the northern and western tiers of the state. So the overall severe weather ingredients look more potent toward Fredericksburg and Charlottesville versus Norfolk or Emporia.
But ultimately, more rain could fall south and east of the Richmond area. That's where the showers and downpours are more likely to linger into Friday.
The ground is wetter following that pre-Memorial Day rain, plus the atmosphere will be loaded with more moisture than usual on Thursday and Friday. Be mindful that flash flooding could develop in areas that see repeat downpours.
Generally, 1-inch totals look common throughout central Virginia, though some spots could exceed 2 inches while others may get away with a fraction of that. Such is the nature of our warm-season rainfall.
Leftover moisture will keep scattered rain and storms in the forecast for Friday, and there may still be some potential for severe wind during the midday or afternoon.
But signs point to a diminished storm coverage over the weekend, and those that do pop up would not have as much severe potential. This ought to be a much more favorable weekend than the last for enjoying a pool.
The pattern going into next week doesn't read as a very active one for strong storms in our part of the country because winds aloft will get weaker and less organized. But the heat and humidity may yield some brief, spotty thundershowers.
Heat will return next week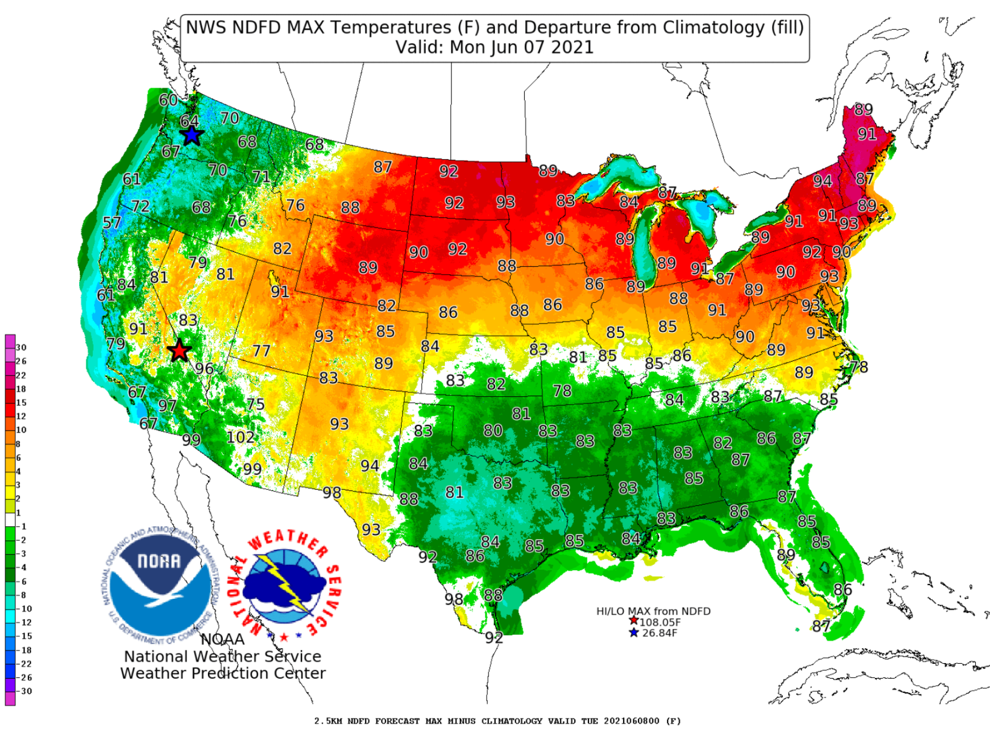 By the climatological definition, we're officially in summer now.
And next week, we'll have the weather pattern to match. A ridge of high pressure over our region will bring a spell of above-normal temperatures all the way from the Midwest to the Northeast.
It's not looking like any record heat in our area at this point, and maybe not even as hot as it was here in late May. Our hottest day of the week might get to the mid 90s. But a few to several days of lower 90s next week will drive home the point that summer is taking over.
Our normal highs range in the lower-to-mid 80s throughout early June.
Lows will also be on the warmer side: upper 60s to perhaps lower 70s, versus more seasonable mid 60s.
Rain chances will be small but not zero in the first half of next week.
Accordingly, the National Weather Service puts a strong chance of above-normal mean temperatures all across Virginia from June 7 to June 15.