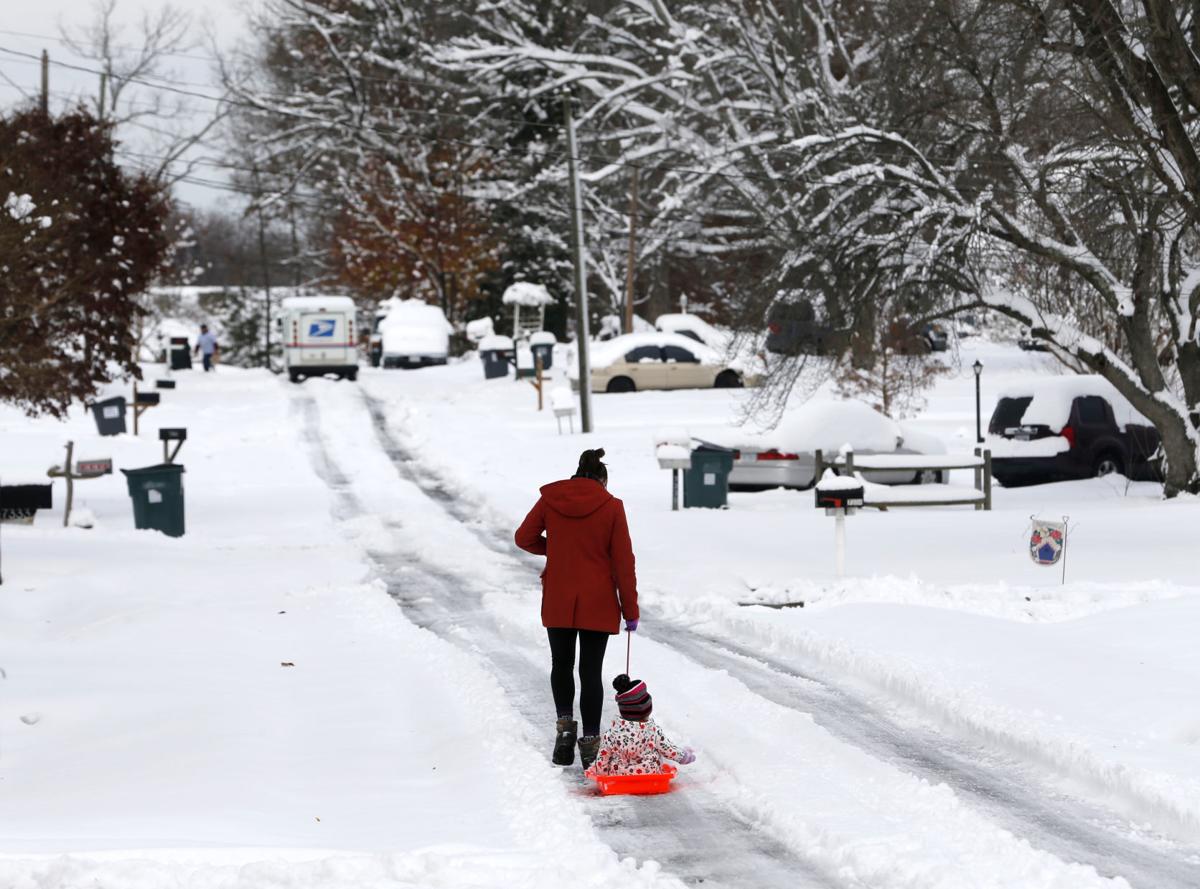 Winter weather arrived with a bang in central Virginia, but our snow season ended up fizzling away.
Now, we're looking forward to gardens and baseball games as spring takes hold, not fretting about plows and 2-hour delays.
Still, our coverage of the changing seasons wouldn't be complete without a look back at the snow that was.
Are we done with snow now?
In Richmond, it's likely that we're free of winter weather threats going forward.
Our forecast for the remainder of March keeps snow and ice out of the picture.
Near-freezing temperatures will return on the heels of Monday night's rain, but they won't overlap and result in flakes.
April snow certainly isn't unheard of in Richmond, but it isn't to be expected either.
Historically, measurable April snow in Richmond (not just flurries in the air, but actual slush on the ground) averages out to a once-per-decade occurrence.
Our most recent example was April 7, 2007, when we picked up about an inch the day before Easter.
Last year, some snow brushed just off to our northwest on April 9.
For an actual snowstorm in the metro area, we'd be scanning the horizon for signs of a big dip in the jet stream over the eastern U.S. and an intrusion of wintry cold temperatures from Canada.
But we're more likely to see a ridge set up over the southeast in early April and experience a period of near-normal or above-normal temperatures. That pretty much rules out a final hurrah for snow lovers.
The mountains of Virginia, especially the western-facing slopes near West Virginia, aren't quite out of the woods yet.
After all, some ridgetops still have a fresh coating of white from Thursday's sneaky snow.
Places that average 1 inch or more of April snow include Bland, Burke's Garden, Grundy, Wise and Wytheville.
Once again, it was a season of contradictions for central Virginia: a blockbuster storm right out of the gate in early December, followed by minimal snow activity in the heart of winter itself.
We had fewer snowy days than we usually see — just four — but seasonal totals were boosted by that one big storm.
Officially, we saw 13.1 inches of snow, according to the National Weather Service in Wakefield.
That was about 3 inches above normal, and just slightly more than our previous winter.
The 2017-18 total was 12.4 inches, but it was spread across eight snowy days.
Here's the breakdown of events:
Traces of snow: Dec. 4, Dec. 5, Jan. 14, Feb. 1, Feb. 16.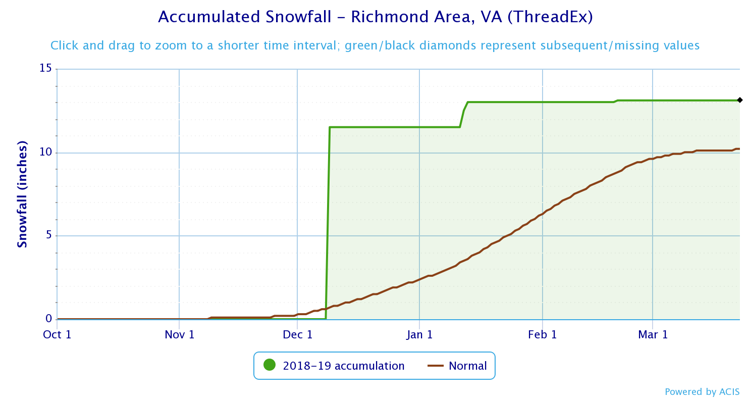 It's been a close competition for the title of Virginia's snow capital.
A precipitation observer near Winchester reported 36.7 inches since the fall.
Not far behind was 35.2 inches from another snow watcher near Covington.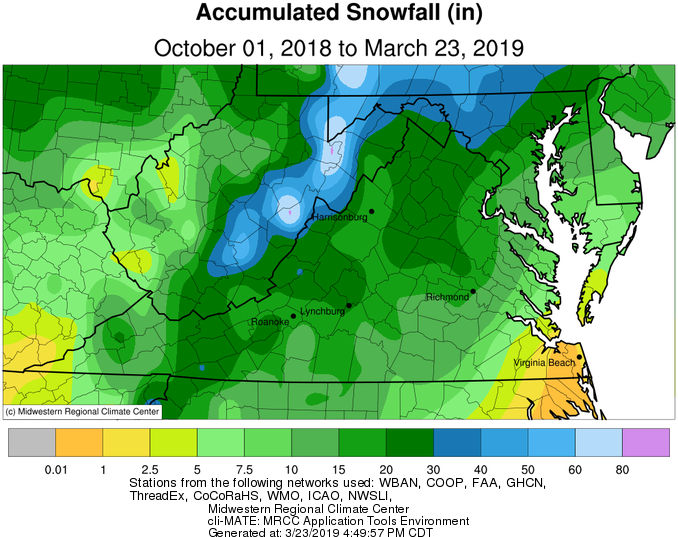 Down in Grayson County (or rather, high up at 3,439 feet elevation) is a seasonal total of 33.5 inches.
A late system might add to someone's tally, so the race isn't quite over.
The unpopulated ridgetops surely had more, but if a flake falls in the forest and no one is around to report it, does it count?
Fortunately for us, the National Weather Service keeps track of it by combining a variety of data sources into a smooth nationwide snowfall analysis.
That shows some 45-inch-plus seasonal totals in parts of Highland County where there isn't a weather station.
The lowest seasonal total in Virginia — for a weather station with complete data — was just 0.1 inches in Norfolk.
That coating came early on Dec. 5, but there were more traces of flakes in December and January.
Off to the south, the region stretching from Suffolk to Virginia Beach reported only traces.
How did it stack up to normal?
Some parts of the state had more snow than usual, but some were deficient.
Compared with the 1981-2010 climate period, central Virginia's snowfall ranged from 100 to 200 percent of normal.
Southside Virginia dealt with the most snow relative to normal, also a consequence of the Dec. 9 storm.
By and large, a near-normal amount of snow fell across Northern Virginia and down the Interstate 81 corridor.
Snow was deficient for Tidewater and the region west of Wytheville.
Both the far southwestern and far southeastern corners of the state had less than 25 percent of normal snowfall.
Altogether, it shows why "is this going to be a bad winter?" is an awfully hard question to answer in these parts.