About the time many Americans were firing up the grill on the Fourth of July, a group of students from Virginia Tech was watching natural fireworks over the Texas Panhandle.
A menacing supercell thunderstorm lumbered southward west of Amarillo, and the Hokie Storm Chasers were perfectly positioned to view and photograph its angry beauty over open terrain.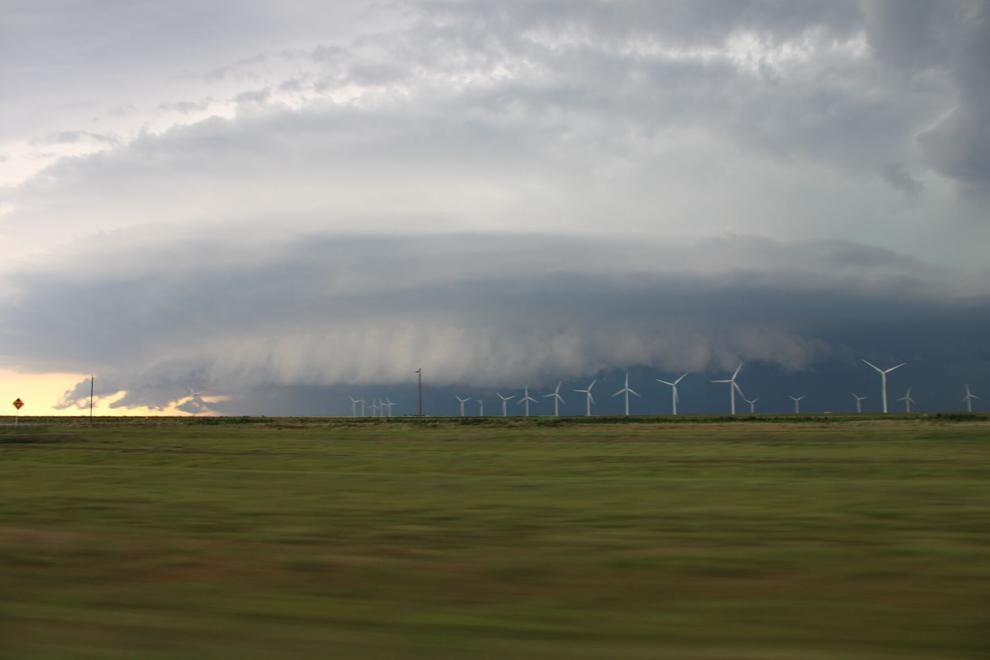 Making the Hokie Storm Chasers' latest trip ever on the calendar, weeks beyond the time just about any other storm chase group would dare think of combing the Plains for severe storms, three vanloads of Virginia Tech meteorology students were out in the Plains states the first week of July.
July typically has thunderstorms in abundance, at least somewhere in the nation, but the high-level winds that give storms the spin they need to become supercells or occasionally spin off tornadoes have usually weakened or retreated north for the summer.
This July followed the script, with the Storm Prediction Center forecast map displaying its lightest shade of green for "general thunderstorms" over a large section of the U.S. when the Hokies reached the Plains, and no significant areas of even "marginal" severe storm potential.
Nevertheless, on July 1, the Hokie Storm Chasers got on a storm coming off the Rockies east of Pueblo, Colorado, that absorbed enhanced easterly surface winds and began wrapping up, looking almost like a small hurricane on radar.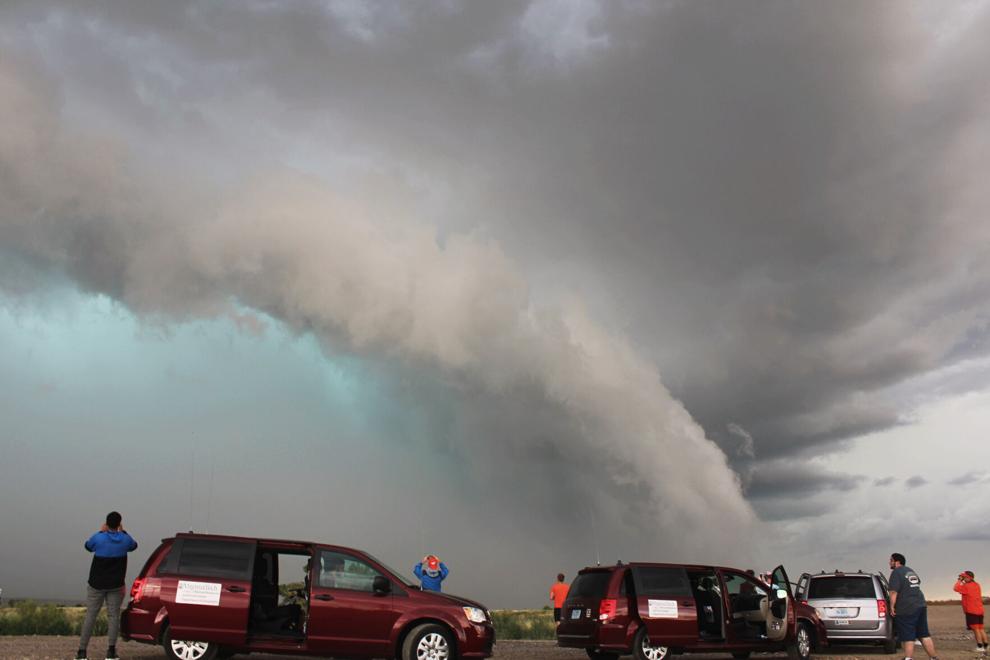 The storm produced spectacular cloud formations associated with supercell thunderstorms and eventually got tagged with a tornado warning when National Weather Service radar indicated tight rotation. Not far away from the chasers' location just outside the storm, several train cars were knocked over by high winds.
"With so many nebulous atmospheric ingredients, we turned to the one factor that is always in place — the Rocky Mountains," said Dave Carroll, the professor who has for three decades led college students and, previously as a public school teacher in Pulaski County, high school students on trips looking for severe storms. "During these quiet patterns, we often turn toward storms building over the mountains and then rolling out on the adjacent High Plains."
Finding the one special storm that day required pinpoint forecasting — locating a narrow belt of winds aloft that might allow for marginal shear supportive of supercells over a small area — and a little bit of luck.
The Pueblo storm was the Hokies Storm Chasers' first supercell intercept in July. Every other storm over the years has been in May or June.
Not many years ago, it was like clockwork: the Hokie Storm Chasers leaving home port in their antenna-laden vans on the day after commencement activities wrapped up in mid-May, out for two weeks at what is considered the height of tornado season historically, then sometimes a second group leaving when the first got back.
In recent years, life, death and illness have interrupted that schedule.
Following the death of Carroll's wife, Belinda, after a lengthy battle with cancer, 2017 was the first time in at least 15 years there was no Hokie Storm Chasers trip. The trips — actually for-credit meteorology courses — went out again in 2018 and 2019 before the COVID-19 pandemic once again scuttled the trip in 2020.
The pandemic played a major role in the lateness of this year's trip, as there were uncertainties during winter planning about getting students vaccinated in time and what the status of COVID-19 nationally would be in months ahead. Carroll also was committed to leading a Rockies hiking trip for a group of Tech geography students earlier in June.
"Figuring deeper into the summer would be better than our normal trip window in May, we planned the trip for June-July," said Carroll of the trip that left Blacksburg on June 28. "The risk of locking in a hot, dry pattern increases, but most years you can still find storms."
The hot, dry pattern locked in farther west, leading to unprecedented high temperature extremes in the Pacific Northwest. Downstream from that "heat dome" high pressure system and its convection-squashing cap of warm air aloft, there were daily thunderstorms in the Rockies and High Plains, but no widespread areas of strong winds aloft to make them spin.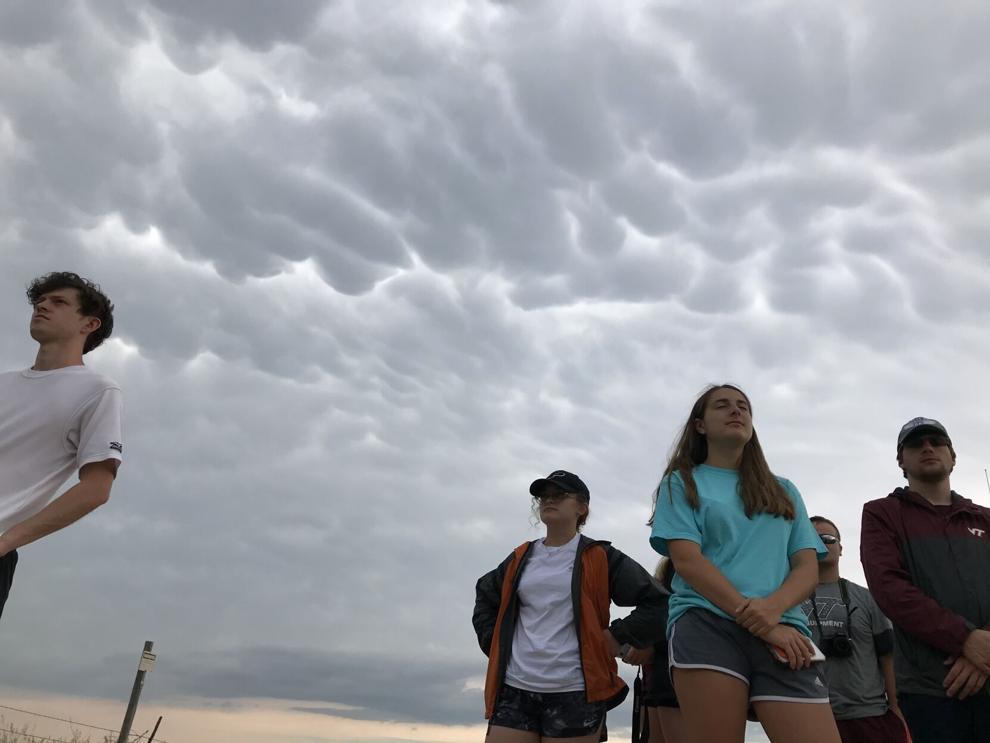 The students learning forecasting and radar observation had to work hard to find small pockets where something extra could happen.
July is too late on the calendar to plan as a regular window for a central U.S. storm chase trip, but Carroll sees much benefit in pushing the chase trip deeper into June than it has gone out most years in the past.
Carroll's group was virtually alone on many of the storms it pursued, unlike the prime weeks of May, when a combination of storm chase tour groups, university groups like Tech's, research groups, and many, many amateur and professional storm chasers — individually and in small groups — swarm the best storms, creating safety hazards and limiting access to the best viewing spots.
"The late trip window and unfavorable weather pattern provided a welcome change compared to chasing storms in May: no hordes of chasers and traffic jams around storms," Carroll said. "We have been evaluating the late-season pattern challenges versus prime-season crowds for years, and this trip reinforced the notion that late-season trips can be successful even when conditions are not favorable for storms."
So don't be surprised if the Hokie Storm Chasers are out around Flag Day, Father's Day and Juneteenth in future years, not Mother's Day and Memorial Day as in the past, leaving the 2021 group with a one-of-its-kind Fourth of July supercell intercept.