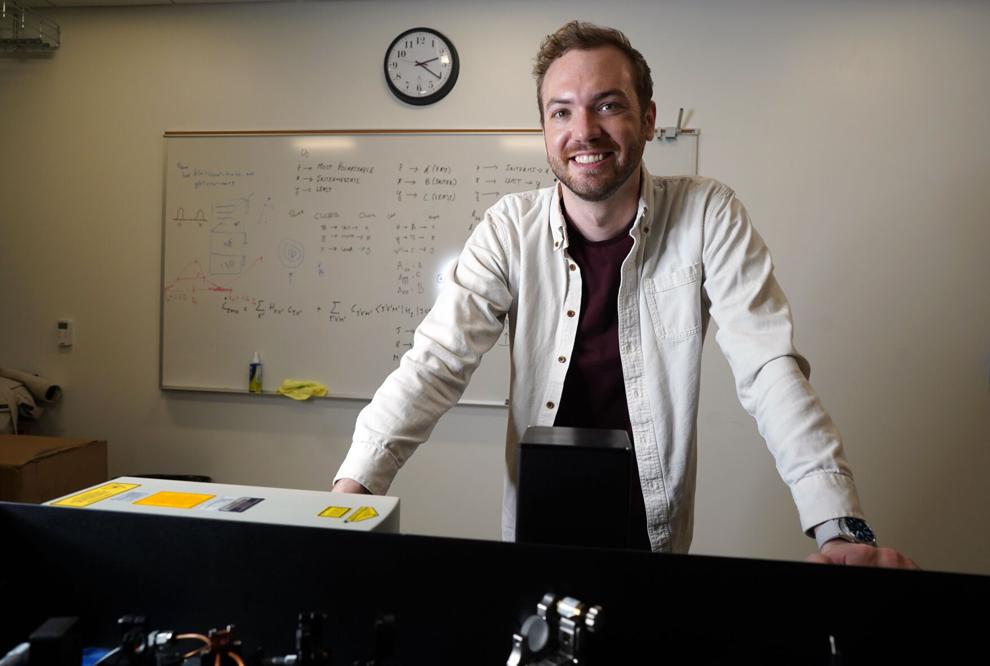 Making science relatable is a challenge, especially when it comes to science we can't see, like physics — the study of matter, motion and energy. University of Mary Washington senior William "Henry" Mills appreciates that not everybody gets physics the way he does. But he hopes to change that.
The senior physics and math major came to love the field through some heady research in atomic, molecular and optical physics — informally called "superfast physics." His research involved the use of a femtosecond laser, which measures how molecules move. (Hint: They move superfast.) A femtosecond laser emits concentrated light that pulses at the rate of one quadrillionth of a second — that's a millionth of a billionth of a second! The laser is fast enough to freeze frame an individual molecule so its properties can be studied.
But it was Mills' skill at making this mind-boggling work understandable via a 2020 YouTube video that made his work stand out. In the video, he used a simple animation program to show how molecules move, then how the laser was able to capture them. Straightforward language and common images like a fence and a clock make the process accessible.
This is no small feat in a field where math equations are often expressed in Greek letters. So it's no surprise Mills would go on to win a 2021 Goldwater Scholarship — one of the most prestigious national undergraduate science awards. 
To be able to do this type of research as an undergraduate — and then successfully communicate it — are skills the University of Mary Washington aims to teach every student. Instilling digital fluency from day one is a core value. That means teaching students not only how to consume and produce digital knowledge, but also to creatively adapt to emerging technology.
Mills says he models his presentation style after so-called "physics popularizers" such as Columbia professor Brian Greene, author of books that explore intriguing concepts like the end of time and parallel universes. The ubiquitous American astrophysicist Neil deGrasse Tyson, known for his books and TV shows explaining science to the masses, also is a role model.
"University of Mary Washington professors are incredibly good at explaining difficult concepts," Mills says. "They give us a lot of opportunities to present our work." He admits his first few attempts weren't great, but "now I love presenting to a general audience."
Mills did most of his research during the pandemic. "We started building a femtosecond laser at UMW, then COVID-19 hit," Mills recalls. "[UMW] did as well as any top-tier university would have in preparing us to deal with life online".
Not wanting to give up on his research, Mills joined a collaboration with Stanford University, Stony Brook University and the National Research Council of Canada. "My advisor, [assistant professor] Varun Makhija, was already a part of it. They already had a laser at Stanford, so we moved into a computer analysis role for their experiments," he explains.
The collaboration paid off. Mills' name is on a published paper in the journal Physical Review A from April 2021. 
Mills intends to pursue a Ph.D. in physics and has already been accepted to several programs. Since he intends to teach, he may eventually be a famous scientist explaining things to the rest of us — hopefully with pictures and not Greek letters.
And now that the university has finished building its own femtosecond laser, "the next group of research students can pick up where we left off," he says.
---
This content was produced by Brand Ave. Studios. The news and editorial departments had no role in its creation or display. Brand Ave. Studios connects advertisers with a targeted audience through compelling content programs, from concept to production and distribution. For more information contact sales@brandavestudios.com.