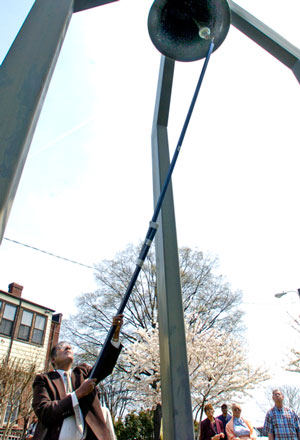 Arlethia V. Rogers, Clarence L. Vaughan Jr. and Dennis H. Harvey are a part of that all-too-familiar circle in which many, many African-Americans find themselves ensconced: their schools, churches and traditions are now gone.
The stalwart institutions and robust customs that had rooted people and had stabilized communities have been shut down, stopped or closed. And, in many instances, the buildings even have been razed.
To a large degree, most were victims of desegregation and a practice that was labeled as "progress."
But Rogers, Vaughan and Harvey don't want significant pieces of the African-American community's collective history to vanish forever. They are steadily working to ensure that three Richmond legacies haven't disappeared without a trace.
St. Philip School of Nursing
Rogers, a registered nurse, was trained at St. Philip School of Nursing. Located in downtown Richmond at 12th and Marshall streets, the nursing school and its companion, St. Philip Hospital, were opened in 1920 to educate African-American women as nurses and to treat patients of color.
When the nursing school was integrated into MCV School of Nursing, St. Philip graduated its last class in September 1962.
The hospital became MCV East Hospital when African-American patients finally were admitted to the whites-only Medical College of Virginia. The building ultimately was demolished in 1993 to make way for the Hermes A. Kontos Medical Sciences Building, which flourishes now on the site.
"The bond that was formed will never be lost," said Rogers, a 1960 graduate and retired genetic nurse consultant with the Virginia Department of Health. She presides over the biennial reunions of the St. Philip School of Nursing Alumni Association.
St. Joseph Catholic Church
Vaughan, a Roman Catholic, was baptized, confirmed and regularly received the sacrament of Holy Communion at St. Joseph Catholic Church, an impressive brick building in the 700 block of North First Street in Jackson Ward. The parish, which traces its origins to 1879, was the first Catholic church for people of color in the South.
Added to the site was Van de Vyver Institute, a school and business college run by St. Joseph's priests and nuns.
When Bishop John J. Russell decided it was time to desegregate the churches in the diocese, he shut down St. Joseph in 1969, forcing the African-American faithful to disperse among the all-white parishes. In many instances, their reception was less than welcoming. The church, school building and priest house later were razed.
"Even though the church is gone, the spirit will always remain," said Vaughan, who, as co-chairman of the St. Joseph's Memorial Committee, spearheaded an effort to erect a state historical marker on the site.
Harvey, a member of the Armstrong High School Class of 1966, could mark his calendar by the Armstrong-Walker Classic, the annual cross-town, "be-there-or-be-square" football game played between the rival Armstrong Wildcats and Green Dragons of Maggie L. Walker High School.
The gridiron match, always waged on the Saturday after Thanksgiving at the former City Stadium [now University of Richmond Stadium] near Byrd Park, became a hugely popular social event, drawing upward of 25,000 people with its parade floats, marching bands and halftime crowning of each school's queen.
When the city high schools were reorganized to promote desegregation, the event enjoyed from 1938 to 1978 was dropped after 40 years.
"This was a tradition that helped solidify relationships and bring people together. It was important because it gave us unity," said Harvey.
Last Thanksgiving weekend, Harvey, with two other classmates, put on the first annual Armstrong-Walker Classic Dance to raise money for scholarships for college-bound youngsters in Richmond.
Rogers, Vaughan and Harvey, like so many people fighting to preserve African-American cultural legacies, are racing against the natural enemy of time. In very similar ways, they are trying to create from the joyous and painful memories of St. Philip, St. Joseph and Armstrong-Walker a tribute that will hold message and meaning long after those who attended those institutions and lived those traditions are gone.
"When it's gone, it's a major void in understanding our past," Harvey said. "And that's important for any culture or group of people to know the cultural traditions, the history and roots. It helps bring stability, pride, self-esteem, a sense of ownership and strength for what's ahead."
Indeed, his assessment was echoed by Dr. Yolanda Bruce Brooks, a Dallas-based clinical psychologist who participated in many of the same traditions as she grew up Catholic and African-American in Richmond.
Her mother, Beulah M. Bruce, also trained at St. Philip through a nursing degree program at Hampton University. Her father, the late attorney Harrison Bruce Jr., attended Van de Vyver.
"People feel complete, whole when there is understanding of history and its value established from appreciation of cultural heritage and collective legacy," Brooks said. "It is especially significant in a place like Richmond, as it has such a negative history for our people.
"While these institutions were created as a product of segregation, most likely a combined sense of pride and resentment was experienced" by people who were a part of those institutions, she continued.
"Fond memories from the good times were blended with painful memories of experiences outside of those protective walls.
"However, people tend to remember more of the good than the bad. That's why they 'go back,'" she said.
With nothing left but an oral history of a time or place or experience, people want and seek tangible reminders, Brooks said. If nothing else, they need reminders to provide "connection and continuity," she said, to validate what has come before.
Many of the 688 nurses trained during St. Philip's 42 years of operation fanned out across the country, providing health care in hospitals and clinics, underserved communities, military hospitals and camps overseas and in the states, and teaching others the art and science of nursing.
"There was a special bond because you survived," Rogers said, recalling the difficulty that came with segregation and the obstacles she and other young nursing students had to overcome.
"You had to depend on one another and help one another," Rogers said. "In the end, we became excellent nurses. We've made a lot of marks in the world. Our graduates made a difference."
But the number of alumnae is dwindling, the rolls shrinking to just under 200. Already alumni chapters in New Jersey, New York and Tuskegee, Ala., have dissolved, leaving members from the remaining chapters in Richmond, Hampton Roads and Washington to meet every two years at the May graduation of students from St. Philip's blended successor, Virginia Commonwealth University School of Nursing.
Still, Rogers, who has been president of the Richmond chapter of the alumni group for 18 years, remains optimistic that the story of St. Philip and its graduates will never die. In 1991, Rogers' group established an endowment to fund scholarships for VCU nursing students. Seven St. Philip Alumni Scholarships were awarded in 2008-09.
In addition, at a big celebration on Oct. 22, VCU President Eugene P. Trani unveiled a bronze marker commemorating the history of St. Philip School of Nursing and the contributions of its graduates. The marker will be placed on the MCV campus.
Similarly, Vaughan's St. Joseph's Memorial Committee dedicated a Virginia historical marker at the church site on Nov. 1. At an outdoor Mass celebrated in the grassy field where the church once stood, about 50 people many former St. Joseph parishioners honored the tangible reminder of their legacy.
With them were Father Theophile Brown, who grew up at St. Joseph and in 1956 became the first African-American priest ordained from that parish; Monsignor Walter Barrett, who attended Van de Vyver; and retired Bishop Walter F. Sullivan, who years earlier had helped the St. Joseph's Memorial Committee to restore and install at the site the old bell that had hung in the church belfry.
"We can only keep the dream alive if we keep the flame alive," Vaughan said. "And if we keep alive the memory of St. Joseph's Church, we can continue the dialogue and reconciliation that will benefit all of us."
Reunion for traditional game
Harvey and the Armstrong Class of 1966 Reunion Committee were heartened when more than 450 people showed up at the Military Retirees Club on North Side for the Armstrong-Walker Classic Dance. Many of them coming from as far away as Pennsylvania and New York had attended one of the schools, and they shared memories with photos, jackets and other memorabilia from the schools and the annual football game.
The group raised several thousand dollars, which it will award to a student at the current relocated Armstrong High School.
"We decided we have to do it again, we must do it again and we will do it again," Harvey said of the event.
"The current generation of young people may not know about our tradition, but they will value that tradition when they look at people coming together and raising money for scholarships," he said. "Then they will learn about our history and how important it is for any culture to come together and remember."
There's a sense of pride, even from the pain and suffering, and a source of strength from the perseverance, Brooks said.
"Psychologically, these [new] experiences provide a healing process," said Brooks. "And for our young people, it can provide them with a sense of appreciation of why things are the way they are a reflection of sacrifice by others for their benefit."