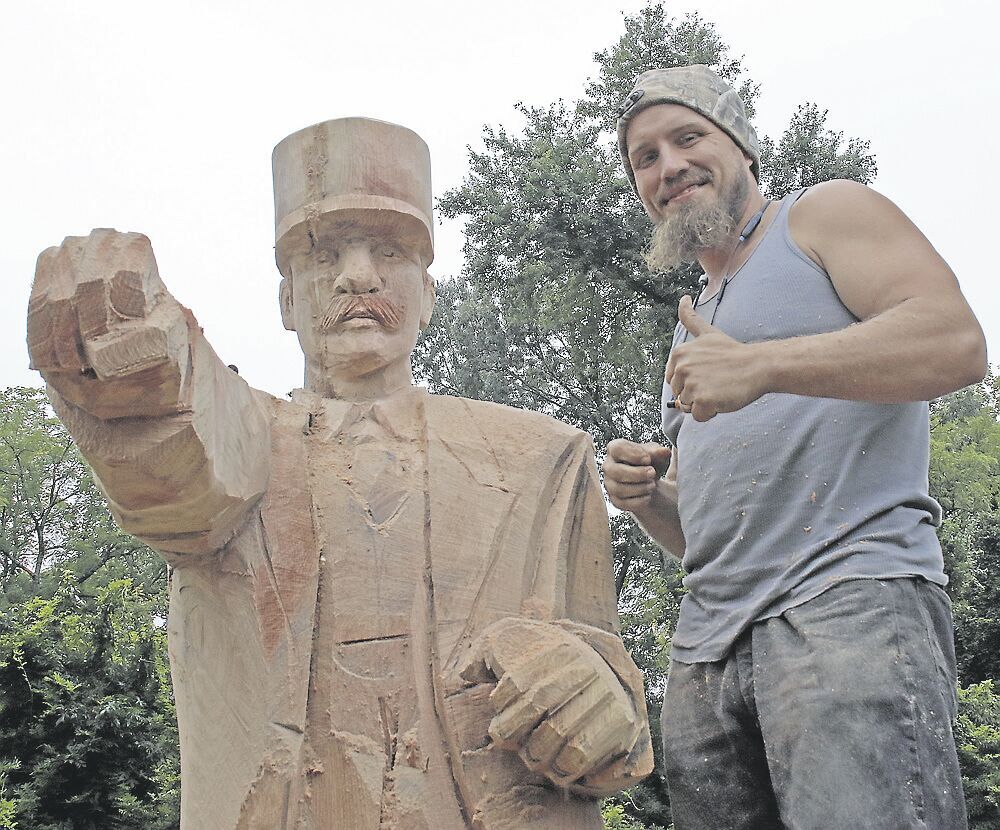 ASHLAND – Living in a town that celebrates trains with a day designated in their honor, Bob and Carrie DeLille thought it was only natural to take a 9-foot oak stump and bring a bit of the rail life to their yard on South Center Street.
Here's where Richard Hamilton of RLH Wood Sculptures comes into the story. The DeLilles discovered this master with a chainsaw on the internet, and, according to Carrie, "loved the detail of his work."
Richard's wife Brittany said he has been carving for 13 years. His base is in of Altoona, Pennsylvania, where he and Brittany reside with their five children.
When asked whether they were fans of railroads, Carrie said, "We bought a house on it – LOL – and, at the time we bought it, it was being advertised as 'The Train House'."
So why did they decide to contract Richard to carve a train conductor? "Years ago, we had an oak at our old house that we had to take down and wanted to preserve, so we had it carved and even moved it to this present house."
"We were heartbroken by losing three very old and large trees this spring," she said. They had been told that one was 300 years old and another was about 200. There also was a 100-foot spruce – which isn't supposed to grow in Virginia – they "wanted to preserve it like we had done before."
As for the railroad theme, "We thought something related to the railroad would be most appropriate and landed on the idea of a conductor." They found a photo "and Richard fine-tuned a sketch for us – and here we are!" she said enthusiastically.
The final touch to the train conductor was the addition of the lantern placed in his hand.
"The whole process of the train conductor was recorded live on our business Facebook page (www.facebook.com/RLHWoodSculptures as well for anyone interested in a closer look as to what the entire process looks like," Brittany said.
She explained her husband's talent, saying, "He was blessed with an artistic ability at a young age. After pursuing biology and realizing the possibility of working with genetic modification of animals was very slim, he decided art (specifically being a sculptor) was the route he wanted to go."
"At the very beginning of his career, he got to travel with some of the best carvers in the nation, which really propelled him forward and made his desire even stronger to continue carving," she added.
Brittany and Richard have been married for 10 years. He supports the family of seven through his art.
Richard's sculptures range in price from $150 to $7,500. The larger amount would involve "more intricate work," Brittany noted.
When he's working, Richard said he doesn't count the hours, he makes the hours count. It does vary, though, from one hour to 100 hours.
Among his more involved work are Rocky Balboa, a Statue of David, Native American statues, the Fred Flintstone family, the Tinman from "Wizard of Oz," multi-animal totems, an octopus and anchor bar tap pulls. To see more of his works, Brittany said go to www.GetChainsawArt.com.
"Richard enjoys a challenge and carving new and exciting things that he has never carved before," Brittany said.
"Richard travels all over Pennsylvania and surrounding states to create masterpieces from simple stumps left in homeowners lawns," she continued. "This is one of our favorite parts of the job, the travel, meeting customers on a more personal level, and building memories.
He also has a shop set-up alongside Pleasant Valley Blvd in Altoona, Pennsylvania, and travels for shows about five times a year."