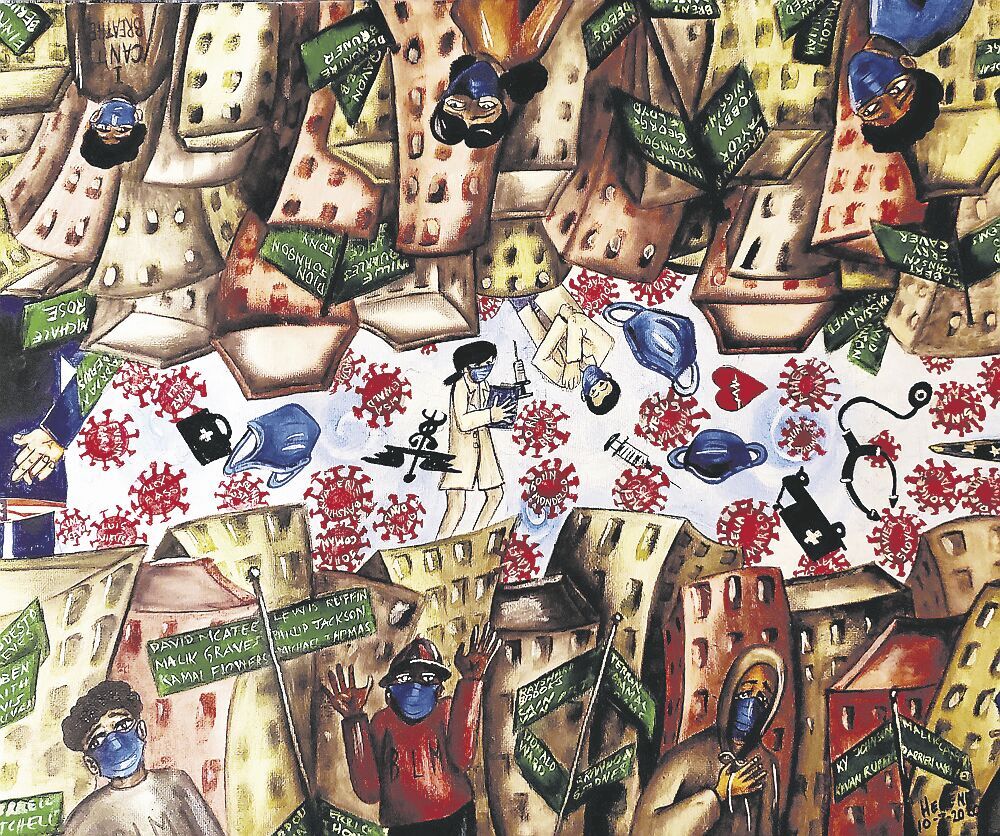 MECHANICSVILLE – Helene Ruiz takes to the canvas when she is either inspired or filled with emotion. With the "Roaring 20s", she found an outlet to express herself during what has been one of the most unusual years on a national and global scale.
"This painting is in response to just a couple of the horrific events since 2020 began," she said.
"In this painting, I am trying to pay tribute to the many lives unjustly taken because of ignorance, hate based on stereotypes and skin color, and also as a tribute to the many health care workers that lost their lives due to being there trying to help save our lives and ended up catching COVID-19 during this terrible poorly handled pandemic, which should never have been so catastrophic in a country such as ours, the USA, a country the entire world looks up to and wants to run to, now one we probably want to run from," she said.
Helene decided to gather "the names of all the health care workers and doctors and nurses that died from contracting COVID-19 while trying to save lives and from committing suicide due to the trauma and stress and depression of dealing with seeing so many deaths and illnesses with little equipment."
She also said she was shocked by the "lack of interest by our government … a First World country such as ours."
As she continued to pursue more information, she researched the names of "all the people of color who unjustly lost their lives since just the beginning of 2020, and it is unbelievable to know how many lives have been lost by unjust deaths at the hands of those who are supposed to protect us."
She noted that she did not mean "any disrespect or lack of acknowledgement to anybody whose names there was no room for me to fit in this painting."
However, as she was researching, she would add names as she located them, "and it made me cry to see how many there were and I just could not fit everybody there."
The names of some of the lives lost, she added, was "due to unjust murders." They are found in the street signs, and the Coronavirus images have some of the names of the health care workers who lost their lives trying to save ours."
Describing the emotions she experienced while painting, she said, "My tears are literally a part of the paint used. I could not control my emotions. There are more tears that diluted my paint than water, so I am letting you know that every single person whose names I was unable to fit in to include those who died from COVID as patients and their loved ones who suffered the losses."
Helene emphasized that all are in her heart "and each of you are acknowledged in my soul and I understand sadly the reality is there will probably be many more catastrophic deaths."
"This year has been one year that has been probably the worst in the history that I know in my years of life. This should never have happened like this. Never."