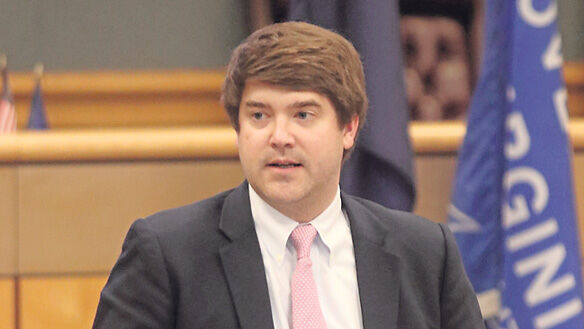 With a quickly approaching deadline, Hanover officials are considering partnering with two companies to complete an application for Virginia Telecommunications Initiative (VATI) grant funding for its ambitious broadband plan announced last month.
At that time, the Board of Supervisors allotted a large chunk of American Rescue Plan Act, $16.9 million, to ensure broadband coverage for all county residents who are currently underserved or have no connection to the internet.
The plan relies on the county's ability to land one of those VATI grants from the Commonwealth, and that application must be filed by Sept. 14.
By a unanimous vote, supervisors approved a motion that would allow the county to file that application and authorizes the county administrator to finalize that process.
VATI grants are designed to assist localities in providing broadband service to areas not previously connected, and require applicants to submit a public/private plan to achieve that goal.
Hanover Information Technology Director Kevin Nelson provided supervisors with an overview of the plans currently being considered, but conceded there is still a large amount of work to be completed before the application is filed.
County Administrator John Budesky agreed.
"We have a lot of work to do," he said. "We've been working up to this point and we hoped to be further at this presentation. I have meetings after this board meeting ends…. and there's a lot of work by both of these companies to be completed to submit a qualified application as soon as next Tuesday. That work is ongoing."
Administrators will continue to meet with the two companies being considered to finalize the plan.
"You've heard some details from both proposals, but what you have not heard is some additional work that we are in the process of doing," he said explaining that he and staff have been evaluating additional details associated with each plan including pricing programs and locations. "In both options we are talking about a fiber to the home solution."
Budesky did acknowledge the county's quick path in its efforts to solve a long existing problem.
"Three months ago, we had no final plan or solution to deliver universal broadband to the residents of Hanover County," Budesky said at last week's meeting. "Today, you are hearing two companies that have potential solutions to solve that problem for our residents. We do believe that there is a solid solution between the two companies you've just heard from that will meet that universal demand for all of Hanover County."
The county administrator said he sees light at the end of the tunnel regarding universal broadband in Hanover County.
"We believe that between the commitment of these companies, the available funds you have committed through the ARPA fund including the establishment of a reserve can all be done and submit a competitive appellation next Tuesday that we believe has a high chance of being funded by the Commonwealth to deliver services…. to solve this problem."
Jimmy Carr, Chief Executive Officer of All Points Broadband, likened the process of providing broadband to unserved areas to a period when electricity was installed across America.
"What we're doing today is equivalent of electrifying the countryside a hundred years ago."
All Points is rural broadband company focused on providing broadband to unserved areas in four states but is headquartered in Virginia.
"A lot of broadband companies start in the doughnut hole and inch their way out to pick up small additional pockets of density," he said. "We don't take a cherry picking approach. We are interested in universal solutions that truly upgrade the overall level of infrastructure in a community."
The company utilizes a strategy that forms partnerships with electric utilities and uses their existing infrastructure to extend broadband services. Carr said the companies focus on one-time solutions that include everyone in the community.
To achieve those goals, All Points plans to partner with Dominion Energy Virginia and Rappahannock Electric Cooperative.
All Points has conducted citizen surveys and placed teams in neighborhood to identify households where no service is available or not served by fiber to home installations. During that process, more than 8,800 residences were identified, many of them resulting from online inquiries.
But, what All Points is really good at, according to Carr, is putting together VATI applications that are approved, and is the recipient of the program's largest grant to date, a project in the Northern Neck area.
"Every single thing that we do and everything we've done working very hard with the county administrator and his team, our project here in Hanover has been designed around winning the VATI program," Carr said. "We specialize and focus on these grant programs…. so we have designed our networks and partnerships specifically to run up the score in every available point category," he added.
Carr explained that electric companies currently utilize fiber on the poles to monitor system performance and trouble shoot problems, and those systems are currently being upgraded and expanded.
All Points encourages electric utilities to provide extra fiber that will support broadband transmission.
Carr provided a list of pricing plans that start at $59.99 a month for 50 mbps (megabits per second) up and down, with a top tier plan that offers 1000 mbps for $119 monthly. There is a standard $199 installation fee required for any of the plans.
The Commonwealth is expected to announce grant winners in December, and Carr said completion of the project is expected to take 24 months.
Derrek Kelly of Century Link/Lumen said his company plans to provide service to about, 6,480 locations in the western part of the county.
His company's plan eliminates high connections charges many residents have been quoted to run service to their property. For example, a long driveway can cost the homeowner thousands of dollars in additional connection fees and many times it's a prohibiting factor for consumers.
Kelly said his company does not charge extra for those extended connections, referred to in the industry as drop charges.
He also provided proposed plans and costs which he said are good for life. A basic plan would offer 200/200 mbps for $49.99 monthly, and the faster 940/940 mbps at $65 per month.
Since cost to residents is a major consideration for county officials, Kelly said the company is comprising a 100 mbps system for $30 to accommodate low income households.