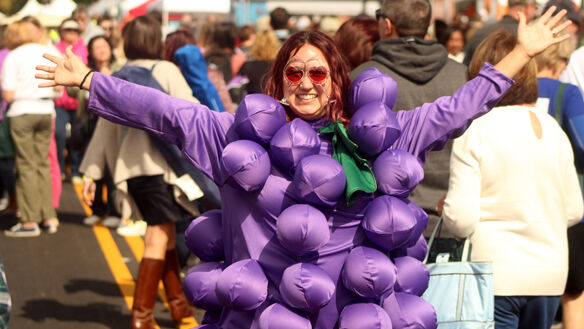 POWHATAN – Based on early enthusiasm seen from vendors and ticket sales, organizers of the returning Powhatan Festival of the Grape are expecting a great return to festivities in 2021.
Dubbing it the 18th (mostly) annual Festival of the Grape because of the year missed by the pandemic, the event is back strong with a long list of food, alcohol, and craft vendors, all-day entertainment, and small town charm, said Angie Cabell, executive director of the Powhatan Chamber of Commerce.
The event will be held from 11 a.m. to 6 p.m. on Saturday, Oct. 2 in the Historic Powhatan Village. Tickets for people 21 and older are $25 in advance or $30 at the gate. A youth ticket for ages 13 to 20 is $20 in advance and $25 at the gate. Children 12 and under are free.
Planning this event with all of the uncertainty of directives from the state has presented its own challenges for this year's festival, but it hasn't dampened people's enthusiasm, Cabell said.
"All of our volunteers, our supporters are very excited to be able to hold the event this year. With every festival there are unknowns, so this isn't really different than years past. We have such great support from the community that we know it is going to be a fantastic event no matter what happens," she said.
People are obviously ready to get out and have some fun, Susan Ash, vendor coordinator, added. Usually vendor sign up for the festival is still not full until around September. This year, the roster was easily set by July. "I think people who have been locked up for over a year just can't wait," she said.
As it is an all-day event, people are invited to bring their chairs, sit on the courthouse lawn and get comfortable. The entertainment will be provided by live music from En'Novation.
Although the emphasis for the festival is still on wine, organizers continue to try to bring a variety of choices to appeal to a broader audience, Cabell said. In addition to the 17 wineries lined up to participate, there are six distilleries, two cideries, one meadery, and one new craft brewery, Powhatan's Crazy Rooster Brewing.
In between tastings, there are dozens of vendors that will be set up for shopping, including quilts, artwork, jewelry, antiques, special soaps, pet gifts, candles, snacks, and woodworks. Ash said there was some turnover this year in vendors because of the pandemic, but the vendor roster continues to put a focus on handmade items for sale. There will also be several Chamber members and local nonprofits with booths set up.
In addition to nine food vendors selling a variety of items, County Seat Restaurant and Four Seasons Restaurant will be open and serving guests.
One of the hallmarks of the Festival of the Grape is how much of a community event it is, Cabell said. Once again, the Powhatan Lions Club will be running shuttles from the Powhatan Elementary and Powhatan Middle school parking lots. There is also parking available at the Powhatan Rescue Squad field on Marion Harland Lane. American Legion Post #201 will hold its Brunswick Stew Sale, so people can eat it there or take some home. The Rotary Club of Powhatan will man the beer truck.
"Powhatan is all about community. I think it is one of the things that sets the county apart from others. We have it in spades here at the festival," Cabell said.
Unless the governor or Centers for Disease Control issue a new order, the festival is not mandating masks. It will follow CDC guidelines, Ash said. There will be an increased number of hand sanitizing stations around the festival and masks available at the gate if people want one.