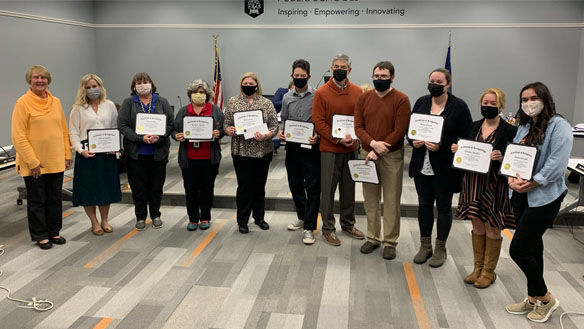 The Powhatan Education Foundation (PEF) last week awarded seven Innovative Classroom Grants to Powhatan County Public Schools educators to fund projects that will enhance student learning.
During the Powhatan County School Board meeting on Tuesday, Nov. 9, Conway Blankenship, a PEF board member, presented checks to the educators for their projects.
The Powhatan Education Foundation is a 501(c)(3) nonprofit organization dedicated to enhancing the learning experience for the students, teachers and staff of Powhatan County Public Schools (PCPS) by promoting innovative educational opportunities, recognizing outstanding achievements, and developing community partnerships. Each year the PEF awards Innovative Classroom Grants that present ideas for achieving the county's curricular goals, enhancing students' personal development, and/or encouraging links with the community. This year the nonprofit received over 15 grant requests, and seven grants were fully funded totalling $13,689.72.
The projects selected for this year's grants were:
* Whiteboard Activity Tables – project leaders Claudia Stocker and Sophia Bastaich, Powhatan Middle School, $2,239.56. The funds will be used to help students become more engaged and motivated in math class by using activity tables.
* Virtually Changing Our Reality – project leaders Becky Brown and Gillian Lambert, Powhatan Middle School, $2,963. This program provides a style of remote learning with high quality visual stimuli, close to visiting reality, presenting material in 3D format in virtual reality activities.
* Thinking Ahead: SPEAR 2022-2023 Team Funding (Sensational Students Excited About Robotics) – project leaders Bob Benway and Marcellus Beasley along with Mira Strong (12th grade student) and Jackson Roop (10th grade student), Powhatan High School/CTE, $1,350. The funds will be used to help support the SPEAR program and educate the Powhatan community about robotics and STEM careers.
* Beat Music Making Program Initiative – project leaders Paul Smartschan and Greg Ownby, Powhatan High School, $1,374.98. Initiative to teach others about digital platforms and techniques used in the field of beat music production and sharing, by empowering students to share their unique voices.
* Exploring Microscopic Worlds – project leader Kelly Terry, Flat Rock Elementary School, $2,815. This initiative will supply the school with technology resources to explore worlds unseen by the human eye with digital microscopes.
* Learning to Code with Ozobots – project leaders Barbara Adcock and Lisa Brown, PCPS elementary STEM, $2,247.18. Students are able to build fundamental coding skills to be prepared for the future and participate in activities to assist with current curriculum.
* Pocahontas Plays – project leader Allison Yandle, Pocahontas Elementary School, $700. This initiative will create innovative ideas for both recess time and classroom experiences to promote several types of learning.