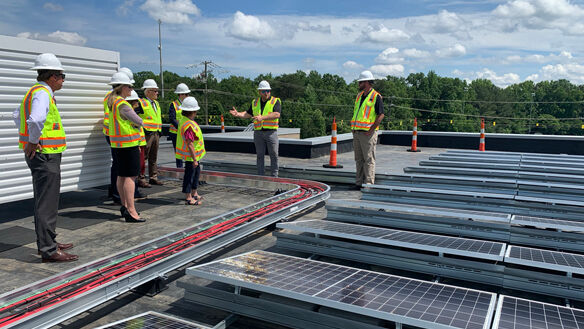 POWHATAN – State and local officials recently came out to explore and celebrate Powhatan County Public Schools' success in the last few years at embracing solar energy.
The school division and Sun Tribe Solar LLC organized an event on Tuesday, June 8 to showcase the solar panels installed on top of four out of five schools with a tour of the operations on Powhatan Middle School's roof. The divisionwide project was completed in spring 2020, but unveiling it was delayed because of COVID-19.
Congresswoman Abigail Spanberger, D-7th; State Sen. Ghazala Hashmi, D-Chesterfield, and Del. Lee Ware, R-65, all attended the event, as well as four school board members and a supervisor.
Those who wanted to climb up to the middle school's roof and take a tour of the solar arrays did so before a ceremony complete with a ribbon cutting was held next door beside Powhatan Elementary School.
Addressing the group after the rooftop tour, Dr. Eric Jones, superintendent, talked about the relationship PCPS has been in for the last four years with Sun Tribe as it planned and executed the solar array project on four schools.
"It has been a great partnership. For the next 35 years we will have this equipment up on our buildings drawing in sunlight and converting it to electricity to save us money," he said.
He also pointed out that the project allowed the school division to get a new section of roof on Powhatan Elementary, which saved over $380,000 by folding it into the lease with Sun Tribe.
"The effects from a financial standpoint are significant, but even more important to me are the educational benefits. All of these arrays have a wealth of scientific data that we use in all our science classes and a lot of our social studies classes when we talk about environmental issues and public policy issues," he said. "It is a great real-life example of what we want our students learning about, discussing, and thinking about. To be able to see it in their own community up close and personal is a real gift to us and a great learning opportunity."
Spanberger commended all those involved in the project and the school division in particular for recognizing the value of embracing new technology and renewable energy. During the tour, she learned that the project originated because of an idea and presentation from a group of high schoolers.
"From there that little seed of an idea that students put forth is now a long-term relationship that is going to save the county money, that brought jobs here, that can now be a teachable moment every time kids are walking through the hallways and recognizing that they are harnessing the power of the sun to keep their school up and running," she said.
Spanberger said she is a supporter of renewable energy because it is a wise investment and brings good jobs to Virginia.
Sun Tribe has collaborated with BrightSuite by Dominion Energy to help bring solar energy to 27 schools across the Commonwealth, according to Todd Headlee, director of customer energy solutions for BrightSuite. These projects reduce the schools' carbon footprints while also saving money that can be redirected back to the classroom, where it belongs.
"Renewable energy projects like these also contribute to advancing Virginia's clean energy economy and provide clean energy jobs, a goal we all share as we work collectively to build a sustainable energy future," Headlee said.
Hashmi said she was impressed by the quality of the work, the individuals who led the projects, and the outcomes the project will achieve.
"In 2020, when the General Assembly passed the Virginia Clean Economy Act, this is what we were forecasting, this is what we hoped for," Hashmi said. "It is wonderful that Powhatan is leading not just Virginia but also leading the country in making these kinds of projects come to fruition and be fulfilled. They are going to demonstrate for the rest of the country the power of clean energy, the cost savings, and also the remarkable promise of clean technology energy."
Like Spanberger and Hashmi, Ware talked about how excited he was that Powhatan students will reap so many educational benefits from having the solar panels installed at the schools.
He also pointed out that the panels are on a roof, not in a field. One of the challenges Powhatan and other rural localities face with solar arrays is whether to allow them and where to place them.
"When you are taking good farm land to do it, it is an increasing challenge and there are localities where it is becoming increasingly difficult to site. So I think the forward thinking and the opportunity to do this from all the partners that are involved is really one of those opportunities for the future," Ware said.
Tom Paquette, project manager for Sun Tribe Solar and former Powhatan High School graduate, talked about how important it was to work on this project in his hometown. He described the solar projects on top of Powhatan schools as "a great example of what we can accomplish when we set a goal and then work together to make that goal a reality."
Also at the event were supervisor Karin Carmack and school board members Rick Cole, Susan Smith, Valarie Ayers, and Kim Hymel.