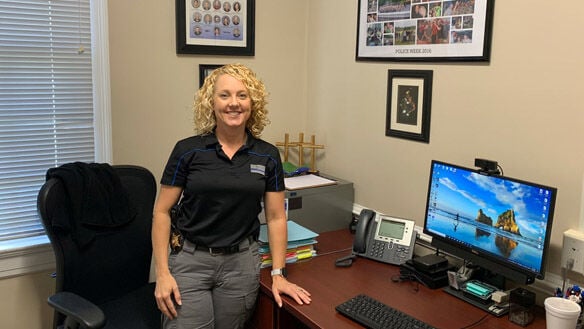 POWHATAN – Lt. Marilyn Durham only realized the momentous nature of her promotion after she agreed to take the job.
Durham was promoted on Sept. 23 to the position of lieutenant over the Powhatan County Sheriff's Office's criminal investigations team, making her the fifth highest ranking officer in the agency. Beyond the excitement over her promotion, Durham was immensely proud when she realized that accepting the new position made her the highest ranking female deputy in the office's history.
"I am very aware of it. Just being in this line of work for 15 years and talking with other women at other agencies, it is still a limiting factor to see women move up or even stay in this field," she said. "I always think how many older male law enforcement do you see in this field, but when is the last time you saw an older female officer? When I talk to other people and I tell them that, they have to think about it. It has been awhile."
But while Durham recognizes achieving this new rank is a major milestone, she said she also sees it as another sign of how the sheriff's office is evolving and diversifying. When she was hired in 2009, she was one of three female deputies on staff at the time, along with animal control deputies Christine Boczar and Ashley Gatewood.
At the time, Durham was the only female patrol deputy on staff and only the second in the agency's history. The office previously hired a female patrol deputy in the late 1980s, Carolyn Brockwell, who worked there a few years, said Anne Reynolds, former crime analyst for the office. Other female deputies served in intervening years but not on patrol.
Today, 11 of the 42 deputies who serve under Sheriff Brad Nunnally are female, which is about 26 percent of his office. Nunnally said that is up from about 9 percent when he took office in 2016.
John W. Jones, executive director of the Virginia Sheriffs Association, said the group commissioned the Center for Community Development and Social Justice of the University of Lynchburg in 2019 to conduct a study, and gender was one of the questions in the study. The findings showed that in sheriff's offices around the state, 83 were male, 16 percent were female, and 1 percent was unknown.
While he is proud of the growing female representation on his staff, Nunnally said it wasn't a conscious effort on his part.
"We have been fortunate that women have applied here and they have done good work. It is a touch different perspective sometimes but, to be quite honest, I have never thought about it. It really is not why I hired any of them. They did great in their interviews, had great recommendations, and most all of them have excelled since they got here," he said.
The change in positions started with Lt. Lee Roy Sullivan Jr., who retired as of Oct. 1 as the head of the patrol division. Nunnally said Sullivan retired with a combined 31 years in law enforcement, including working for the sheriff's office since 2008.
After considering who would take over supervision of the patrol division, Nunnally decided on Lt. Mike Wentworth, who was head of the criminal investigation division and the only other lieutenant in the office.
It was basically a lateral move since he will remain a lieutenant, but Wentworth's seniority makes him the fourth highest ranking officer in the office. Wentworth had started his career in patrol and wanted to get back to it, Nunnally said. Because of Wentworth's experience as an investigator, a former K-9 handler, and a patrol deputy, the sheriff thought it would be a great fit.
When deciding on who would take over leading the criminal investigations division, Nunnally said he decided to promote Durham, who was a senior detective, because her "attention to detail and her drive to solve cases and look out for victims of crime made her stand out."
Durham is not the first female division supervisor since Boczar, who is a sergeant, is head of the animal control division, Nunnally said. However, she is the first female deputy to rise into the command structure of the top five positions, who are usually the people who have direct input in major decisions regarding the sheriff's office.
In her job function now as a lieutenant, Durham will still work cases, Nunnally said. She will also assign casework to the other investigators, ensure they receive any training they need, recommend them for classes, and make sure they maintain their certifications. She will also be responsible for making sure the division is up to date on new forensic technologies.
"Basically, overall she will supervise our investigators. So, if I need to know which cases are active and where we are on active cases, she is the one I will talk to," he said.
When Nunnally called her into his office to ask her if she would take on the new role, Durham said she was beyond excited.
"I feel like I worked really hard and it is an honor to be able to serve my community in that capacity, to make sure the criminal investigation division runs well," she said.
When she was hired in 2009 as a patrol deputy in Powhatan, Durham came to the office with four years of experience in the Farmville Police Department. She became a master deputy in 2014 and the office's first female detective when she moved to criminal investigations in 2015. She achieved senior detective in 2018, another first.
She did all of that while raising three children with her husband. Eugene, a firefighter who volunteers with Company 3 and is a captain with the Chesterfield Fire Department.
Durham earned a master's degree in human resources from the University of Richmond in December 2019. She is also a Department of Criminal Justice Services certified firearms instructor who teaches conceal carry classes and basic live shooting. She went through the Virginia Forensic Science Academy in 2014 and in 2018 finished the Virginia Sheriffs' Institute Certification program, which was to be completed every four years for recertification.
With her new position, Durham will oversee three detectives – Arthur Gregory, Austin Schwartz, and Emma Barden – with a fourth detective position currently open.
While she is excited about the supervisory role, Durham said the division is a team that works well together and helps each other regularly on different cases.
"We all have discussions how we want to see things work out and help each other with our investigations. That was there before, it's just now I am on top," she said.
Jeff Searfoss, chief deputy, was partners with Durham in criminal investigations when he was a detective. They worked together on "every type of criminal investigation you can work on, and she is extremely competent and intelligent and the perfect choice for the head of that division," he said.
Durham said she appreciates that during Nunnally's time as sheriff, the administrative staff has worked hard to diversify the office and made a commitment to hiring and promoting based on experience, time in service, work ethic, and attitude, not personal or professional relationships.
A sheriff's office needs to represent and reflect the community it serves, and that includes the women and girls who live in the county, Durham said. However, she doesn't believe the female deputies were hired because they are women.
"It just so happened we had qualified women who applied and accepted a job offer when it was offered to them," she said.
Nunnally agreed, saying "Maybe that is where we are supposed to be in the first place, where it is just not a consideration. I put them in a uniform. I don't hire them because I need more women or I need more men. It just doesn't come into the equation."
However, as Powhatan had more women out working in the patrol division in uniform, other women took notice and started applying, he said. The office attracted both veteran law enforcement officers from other agencies and women looking to start their careers in law enforcement, a mix that mirrors men applying to work in the county, he said.