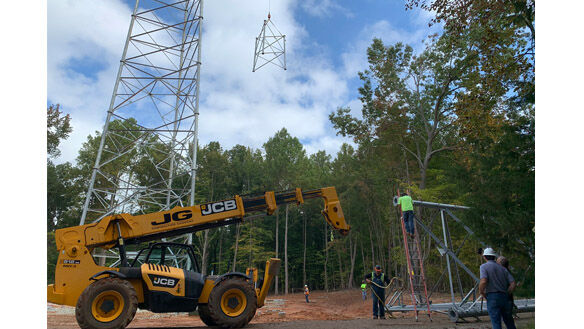 POWHATAN – The Powhatan skyline recently saw a big change with the construction of two 400-foot telecommunications towers that represent a significant step forward in the county's new land mobile radio system.
One steel tower was constructed last week in the 1700 block of Cook Road, and another tower was built the week before that in the 2000 block of Anderson Highway. There is still construction work to be done on the towers and the land mobile radio (LMR) equipment has to be installed on them and then tested and certified, which is another lengthy process, said Tom Nolan, director of public safety communications.
But getting to the point where the towers could be constructed represents more than a year of planning and approvals from different local, state, and federal agencies, so Nolan is thrilled to take this step forward in the long, complicated process of building a new LMR system.
The wait will pay off, though, when the county has a state-of-the art system that will have "unbelievable capabilities and features" and serve Powhatan for many years to come, Nolan said. Most importantly, it will provide reliable radio coverage for first responders, whether it is a deputy responding to a call needing backup or firefighters who need more assistance to put out a fire.
"Essentially 95 percent of the county is going to have excellent, excellent coverage. It doesn't mean the other 5 percent won't. It just means we are going to have certain measurable standards for 95 percent," Nolan said.
Conditional use permits for the towers were unanimously approved in October 2019 by the board of supervisors to help upgrade the county's emergency radio communications system. These county-owned towers are part of a plan to build a next generation 911 system that allows first responders to communicate no matter where they are in the county. The county's current system is no longer supported.
The county is in a $9.7 million contract with L3Harris to build the system, Nolan said. The new towers, which cost about $650,000 each to construct, are part of a network of seven towers that will make up the system. Three are county-owned, the county has been proffered space on two, and the rest involve rented space. Work to outfit the pre-existing towers with the new LMR equipment will also be ongoing in coming months.
There is still construction work to be done on all seven towers, which should be done by the end of the year, Nolan said. LMR equipment should be installed and ready for testing on the new county-owned towers by May 2021 and the remaining towers by September 2021. Based on the current schedule, the entire LMR system is projected to be completed by June 2022.
As far as the timing of having the LMR equipment tested, Nolan said it is important to have full foliage, which traditionally happens around May. Testing will take place between May and October 2021. Testing the signal coverage will be done in buildings and outside to make sure public safety personnel in those areas can communicate effectively and reliably.
"It is going to provide us with some critical coverage where we don't have any other towers in the area we can hop on. Putting (the towers) at 400 feet, our coverage footprint is tremendous," he said.
In addition to the public safety benefits, the towers will hopefully represent another step forward in providing more cell phone coverage as the county is in negotiations with Verizon for it to put equipment on the Cook Road tower, Nolan said. That tower and the Anderson Highway tower will also have room for other mobile phone carriers.
"We are doing everything we possibly can to make sure Verizon has the opportunity to be on this tower as fast as possible. We are not slowing anything down. We are working right now to get the lease contract done," he said.
Standing below the Cook Road tower on Tuesday, Sept. 29 as it reached the halfway point of 200 feet, Nolan added that he was especially appreciative to landowners Chris and Cary Martin for leasing some of their land to the county and allowing a 400-foot tower to be built on it. The county evaluated upwards of 50 parcels as it looked for a site to place the tower, so it was a relief to find a property that met its needs.
Martin said he and his wife made the decision to allow the tower on the property because of the added safety it will give to deputies, fire, and rescue. Their son, Hunter, is a paid firefighter in Powhatan.
"My wife and I decided anything that would keep them safe, we would go with it," he said.
He added that many of his neighbors are excited about Verizon locating on the tower because there is a dead zone in that area of the county that needs to be addressed.