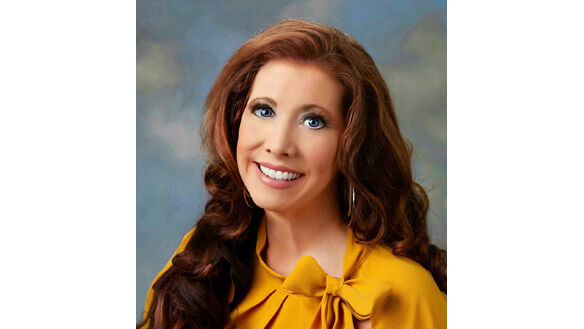 POWHATAN – Between accommodations for COVID-19 precautions, addressing misinformation and concerns regarding casting absentee ballots, state level directives that are increasingly difficult to meet, and the normal planning of a presidential election, the 2020 General Election is shaping up to be one of the most stressful in recent years, according to Powhatan's director of elections.
Karen Alexander said she and other registrars across the state have seen more changes to their job descriptions in the past six months than many of them have seen in their entire tenure of combined experience. There are voter registrars in Virginia who are choosing to retire early and even several who are changing professions altogether due to the overwhelming strain that preparations for the 2020 election are putting on them, she said.
Despite the roller coaster ride of ups and downs her office has been experiencing along with the rest of her fellow registrars, Alexander said she is confident that she and her staff will do "whatever it takes to make sure that the integrity and security of elections is maintained and that every qualified vote will count."
"Our staff is passionate enough about what we do to make the needs of our voters our priority," she said.
With early voting set to open next week and Election Day only two months away, Alexander recently shared some of the concerns and questions she knows many Powhatan voters are currently contemplating.
Through her office's interaction with the public, Alexander said the biggest concern they are currently hearing about is residents' distrust of voting by mail. A big part of the reason ? or this is misinformation that is permeating social media and convincing people that Virginia's election process is like that of other states. She addressed some of the bigger issues:
* Ballot theft – One of the concerns Alexander has been hearing about from residents is ballot theft. She has heard worries about ballots being stolen out of people's mailboxes, filled out, and submitted. She pointed out that unlike places that mass mail ballots to every registered voter, in Virginia, ballots are only mailed out if the voter requests it via an application.
"Virginia secures our vote-by-mail process by having unique features on the envelopes that track the status of each ballot so that we know where it is at all times," Alexander said.
* Ballots identifiable by party being thrown away– Virginia does not track party affiliation and the general election is not a party primary, "so there is no way for voters or their ballots to be labeled by any sort of political affiliation or preference, she said.
As soon as the office of elections receives a voted ballot from a resident, staff reconcile that ballot status in the database so that voters can go online to see that their ballot has been received. If there is a discrepancy in the timing in which the ballot was requested and returned, the voter can contact the office regarding any concerns that their ballot might have been lost or stolen and voted by someone other than themselves.
* Distrust of postal service – Many voters are untrusting of the United States Postal Service due to previous news reports that ballots have been mishandled, Alexander said. She added that she has a great working relationship with the local post office, which has "gone to great efforts on numerous occasions to make sure that ballots are handled with priority and hand delivered at times to the registrar's office on Election Day in order to meet election deadlines."
However, to help allay fears, her office purchased and installed a secure ballot drop box at the office that it began using for the June Primary with much success.
While a spokesperson from the U.S. Postal service declined an interview, the following statement was issued on concerns of the security of the mail.
"The U.S. Mail remains a secure, efficient, and effective means for citizens to participate in the electoral process, and the Postal Service is proud to serve as a critical component of our nation's democratic process. All U.S. Mail is protected by more than 200 federal laws enforced by the United States Postal Inspection Service, one of the nation's oldest federal law enforcement agencies. The Inspection Service has a proud history of identifying, arresting, and assisting in the prosecution of criminals who use the nation's postal system to defraud, endanger, or threaten Americans," the statement read.
The Inspection Service maintains robust mail theft, mail fraud, cyber, and security programs that identify, prevent and mitigate issues that could undermine the integrity of election mail, the statement continued. The Inspection Service works closely with the Postal Service as well as local, state and federal partners, to address customer concerns involving election mail.
To report law enforcement matters relating to election mail, call the Postal Inspectors at 1-877-876-2455.
Many people mistakenly think the polls will not be open on Election Day for in-person voting, but they absolutely will be, Alexander stressed. Residents have three options for voting: request to have an absentee ballot mailed to them, vote early in person, or vote in person on Election Day at their assigned precinct. Many people may choose the first two options because of the expected high voter turnout on Election Day.
As of July 1, 2020, absentee voting no longer requires citizens to have a reason to vote prior to the Election Day. Now, as the law states, starting 45 days prior to the election, anyone can vote early for any reason, Alexander said. The first day of early voting in Virginia is Friday, Sept. 18.
As of Sept. 4, 2020, the office of elections had already received and processed about 1,400 vote-by-mail applications, Alexander said.
She explained that some people have requested an absentee ballot and then asked about voting on Election Day in person instead. If someone has requested an absentee ballot but then decides to vote in person on Election Day, they must bring the unmarked absentee ballot to the polls to switch it out with an in-person ballot. She warned that while this is an option, it will slow down the process and make the voting time take longer.
Powhatan is doing something very unique this year in its efforts to provide an in-person early voting option while still combatting the spread of COVID-19. Instead of voting in the office of elections, which is located in the Village Building, there will be a drive through tent for early voting in the rear parking lot of the office, which is at 3910 Old Buckingham Road.
Starting Sept. 18, residents wishing to cast their ballots early can do so from 9 a.m. to 5 p.m. Monday to Saturday and on the two Saturdays just prior to the election, Oct. 24 and 31.
No reservation or appointment or paperwork is needed. Voters will follow the detour signs to the entrance off Tilman Road, drive up to the very clearly marked voting tent, and be able to vote from the comfort and safety of their car.
Election officials will greet each voter at their car to check their identification and to give them their official ballot, she said. Voters can either exit their car to cast the ballot on the scanner themselves or they can remain in their car and hand back their ballot upside down in a protective folder for the election official to cast for them while they watch.
Alexander said her office has already received CARES Act money from the Virginia Department of Elections specifically for expenses related to COVID-19 in the upcoming election.
Election Day voting is expected to be mostly similar to what residents have experienced in the past, but there will be added COVID-19 safety measures, Alexander said.
Voters are asked to wear a mask and social distance with others in the voting precincts. The polls will have hand sanitizer for voters, use one-time pens, and have as many no-touch processes as possible. The privacy booths where people will fill out their paper ballots will be cleaned after each use.
The polls will have curbside voting on Election Day, but it does slow down the process, Alexander said. She recommended that those who don't want to get out of their car to vote take advantage of the early voting drive-through tent.
"We are asking people to be as patient as possible because we are expecting a huge turnout and the process will take longer because of the safety procedures we are putting in place for COVID," she said.
Part of the higher stress levels with this particular election for voter registrars stems from the changes and requirements they continue to receive from the Virginia Department of Elections and the General Assembly, Alexander said.
For instance, the department of elections has cyber security standards that it wanted to have initiated in each locality prior to November that are just unattainable, Alexander said.
"Our IT director has assessed that the requirements the state board of elections is insisting upon would take five director level staff and cost hundreds of thousands of dollars to initiate," she said.
In another instance, the General Assembly is in a special session now where they are entertaining legislation that would potentially do away with the required witness signatures on absentee ballots, she said. It would create the need for localities to pay for the postage to all returned absentee ballots.
Last month, a frustrated Alexander emailed the department to let them know she thought the local voter registrars "are unequivocally being set-up to fail this November."
"I have never before felt so overwhelmed and disheartened by the surmounting infeasibility to perform the duties incumbent upon me as a director of elections and voter registrar; the most critical of which is to uphold the security and integrity of elections in the Commonwealth of Virginia," she wrote. "The public's trust in Registrars' capabilities is diminishing by the minute.  It's becoming harder and harder to blame them when I see how out-of-control this process has been twisted."
Alexander cited the "unattainable cyber-security standards; the ever-changing legislation; the shameful extension of critical deadlines and certification requirements; the unjustifiable time, expense and manpower needed to comply with ill-conceived changes in responsibilities that are befalling us daily" and the additional burden of COVID-19 precautions.
"I'm not pointing fingers, but rather begging for some relief and professional respect from whomever has the power to offer it.  Each and every one of us works way too hard and cares way too much about the responsibilities of this role, to constantly feel so defeated and beat-down," she wrote.