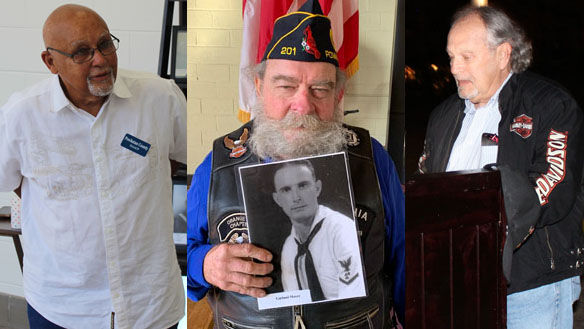 POWHATAN – Powhatan County paid tribute last week to the men and women who have served in the nation's armed forces with three special Veterans Day ceremonies held around the county.
All of the ceremonies held on Thursday, Nov. 11 were aimed at honoring those residents who have served or continue to serve their country featuring music, special speakers and various displays.
The observances began with the Powhatan African American Cultural Arts Museum, which has not officially opened but has a temporary display up in the lobby of the gym at the Pocahontas Landmark Center. While the museum held hours from 10 a.m. to 2 p.m. for people to see the exhibit, it started with a ceremony that honored all veterans but especially highlighted the contributions of veterans of color.
Adhering to the origins of Veterans Day's precursor, Armistice Day, American Legion Post 201 once again held a special ceremony at the 11th hour of the 11th day of the 11th month to honor veterans. The ceremony included musical selections, tributes to veterans of different branches of the military and wars and featured a speaker talking about the impact of PTSD on so many veterans.
The day was rounded out by the 17th annual Huguenot Springs Veterans Day Candlelight Service held at the Huguenot Springs Cemetery. The mass grave is the site of burial for approximately 250 confederate soldiers. The ceremony was aimed at honoring veterans of all wars but always has a special recognition of those who died in the Civil War.
While the Powhatan African American Cultural Arts Museum isn't expected to have its grand opening until summer 2022, organizers wanted to take advantage of the space to honor local veterans, especially black veterans, with a display of photos, uniforms, awards and more to shine a light on local history, said Gail Hairston, president of the Powhatan chapter of the NAACP.
The Veterans Day ceremony began with the roughly 25 veterans present at the event marching into the lobby in unison and introducing themselves, along with their military branch and years of services. Instead of having one keynote speaker, visitors heard from several Powhatan veterans about their experiences in the various branches.
Powhatan resident Freddie Morris, who served in the U.S. Army infantry from 1958 to 1960, talked about the origins of Veterans Day and great black military leaders who came before, including General Colin Powell, who died on Oct. 18. Morris led a moment of silence for Powell in honor of his service to the nation.
Chico Bradley, who joined the U.S. Air Force in 1974, thanked those who came before him. He said his path wasn't always easy, but he knows they helped pave the way to make it better than it once was. He recalled meeting black veterans of the Vietnam War and seeing the toll the war took on them.
"These guys they were black soldiers and they came back from Vietnam and had served our country, but still there wasn't 100% total acceptance and respect as an American. I remember thinking then God is going to make a way where we can keep our honor and keep our respect and let the nation realize the sacrifices they had made for the country," he said.
In the 28 years and six months he served, Bradley said he saw a great many things, found God and came to appreciate the military for all it taught him.
Claudette Holmes, who joined the U.S. Navy in 1959, talked about leaving home in North Carolina to go to her first assignment and the years and opportunities that followed as she served first in the Navy and then in the reserves. It was during her time in the reserves, she said, that she got to see more of the world.
"I said Lord if my grandmother could see me now because I'm in Japan and all these foreign counties – Italy – and I knew I didn't have money to travel to Italy. But I thank God for the experience," she said, adding she was treated well by people in other countries.
Earl Hobson, who served in the Air Force from 1958 to 1963, talked about the culture shock of attending his first integrated classes in the military after growing up in segregated classes. He served in Valdosta, Georgia, for nine months, which "was not a pleasant experience," before jumping at the chance to serve in England for three years as a flight planner.
Hobson shared what it was like to go from living in England, which was integrated, to coming back to Dover Air Force Base and a "reality" where he couldn't go to certain restaurants or other businesses.
Hobson said he was one of four sons, all of whom served in the military, were sent overseas and were honorably discharged.
"I have nothing bad at all to say about the Air Force. I enjoyed my stay and I am just thankful that I was able to serve," he said.
The ceremony also included musical selections and a lighting of memorial candles for those veterans who have died or those who never came home.
The museum stayed open for walk-throughs that afternoon and was open Nov. 12 and 13.
With the American Legion Post 201 Veterans Day event, organizers put it together much as they have in the past. The large room where the ceremony was held was well decorated with the photographs of Powhatan men and women who have served.
The keynote speaker of the event was Dr. Harold Young, a neurosurgeon who served with the 312th Evacuation Hospital in Chu Lai, Vietnam and later went on to serve as the chair of VCU School of Medicine's Department of Neurosurgery from 1985 to 2015.
Young started his speech by pointing out that 2021 was the first Veterans Day in the last two decades held without the United States being involved in a war. But the main thread of his speech focused on the impact of service on veterans. He talked about the devastating effects of PTSD on so many veterans.
"There is no wound – no bullet hole or entry site. It is an invisible injury, and many people doubt it. I have heard so many people blow veterans off. They say I can't build relationships; I have bad dreams. PTSD is a real entity," Young said.
He also pointed out that the United States sees more than 17 suicides a day among veterans and has had more than 30,000 since the Iraq/Afghanistan wars started. He shared the number of the National Suicide Prevention Lifeline, 1-800-273-8255, and urged those veterans present to take care of themselves. PTSD is gaining more recognition and better programs are evolving to help veterans, he said, but people still have to take care of themselves and seek help when needed.
"We should take care of each other and stay well, stay healthy," he said as he concluded his speech.
The ceremony also featured a recognition of veterans by their different branches of service and any of them who served during the different wars and conflicts. Michael DeHart sang two patriotic songs, and a laying of a wreath was followed by Taps.
Huguenot Springs Cemetery
The annual Huguenot Springs Veterans Day Candlelight Service once again took place in the darkened Huguenot Springs Cemetery, which was lit with lights spread throughout the grounds.
After greetings from the J.E.B. Stuart Camp #1343, Sons of the Confederate Veterans and the cemetery foundation, a musical tribute was played on the bagpipes by Pipe Major Lord David L. Hinton.
James English, a member of J.E.B. Stuart Camp #1343 and an Air Force veteran, was the keynote speaker, reading his prepared speech using a flashlight in the darkened cemetery. English talked about being sworn into the Air Force in 1971 and being sent to the Panama Canal, where he ran the "teletype and the crypto room," sending messages back and forth with aircraft coming or going. He said he then was assigned to a base in Kettering, Ohio, where he handled top secret messages.
English said he was injured by a drunk driver during his years in the Air Force and he separated with a disability rating. To this day, he said he wishes he had re-enlisted and retired from the military.
"I loved serving my country and was very proud of the work that I had accomplished. I am a proud veteran and I would do it all over again," he said.
The ceremony concluded with an artillery salute by Knibb's Battery and Hinton playing "Amazing Grace" on the bagpipes.