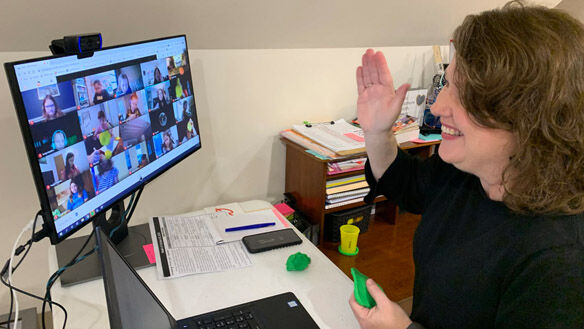 POWHATAN – It's pretty much agreed across the board that all of them wish things were different.
Were it not for a pandemic forcing people to make some difficult choices for themselves and their families, all Powhatan County Public Schools' educators would likely be finishing up a normal first nine weeks of the fall semester right now and looking ahead to what comes next.
But with the pandemic did come choices, and part of those choices meant the families of 907 students choosing to have their youth educated fully virtually. Accomplishing that feat are 16 fully virtual teachers at the elementary level and 74 middle and 30 high school teachers handling one or more fully virtual sections, all with the help of support staff and administrators assisting them to make it happen, said Dr. Tracie Omohundro, assistant superintendent for instruction.
"It has been probably one of the biggest instructional challenges for many of our teachers of their careers. And their dedication and commitment to trying to figure it out and to be the same strong teacher that they were in the regular classroom truly has been amazing to watch," Omohundro said. "They are putting everything into something that is completely different than what they have been trained to do, and it has been a herculean task for them."
How much educators have learned this year working virtually and the way it has shaped their craft in a really different way has been amazing, said Dr. Cheryl Thomas, director of elementary education.
"They know how to teach, but teaching in this format, I think in a lot of ways it has been a real growing experience for both students and staff. And I am sure some of the things we have learned will stay with us," she said.
At the elementary level, the support that virtual teachers receive in their efforts to help their students is designed to come from their school administrators, specialists working with them, and their fellow virtual teachers, Thomas said. Among the 16 elementary teachers, some work entirely from home, and some teach from their classrooms.
At the secondary level, it has to be a full-team effort for the virtual students because of the nature of classroom teachers trying to juggle both in-person and virtual instruction, Omohundro said. The system to support them comes from instructional specialists, school-based administrators, instructional technology resource teachers, and counselors following up to check on attendance for those kids.
Powhatan High School students are assigned a virtual coach, who is generally one of their classroom teachers and is meant to help them troubleshoot and navigate any needs they have while they are working in the virtual world, she said.
Some virtual students come in on Wednesdays to meet with teachers to work through some direct instruction to assist them with their learning when they are independent, Thomas said.
The school division continues to listen to the teachers about what their challenges are and tries to support them every way possible, but they are aware it is a challenge, Omohundro noted.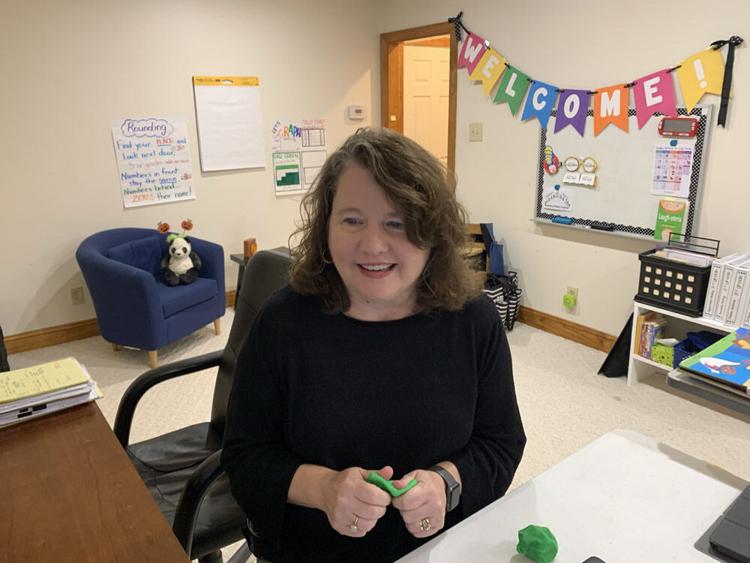 Carla Crump struggled with her decision to apply to be assigned to an all-virtual classroom because she is a Type 1 diabetic on an insulin pump. She wanted to be in the classroom with her students, but realized it wasn't viable after talking to her doctors. Fortunately, she received full support from the school division.
"There had been so much discussion and excitement about having students back in the building that to hear someone appreciated and recognized the value of remote instruction was huge for me," Crump said.
Crump said she would still love to be in her classroom, but unless things change significantly, she will request to stay on the current pathway.
"My brother-in-law died in September from COVID. It has been devastating for my sister, but has reaffirmed for me that I am exactly where I am supposed to be," she said.
To help build a rapport with her students, Crump filmed an introduction video where she opened her front door as if welcoming them into her home, where she teaches class now, and sat down on the couch and chatted with them.
"That was the first step, and then, yes, before school began I visited the home of every child I teach. I think there were only two or three out of 26 that were not home," she said.
She delivered a bag filled with dry erase boards, highlighters, and other school supplies, as well as Play-Doh and other fun items.
Crump said she cultivates relationships by doing a Lunch Bunch where the children can eat lunch with her, and, every morning, she opens her virtual classroom 15 minutes before school starts so that they can chat and spend time together.
"We've done several show-n-tells, which for a virtual student is super cool! How often can you take your bearded dragon, your ferret or gerbil, dog or cat to school," she said.
She also makes personalized birthday yard signs that she delivers to their homes and has mailed a personal note to each child.
"I think in some ways I might know and understand my students a little better because I get to go into their homes – into their family rooms, their kitchens and their bedrooms. At times, I've even been in a bathroom or two when a child has tried to find a quiet place to learn," she said.
Crump's class of 26 students can be a challenge and a smaller class size or more support personnel would be a bonus, she said. But she has an amazing group that has gotten the hang of working together. She does small groups in the afternoon, which helps her monitor progress, and meets with individual students when needed. Dry erase boards are an amazing tool for a quick assessment, she added.
"I can tell in 15 seconds who understands how to round a number or has mastered this week's spelling pattern. Even better, because they are all on my screen at the same time with student names, I can take a quick picture and go back later to make sure I didn't miss someone," she said.
Internet connection was definitely an issue when school first began, but Crump feels like her class has overall gotten a handle on it. There are still glitches occasionally, but they know the routine and have learned to be flexible and give a great deal of grace.
Getting creative about lessons that can engage her students wherever they are is another challenge she faces regularly. Crump has had students work on art journals; use YES or NO flip signs made out of index cards and jumbo popsicle sticks for answering questions or playing games; go outside and cloud watch as part of unit on the water cycle in science, or do scavenger hunts for items that support a concept.
Maintaining control in a virtual classroom environment has been something Crump has learned to navigate. She was initially hesitant to speak to the parents of children not doing what they were asked to do, but said she got over that because "it wasn't fair to that student, the other students, or even to me." Crump believes her students need to begin to take responsibility for their assignments and encourages parents to wait before they intervene so the children learn self-discipline. Fortunately, when she has needed to contact parents, "they have been super responsive."
Crump sends weekly email updates and calendar reminders and posts detailed lesson plans before each week begins. She receives phone calls, emails, Schoology messages, Seesaw messages, texts and even Facebook messages.
"There is not a lack of contact, but I'm trying to do a better job of establishing boundaries," she said.
Crump was forthright and admitted that the first few weeks of school were extremely difficult.
"I cried. A lot," she said. "Fortunately, there haven't been tears in quite some time! We are in the groove and my kids are truly learning and growing! There is not a doubt in my mind that the quality of instruction they are receiving exceeds expectations for virtual learning with the added bonus that students get to have lunch with their families each day and ride their bikes for recess."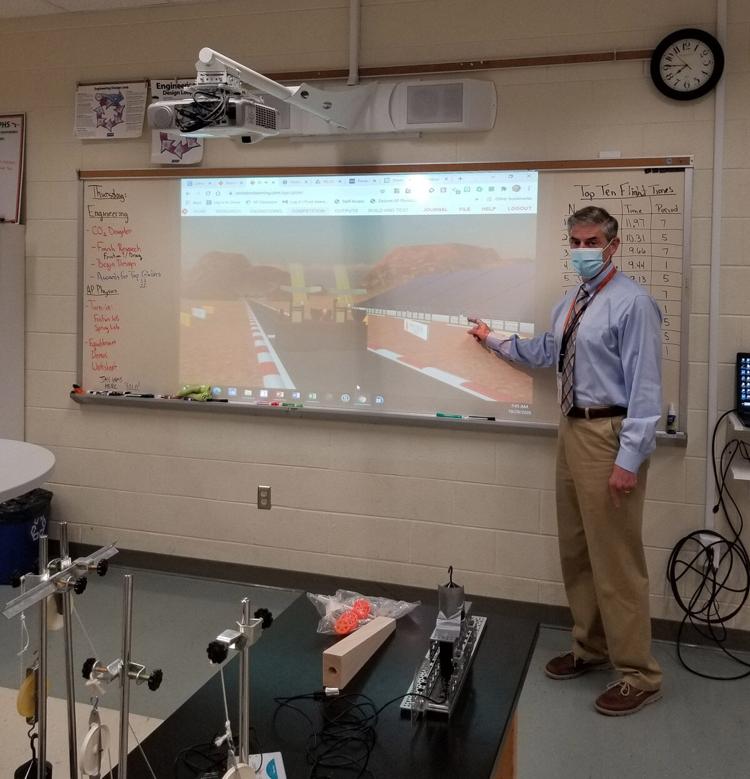 When the school division surveyed teachers this summer about their preferences on teaching hybrid or virtual, Powhatan High School teacher Bob Benway said he wanted to go hybrid. He feels that students learn best when they trust and have a positive relationship with their teacher, which happens best when they are face to face. While his AP Physics students are all on the hybrid pathway, he does have some all virtual students in his Engineering 1 and 2 classes.
To help get to know those students, he posted a video talking about his teaching style, things he likes and doesn't like students to do, and his passions – family and helping students achieve their goals. In turn, the students' first assignment was to create a video of similar content about themselves to share with the class.
When virtual students need additional support, he can meet with them after school on Tuesdays and Thursdays, and most Wednesdays, but he acknowledges that he still has not been able to get to know the virtual students as well as his hybrid students.
"The exception is my virtual students that were my students last year. In a few cases, I have been able to give the motivation to complete their work in my class and some of their other classes as well," he said.
Benway said he has enjoyed the smaller class size of his hybrid/virtual classes and that classroom management has not been an issue this year. While the smaller groups have worked to the advantage of creating better working relationships with hybrid students and drawing out shy students, he has to work hard to pull questions out of his virtual students.
"However, I can quickly tell if my students are grasping the information by using real time formative questions that they can respond to anonymously," he said.
The virtual students "attend" class via Google Meet at the same time as Benway's hybrid students, "which hopefully makes them feel part of the community." He is using engineering learning software that provides engineering challenges (gliders, CO2 powered cars) and allows students to virtually design and test their unique creation. The software allows the students to compete against each other virtually in real time.
"This allows the virtual students to challenge their hybrid peers to see who has the best design in the class. I had two virtual students place in the top 3 in my classes," he said.
Benway said he is pleased with the interaction that is taking place with some of his students during the virtual engineering challenges. He wishes he could use the engineering challenges that he used in the past where students worked in teams of two to four, because the challenges made them practice their communication and collaboration skills. In addition, these team challenges were great for the students to appreciate the value of using teamwork to solve problems.
In the past some students saw home as a place where they could escape the pressures of school. That has carried over to virtual learning with some students, he said. The best way to overcome this challenge is good communication with the student and parents, who can be excellent motivators.
Benway said he is truly amazed at the technology that teachers have at their disposal today, and he can't imagine what learning would be like if this happened 10 years ago.
"That being said, I think communication, collaboration, critical thinking, and creativity skills are the most important skills we can teach today's generation, and these skills are best practiced face to face," he said.
Powhatan Elementary fourth-grade teacher Mary Brown asked to be assigned to full virtual to avoid risk of exposure to her mother and mother-in-law, who are both in the age range of adults at risk and have underlying health concerns. She and her husband also decided to keep their 4-year-old from going to preschool to avoid the risk. She knew the virtual route would bring challenges, but, for her, they paled in comparison to potential exposure and/or risk to their loved ones.
The hardest challenge for Brown is connecting and forming relationships with her students virtually. In March, every teacher mourned all that was lost when school suddenly closed, but their relationships with students were already formed, so it was easier to maintain that closeness via online assignments, phone calls, and even some FaceTime/Zoom with families, she said. This year, virtual teachers, were well aware of that challenge and worked hard to plan activities that would help foster relationships.
Brown, one of four fourth grade virtual teachers in the division, teaches language arts (writing). When the fourth grade virtual team began to plan in August, they were persistent in planning activities that provided opportunities to know their students and to allow for interaction.
"We also gave ourselves three weeks to get to know one another. We knew that if students didn't feel seen or heard then we would not be as successful in making gains academically," Brown said. "We, as a fourth grade team, did not meet any of our students prior to the start of the school year because we followed CDC guidelines and it was important to respect the families who chose virtual for their own personal reasons."
The teachers are developing connections with students, but they are seeing stronger connections with students who are regularly participating, she said. Brown has started adding incentives to encourage participation. For example, if a student participates daily, turns in all assignments, and follows Google Meet etiquette, she offers a show and tell on Fridays. This nine weeks there will be an added incentive such as Lunch Bunch (eating lunch together while NOT on mute), which will allow them all time to socialize.
"This additional time together will allow students to share stories and have a more realistic classroom experience as a class. We are all super excited about this," she said.
Most children by nature are social beings – their stories are endless, their words are endless, and their ability to communicate knows no bound, Brown said. Addressing this in the virtual forum is tricky because they can't talk over one another or others can't hear. Students have gotten much better at waiting their turn and at staying muted until given permission.
Building in times to socialize with one another is crucial because they do need peer socialization. Although not impossible, allowing students to work together on academics is difficult and takes creativity, she said.
"One way that students interact a great deal in my class is by walking one another through an assignment or technology problem. I can't always see a site or assignment the way that they do so it's not uncommon for a student to ask if they can 'share the screen' to help walk another student through something that seems tricky. That's so encouraging to me because they are learning something far greater than academics," she said.
Class size remains a struggle for many virtual teachers. It's hard to get to everyone, assess them academically, and to monitor progress, but they are finding new ways daily, Brown said. She has finally found an organized system on the virtual platform to interact with students to answer their questions and to ask questions that allow her to gain insight into where they may need more clarification.
As a virtual teacher, Brown battles technology issues daily, but she said she has become a fantastic problem solver when it comes to finding different pathways for students to access the curriculum. Teachers and students have also learned to practice patience, understanding, and grace. Technology isn't flawless even when in the classroom setting, she added.
Encouraging movement tends to lead to more positive reactions and student participation, she said. The fourth grade team did an activity where students had to respond to questions by giving silly hand motions, running in place, and more.
"The giggles across the screens were infectious, and it's been an activity that we've been asked to repeat," she said.
So far, Brown has not encountered challenges maintaining the classroom environment. Students and parents have been responsive to required etiquette, and while there is background noise and the occasional moment of chaos, that is no different from a regular classroom, she said. In turn, she has loved getting an inside glimpse into her students' family life, such as meeting pets (including giant Great Dane puppies and a a grumpy cat look-alike named Chloe) and younger siblings.
"For show and tell one week, one of my sweet fourth-graders chose to show off her 4-year-old brother," she said. "I am not sure who was prouder, my fourth-grader or the sweet 4-year-old who saw himself on 'TV.'"
These are the moments that bring light in the midst of what can feel overwhelming and exhausting to kids who have given up a lot since March 13, Brown said. As a teacher, those moments bring light to overwhelming and exhausting circumstances.
Good communication and parental involvement on any level increases student productivity. They still need help being organized, completing assignments, and meeting deadlines. Part of Brown's job is to teach them skills that they will take with them far beyond her class. She also has to understand that every family's situation is different.
"Each year I expand my ability to see a child and their family through a different lens. That's crucial when teaching children and when dealing with families. Life is hard, it's messy, and it's complicated, but our responses don't have to be," she said.
Overall, the teachers are finding success in various ways. They are learning and growing, and Brown is proud to be a part of that. She makes changes daily and weekly to the way she teaches, the technology she uses, and the different formats she uses.
"In 10 weeks, I have learned far more than I ever realized about technology and teaching in a virtual forum. I fully believe that when I enter back into a physical classroom that I will be a better teacher," she said.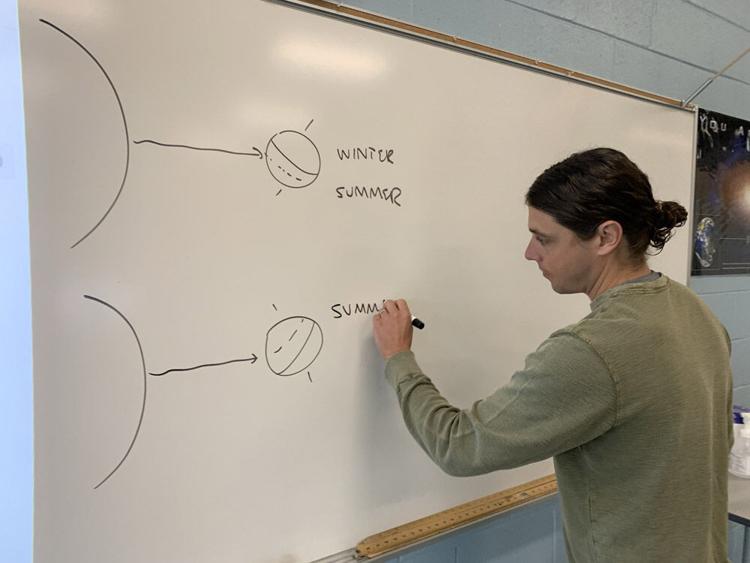 When he was asked about his preferred teaching pathway this year, Powhatan Middle School earth science and physical science teacher Jimmy Roberts responded he could do either hybrid or virtual, whichever was needed more. But while he felt comfortable going completely virtual, his heart was to be in the classroom. This semester, Roberts is teaching four hybrid courses and one virtual class and said he is 100 percent pleased with the placement.
The relationships he develops with his students are the foundation for everything for the year, Roberts said. It is important for his students to know he is there to support them throughout their learning experience, and he acknowledged it has been a challenge to form those relationships.
Roberts actually teaches his virtual class collaboratively with a colleague, Dawn Monson. The two teachers cater to their strengths and keep the momentum of the virtual class rolling, he said.
"While one of us is instructing, the other is tending to the Google Meet Chat and vice versa," he said. "We strongly encourage student participation by asking how personal experiences relate to our curriculum (earth science) and have learned a lot about our students. Additionally, having taught in the county for more than 10 years, I have a couple of virtual students who I have taught their older siblings, so I feel this works to my advantage."
Roberts is able to meet with his virtual students twice a week, which equates to two hours and 20 minutes. By comparison, he sees hybrid students for only 90 minutes each week, meaning he actually "sees" his virtual students more frequently.
"Even though I am able to interact with my virtual students more each week, the relationships I am developing are lacking by comparison. In order to combat this issue, my colleague and I make it a point to give plenty of opportunities for students to participate in class discussion. We consistently pull from their thoughts/experiences to enrich the teaching experience and breathe life into our discussion," Roberts said.
Not only does he want to foster a relationship with his students, but he also wants them to foster relationships with one another. Facilitating group discussion as well as opening lectures up to more of a conversation has allowed students to express their own opinions and discuss with one another, he said.
This year, Roberts' classes vary from seven to 16 students, which would have been unheard of in a general education classroom in years past, he said. With the use of technology, monitoring students' progress is about the same. The downside of this is that students who have technology-related issues such as poor internet or who need that face-to-face interaction on a daily basis with their teachers have a harder time completing their work.
"In order to tell if students are grasping concepts, I have begun teaching a 'flipped classroom.' I record myself delivering a lecture, which students view on their own time. The students then jot some notes on a GoogleDoc, which is shared with me, then we have a class discussion regarding the lesson taught," he said. "We complete a lab activity/assignment specific to the lesson and have additional discussion. For the first nine weeks, students have completed project-based assessments on the topics discussed in class."
For the virtual classroom, student connectivity has been an issue from time to time, Roberts said. One second, the student is present in the "classroom," then they disappear only to reappear within minutes. Students who have poor internet connection have been provided with school-issued hot spots, which allows them to connect and remain connected to the internet better than they would otherwise, whether virtual or hybrid.
Based on his experience, internet-related issues have not posed much of an issue for his students. If a student has a consistent issue, they have been directed to the appropriate staff members, who have been able to help them through the issue.
In lieu of giving summative assessments, giving virtual students the opportunity to create a model and explain their creation has been exciting, Roberts said. He and Monson have several avenues through which students can demonstrate their understanding of concepts learned in the classroom without having to sit and "take a test."
Additionally, pre-recording lectures and having students address the main concepts within each lesson prior to teaching the lesson has enabled Roberts to progress through curriculum in a more timely fashion. As opposed to having to build the foundation with each class meeting, they are able to jump off of that foundation because it is already in place.
Other than the occasional student participating while on a road-trip, there have been no irregularities in the virtual classroom environment, he said. Prior to beginning each virtual class, they read a disclaimer and ask that students keep their microphones and cameras off unless otherwise instructed. His virtual class has been incident free and very much resembled the face-to-face classroom, he added.
Students have done a great job tuning into class at the appropriate time and staying tuned in throughout the class meeting. Roberts strongly encourages Schoology messages from students and emails/phone calls with parents. Any question/concern, no matter how minor it may seem, is welcomed.
The virtual classroom is keeping pace with the hybrid classroom, Roberts said. Students are engaged in the delivery of instruction and participate throughout each class session. Students who have opted to go the virtual route have developed good online communication skills and a routine to be successful. Students begin promptly, the class rarely has any "tardies," and they are mindful of the learning atmosphere.
"As far as changes to the virtual class, I cannot think of anything that I would want to change," he said.
Brenda Bell knew she could be teaching virtual or hybrid this year, so she wasn't surprised when she was assigned her class schedule at the beginning of the semester and saw both. Bell is a seventh grade life science teacher at Powhatan Middle School with one virtual class as her first class of the day. On the block schedule, first period meets every day, so she has her virtual class every day.
Bell starts her class 10 to 15 minutes early so she and her students can talk. She asks them about their day, their weekend, or if they want to share anything. Other days they might talk about pets, birthdays, or topics they are interested in discussing. In a group discussion, Bell asked her students about the positive and negative aspects of virtual learning. Most of the positives were about not getting up early to get dressed and come to school. All of the negatives were about missing their friends and being social.
"It is the format of using virtual. They are 12. You are sitting in a room and you have another person someplace else in another room. You are looking at little icons. How do you interact with each other on a personal level? How do you build that connection between kids when the kids can only see each other's icons," she said.
Despite her efforts to get to know them better, because she has never met most of them in person, Bell, who has been teaching 28 years, believes she hasn't been able to build the rapport with her students that she would like to have.
"Relationships here are certainly different than if I did face-to-face. First of all, they don't have to use their cameras, so all I see are icons for the kids. One kid will be a horse or another kid will be Shrek. Some of the kids I have never even seen their faces," she said. "I develop relationships by talking to them, joking around with them, sharing my pets, sharing something that happened positive that week."
One of the topics that really engages her students is the animals Bell has in her classroom, such as a guinea pig named Ash or a leopard gecko named Sonny. She will use her camera to get close-ups of the animals, which the students enjoy, and tie them into the lessons.
With 22 students in the virtual class, it can be difficult making sure they understand the concepts, Bell said. While she is teaching, she constantly stops and asks questions, which is also a good tool to keep the students (who she can't see) engaged and paying attention to the lesson. She does a mix of live teaching and prepared videos to cover the content.
"It is difficult to monitor it because of all the variables. You have the internet connections that go out constantly; you have kids that get kicked off all the time," she said. "Google Meets is, for me, not the best format to teach with. PowerPoints won't work – the kids will get caught on one slide and you can't go any further because they are on slide 1 and you are on 3."
Bell said she will often go back over a topic throughout the week to make sure it is sinking in, but there is a level of disconnect that still makes it difficult to grasp how much students are retaining. Academically all her students are passing, but on learning content, she feels the hybrid students are further ahead. And if students were already struggling with the content, the gap seems to be getting worse.
Seeing the virtual students every day allows Bell to help them stay more organized and give them reminders about deadlines, which can be challenging for them to navigate. Bell said she has tried to be very aware of the different circumstances students are in at home that might impact their schoolwork and the volume of work they are trying to balance.
Bell said she has given the students plenty of grace to get work done. She was very lenient in the beginning, but as time goes on, she will become firmer about having them adhere to deadlines.
Given the current situation, the entire situation of teaching hybrid and virtual students is a learning process that is going alright, Bell said. She feels like teachers – both hybrid and virtual – are stretched thin with all of the work they have to do in the current environment, but they are also going over and above to make it work. It helps that Powhatan teachers are getting support from the administrators and that the teachers really do care about their students and want to give them the best education possible, she added.
"I am going to keep trying to make changes. The teachers in our school are great, and we all work together and share ideas. I am always going to other teachers and asking them if they have ideas on how to do something. I will keep trying to come up with new things to do with the kids," she said.