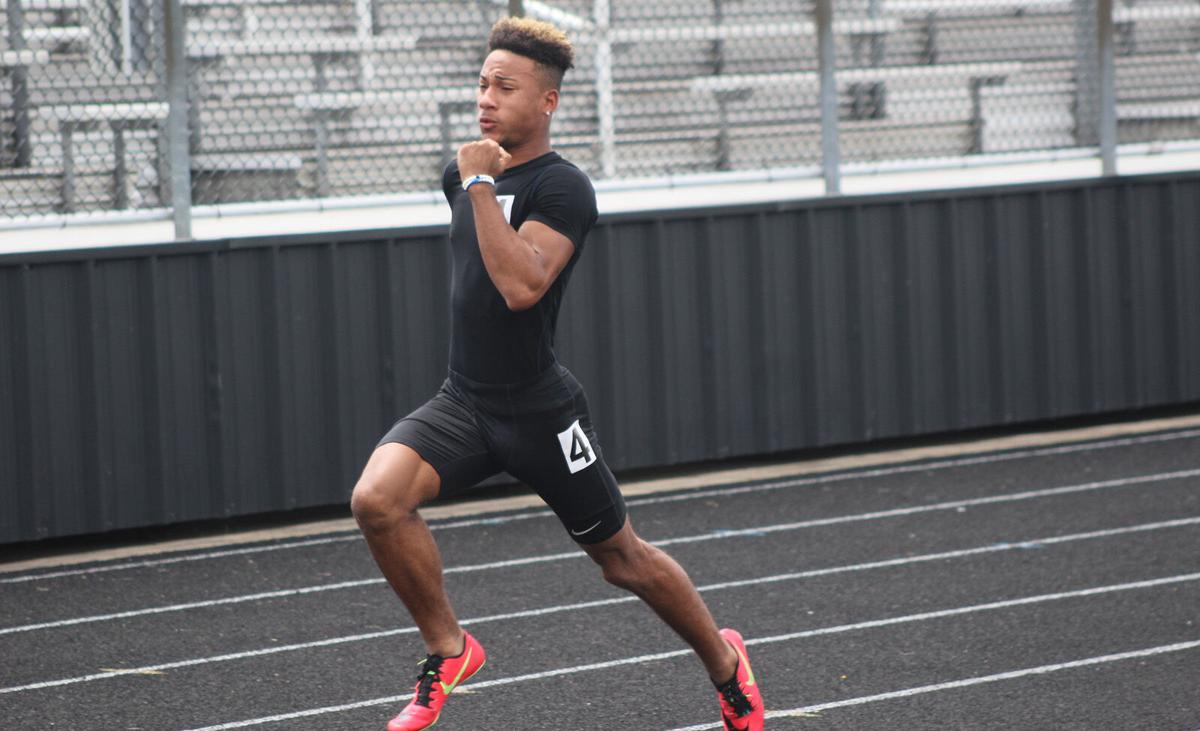 POWHATAN – Track and field standout and Powhatan High School senior Anthony Greenhow has committed to the University of South Carolina.
"It means a lot. It just shows that, simply, hard works pays off," Greenhow said of making his commitment while adding: "This is definitely not the end of it. I'm going to have to start all over again when I get into college, but it's a big accomplishment for me and for my family. I'm really excited."
A multiple-time state podium runner across both the indoor and outdoor seasons, Greenhow will join a Division I Southeastern Conference powerhouse that had two men's runners win or place top three in their respective events during last year's outdoor national championships. Quincy Hall won gold in the men's 400-meter hurdles (48.48) and Isaiah Moore ran third in the men's 110 hurdles (13.37).
"When I first started running track, we never thought it was going to come to this – we never thought I was going to be able to get an offer from any Division I school," he said. "I just had to get better every year, and just to say I'm running in the SEC, it's pretty great."
While Greenhow's brother, Chris Royster, also ran track for South Carolina, it was Greenhow's performance this summer that helped increase schools' interest in him. While the COVID-19 pandemic led to the cancellation of his junior outdoor track and field season, he was able to participate in two electronically timed runs – the 100-meter dash and the 200 – at Powhatan High School.
He set personal records in both runs that time, finishing the 100 in 10.49 and the 200 in 21.31. Not only were both times faster than the Powhatan High School records in both events – Greenhow is the record-holder in both – but they were quicker than the state-winning times in the 100 and 200 across all six of the Virginia High School League's divisions in 2019. The fastest times last year belonged to Surry County's Kahorie Batten (100, 10.52) in Class 1 and Bethel's Edward Richardson III (200, 21.32) in Class 5.
"The coaches were able to see my potential," Greenhow said. "I couldn't perform at meets or anything, so I was just trying to work throughout that so they could see what I can do on the track."
Since the start of 2019, Greenhow, an All-Metro runner, has earned VHSL Class 4 state finishes of second in the 300 (2020 indoor, 34.2), third in the 100 (2019 outdoor, 11.13), fourth in the 200 (2019 outdoor, 22.25) and fourth in the 55 (2019 indoor, 6.58). Also, in his first time running against people following the shutdown, Greenhow won the 100 (10.68) and 200 (21.44) at the Virginia Commonwealth Games at Liberty University on July 25.
While it's still hard to know for certain that the VHSL athletic year will indeed start as scheduled because of COVID, the 2020-21 indoor season is currently set to begin this December and the 2021 outdoor season this coming April, meaning the chance still stands that Greenhow will have two more seasons in which to win one or more high school state titles.
"I'm working every day," Greenhow said. "It's exciting, because I want to see where I'm going to finish out this year . . . and hopefully beat my times again."
Academically, Greenhow is interested in South Carolina's kinesiology program.
As he hasn't had the opportunity to visit during this time, he's looking forward to seeing the school.
"I just want to know how the environment is, and they have a brand new track," Greenhow said, calling it the fastest track for both indoor and outdoor in the SEC.
He praised the support from his parents, teachers, coaches, both South Carolina and North Carolina A&T – another Division I track and field powerhouse from which he received an offer – and Powhatan High School leaders, including principal Dr. Mike Massa and athletic director Tim Llewellyn.