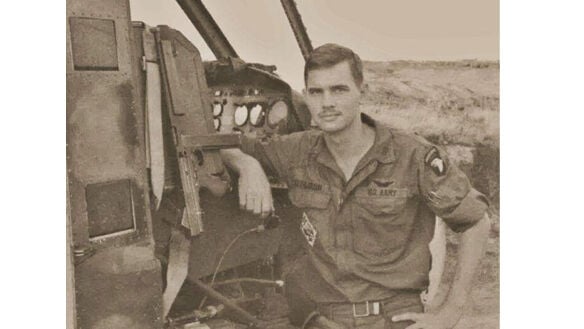 Editor's note: Beginning on Memorial Day 2012, the nation began participating in the Commemoration of the 50th Anniversary of the Vietnam War – a 13-year program to honor and give thanks to a generation of proud Americans who served their country in one of the most challenging missions it ever faced. This week, a Powhatan resident who served in Vietnam will mark a 50th anniversary of his own. This is his story of survival.
"You always take care of your men before you take care of yourself." Fred Behrens lived this truth on every mission he flew until his luck ran out on April 23, 1971.
Behrens was born into a military family in 1947, graduated from high school in Edison, New Jersey, in 1966, and attended community college until 1968. In April 1969, Behrens entered the U.S. Army and received his basic training as an infantryman before going on to flight school. He graduated in May 1970 with advanced flight training, including helicopters such as the Bell UH-1 (Huey), the workhorse aircraft of the Vietnam conflict, and the much smaller Hughes OH-6 Scout helicopter. Now a warrant officer, Behrens' new job flying helicopters in Vietnam had a life expectancy between 13 and 30 days.
Behrens arrived in Vietnam on June 6, 1970, and was sent to the 101st Airborne Division stationed in the Demilitarized Zone (DMZ). There he was assigned to Company B of the 101st Assault Helicopter Battalion. He spent the next five months ferrying troops to remote landing zones (LZ), flying resupply missions, picking up troops when their missions were completed, "taking care of the troops," as he put it. He flew every day – and often at night.
In September 1970, he transferred to a Scout helicopter unit, flying the smaller OH-6, commonly called the "Loach," on "hunter-killer" team missions. This was dangerous work, especially for the Loach pilot and his one-man crew.
In November 1970, Behrens transferred to the Air Ambulance Platoon of the 326th Medical Battalion, aka Eagle Dustoff, located at Phu Bai. A hospital had been set up there. Flying dustoff, which is a military term for the emergency evacuation of casualties from a combat zone, was a daily job but the pilots were limited to 120 hours of flight time in 30 days. After 120 hours, the stress became overwhelming, creating the possibility of making mistakes. Behrens said that he often exceeded the limit because there just weren't enough pilots to keep up with the calls.
On his first dustoff mission, he picked up two wounded infantrymen and flew them back to Phu Bai. When he later asked the surgeon how they were, he learned that one of them had died. Behrens said this sent him into a state of depression; he had not imagined at that point that anyone he medevacked would die. He came to terms with it, but he never again asked about the wounded.
"After that, I simply chose to believe they all survived," he said.
From November 1970 until April 23, 1971, Behrens flew countless dustoff missions. "The missions we did, picking up all those gruesomely wounded guys, was horrible," he said. "But we were saving American lives, and we had a really dedicated feeling about it. I had gone through a big transition...I had matured a lot."
On April 15, 1971, Behrens was sent to pick up wounded at LZ Liz. Three platoons of D Co., 2nd Battalion of the 501st had been sent to the landing zone to retrieve the bodies of two American soldiers who had been killed there on April 11. The bodies were lying out in the open.
John Payne, an infantryman with 2nd Platoon, Delta Co., 2nd Battalion, 501st Infantry Regiment of the 101st Airborne Division, expressed concern that they were walking into an ambush, but the lieutenant dismissed that concern and insisted they retrieve the bodies. They worked their way through 3 km of thick jungle until they reached the LZ about 6 p.m. Payne said he knew they were being watched.
Upon reaching the bodies, the Viet Cong opened up, killing or wounding all but six of the 25 men in the platoon. The remaining six retreated to the tree line and found cover, fighting desperately from there. Payne and the five others risked their lives numerous times to retrieve the wounded from the open, dragging them back to cover. Infantryman Jim Zwit, who was in the 3rd Platoon, ran forward to help. As he was carrying a wounded man to safety, a mortar round landed next to him, killing the man he was carrying and severely wounding Zwit in the chest. Someone dragged him to cover.
By this time, it was completely dark. At about 11 p.m.., Behrens flew to the site to pick up Zwit and another casualty. He could not land because of the triple canopy jungle, so he lowered a "jungle penetrator," a skeletal seat attached to a metal cable. Zwit was put on the penetrator and was being hoisted up when enemy fire on Behrens' helicopter intensified. Small arms fire was striking the helicopter.
"Those green tracers looked like basketballs coming at us," Behrens said.
When a rocket-propelled grenade bounced off the copter's skid and exploded, he had no choice but to fly away with Zwit still dangling by the cable. He was dragged for a distance through the trees, pushing against them with his feet to avoid being further injured.
The crew finally got Zwit onboard, and he was taken to the 85th Medivac. No one expected him to live, but he survived and spent 10 months recovering. The remaining men of the 2nd Platoon later recommended that Behrens receive a Silver Star for his actions that night, but he was denied the award because he had not followed the proper protocol for taking the helicopter from the base. He had heard a call for help and put together a crew and just did it on his own. His dedication to his job and to his fellow soldiers was overlooked because of a technicality in the rules.
"I was just doing my job," he said.
Medals were not important. The following day Payne and the other five survivors of 2nd Platoon finally got the two bodies off the LZ. They walked the 3 km back carrying the bodies.
On April 23, Behrens was sent to Hill 809, a remote LZ in the A Shau Valley, where an intense firefight was taking place. A detachment of rangers had been ambushed by entrenched troops of the regular North Vietnamese Army. When Behrens made an approach to the LZ, he came under fire from two anti-aircraft guns, but got a wounded ranger aboard. He returned to the 85th Evac and flew back to pick up more wounded.
While taking off from the LZ, Behrens was shot through his left ankle. The impact of the bullet forced his knee up with such force that it broke his nose. The helicopter went into a spin, but he was able to recover and began his ascent when the copter was hit by a rocket-propelled grenade. His crew chief was shot and killed. He sent a "Mayday" signal on his radio. The reply was to "E and E" – escape and evade. He got to the edge of the LZ, where he set up a makeshift defensive perimeter. He sent another message with his survival radio, but was told, "You're back in the infantry now, do the best you can."
Snipers zeroed in on him. A Cobra gunship strafed the LZ with its mini-guns, unaware that Behrens was hiding there. He was shot three more times during that strafing. He now had five bullet wounds. Later, a sniper wounded Behrens through his left arm. He located the sniper and killed him. Then a machine gun opened up on him. He moved to a place where he could see the machine gun and killed both the Viet Cong soldiers manning that gun.
Behrens spent that night sitting awake, severely injured, waiting for the NVA to move in on him. The next day he moved to a bomb crater and hid among some logs. Later that day an American Phantom jet dropped two 250-pound bombs on the LZ, throwing Behrens into the air and peppering him with shrapnel. They still had no idea he was there. He was later able to signal to a Cobra gunship by waiving his shirt in the air. They saw that he was American and sent more Rangers in to help him. One of them stayed with him until dustoff could get there. They shared a can of apricots. There was still intense fighting going on all around them.
Behrens said he had accepted by that time that he would probably die. Dustoff finally arrived and took him to the 85th Evac, where he was immediately taken to surgery.
The following day, he woke up in traction. He spent days in the intensive care unit. He believed that in a couple of weeks, he would be back flying dustoff. He was instead flown to an army hospital in Okinawa, where he stayed until May 20. During that time he says, "that last mission, when I got shot down, was the only mission where we talked about premonition. … My mother had written me that she had a nightmare that she was never going to see me again. ... That had never happened before. It was something else."
At Okinawa, he was put on a C-141 medical transport and flown to St. Albans Navy hospital in New York, where he underwent more surgeries. He stayed there until Jan. 30, 1972. After leaving service with 100% disability status, Behrens was well enough to begin attending classes at a community college. In 1978, he moved to Powhatan, near where his roommate from flight school lived.
Behrens has lived in Powhatan since then, doing volunteer work with the American Legion, The Veterans of Foreign Wars, and the Disabled American Veterans organization. For his service, Behrens received three Distinguished Flying Crosses: one for his actions during a fight at Firebase Ripcord, one for his heroism at the fight at LZ Liz, and one for his actions at Hill 809. He received a Purple Heart and was awarded an honorary Combat Infantryman's Badge by the Army Rangers, a coveted award signifying active combat engagement with an enemy force. He still has the boots he was wearing when he was shot down.
Behrens is a true hero to anyone who knew him in Vietnam. He says he has no regrets. He would do it all over again if he were called to do so. He said, "We [the dustoff pilots and crews] tried to do a good job... I believe we did. Life is good."
In the words of John Payne: "When I was serving in Vietnam, helicopter pilots were our lifeline. They brought food, supplies, and came to pick us up to take us to the rear, where we could get a break. Normally, we were 21 days out (in the bush) and then three days at a firebase to get a shower and some rest. When we got into a conflict, they also came to help. The copter pilots were our heroes. On April 15, 1971, I saw what a hero really was...Fred Behrens. Fred's main goal was to save lives, and that was what he did. When he risked his own life to save Jim Zwit and others that night, under intense enemy fire and the worst flying conditions, he proved himself a hero. Fred has touched people all over this nation by doing what he did, being a dustoff pilot. Fred will be rewarded in Heaven for the lives he saved. I love him like a brother."
Thanks also to all the brave men and women who were willing to serve our country during the Vietnam War.
Special note: Jim Zwit passed away March 14, 2021, one month short of the 50th anniversary of his wounding in Vietnam.